Top 10 Biggest Potential Fantasy Football Busts of 2020
The Top Ten
1
Todd Gurley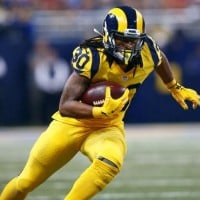 Todd Gurley II is an American football running back for the Atlanta Falcons of the National Football League.
Yeah I can't trust a guy who has a bad Guard tandem, and a arthritic knee to boot. A lot of (insert joke) load management time in use for Gurley in Atlanta as well.
This guy hasn't been the same since 2018. Once one of the best running backs now fallen to the wayside as he has arthritis in his knees apparently or so everyone thinks. I don't trust him
2
Rob Gronkowski

Robert Paxton Gronkowski, nicknamed "Gronk," is an American football tight end for the Tampa Bay Buccaneers of the National Football League. After retiring at the end of the 2018 NFL Season, Gronkowski came out of retirement to play with former Patriots teammate Tom Brady for the 2020 NFL season.
I feel he's too washed up and a year off could impact him. I really advise against drafting him. Maybe pick him up off waiver wire if anything
Like Gurley I wouldn't draft him. We haven't seen him play in a long while and the last time he wasn't the same player
3
Jordan Howard

I got two words: Matt Breida.
If he takes most of the workload Howard will be in the shadows and may just be a guy you pick up via waiver wire one week and that's it. I'd be cautious about Howard
4
Jamison Crowder

What he did last year was pretty great, with 78 catches and six touchdowns. But the Jets have upgraded at receiver with Breshad Perriman and rookie Denzel Mims, plus tight end Chris Herndon might get more attention now that he's healthy. I don't think he repeats either of those numbers in 2020. Draft him with caution
5
Matt Ryan

Matthew Thomas "Matt" Ryan, nicknamed "Matty Ice," is an American football quarterback for the Atlanta Falcons of the National Football League.
6
David Johnson

David Jerome Johnson Sr. is an American football running back for the Houston Texans of the National Football League. He was drafted by the Cardinals in the third round of the 2015 NFL Draft. He played college football at Northern Iowa.
7
Odell Beckham

Odell Beckham Jr. is a NFL wide receiver, playing for the Los Angeles Rams. He is most-known for making an incredible one-handed catch against the Dallas Cowboys. Beckham was drafted 12th overall to the New York Giants.
I'm ashamed to admit that I fell for the hype train last year. Maybe that's why my team was absolute mediocrity
8
Adam Thielen

9
D.J Moore

10
Julian Edelman

Julian Francis Edelman is an American football wide receiver for the New England Patriots of the National Football League. ...read more.
The Contenders
11
Stefon Diggs

Stefon Diggs is an American football wide receiver for the Buffalo Bills of the National Football League. Diggs was drafted in the fifth round one hundred and forty sixth overall to the Minnesota Vikings in 2015.
Yes he's a good enough WR1 but remember he's with Josh Allen. Don't just buy into the hype train. Remember the OBJ hype in Cleveland? How'd that turnout? If for whatever reason Allen and Diggs aren't on the same page things could take a sour turn
Cousins to Allen yeah don't expect a huge improvement from Diggs
12
Marlon Mack

This quote from Frank Reich concerns me "Marlon's the stater, Marlon's the starter, but we're not going to be afraid to ride the hot hand (some weeks)." Jonathan Taylor May end up being that hot hand and taking away the workload from Mack
13
Jerry Jeudy

My only concern is that a lack of OTAs and Preseason games will make things harder for rookie wide receivers plus Drew Lock has a very small portfolio thus far whereas at least CeeDee Lamb has a veteran in Dak Prescott. I'll pass on Jeudy for now
14
Sony Michel

He really had a step back season and honestly do you really trust him with Damien Harris, Rex Burkhead, James White and now Lamar Miller on board?
Maybe a backup RB if anything. All depends on what Belichick has drawn up for Cam
BAdd New Item