Potential Fantasy Football Sleepers of 2021
Last time we went over a rather somewhat aged risky side of the spectrum. Now we tackle players who nobody seems to be on anybody's radars remotely. These guys I would take another look at as guys that could actually be worth more than what you think lowly of them. This is also going off of trends based on many mock drafts that I have noticed an identical pattern in by the general consensus.

The Top Ten

1 Brandin Cooks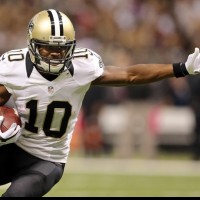 Brandin Cooks is an American football wide receiver and return specialist for the Houston Texans of the National Football League.
It seems like everywhere Brandin Cooks has been shipped off at he has always been a solid fantasy WR and player overall throughout his journeymen career as a Wide Receiver. I feel like no matter who the Texans QB is that he will produce solid enough production that is almost an option you'd have to consider if nothing better is out there? Only 27 years of age does also help his case he ain't slowing down a whole lot either.
2
Marlon Mack

Having Marlon Mack back in this Colts offense is going to be big. Now Jonathan Taylor is getting all the spotlight as well. Mack will remind people that he can also get the job done moving the sticks and putting up solid numbers in fantasy. He is an above-average player that can get major assistants from that magnificent great wall he runs behind. I'm amazed that in deep leagues nobody is taking Marlon Mack is just so puzzling in my mind.
3
Darnell Mooney

A very low-key WR 2 that nobody seems to wanna touch would be Darnell Mooney. All the attention is deservedly going towards Allen Robinson. At the same time, Mooney could also prove to be a guy that can improve in this passing game and as their up-and-coming route runner that can get open in space. Look out for this guy to explode onto the scene. I'd keep him stashed for a bit.
4
Mac Jones

Now winning the starting job from Cam Newton. I actually like that this young stud could shock the world right away in his rookie season coming up real soon. He doesn't have the best cast of weapons, but if he can be a lot like how Brady played and pass with incredible precision. Then this pick is one I wouldn't overlook to the other side especially in deep leagues. He could be a valuable backup with an offensive line that looks very good to give him plenty of time to find guys open for a long duration in football games.
5
Marvin Jones

Marvin Lewis Jones Jr. is an American football wide receiver for the Detroit Lions of the National Football League. He was drafted by the Cincinnati Bengals in the fifth round of the 2012 NFL Draft. He played college football at California.
Everywhere Marvin Jones has gone he has proven to be a very good WR 2 throughout his career. I see that being no different with Trevor Lawrence he is working with. Based on what I have seen in the pre-season this connection has the strongest ties. Yes, there's also D.J. Chark and Laviska Shenault who are considered deeper sleepers to argue for. It's just so odd how many people are overlooking the passing game in Jacksonville, and especially the veteran they acquired in the off-season who should still produce solid fantasy numbers in return.
6
Baker Mayfield

Baker Reagan Mayfield is an American football quarterback for the Cleveland Browns of the National Football League.
Am I on a lonely island thinking Baker is going to have a huge year? Apparently, not everybody else thinks so and why is that? Okay, to be fair he doesn't have the best receiving core you could ask for. Still the improvement numbers he showed last season make me believe he could have an even bigger year with this line he has around him. Browns are a super bowl contender and if they get that big boost from Baker in the passing game it will show. As a backup projection that's gonna prove to be a steal especially a big what if your actual starter unexpectedly was done for the year? See what you have in him and play it out.
7
A.J. Dillon

Speaking of stash picks, another guy I feel is going to have a breakout year is the RB 2 of Green Bay in A.J. Dillon. Yes, Aaron Jones is getting all the attention on the ground, but beware knowing Matt LeFlaur could change up this running attack to be more of a balanced committee potentially. This is a guy that they will look to push his game to the next level. A lot of value to have on the bench here.
8
Jamaal Williams

As a resident of this team personally, I can see a scenario where what if Swift does split a lot more committee running than expected? In that case, Jamaal Williams is somebody I don't expect to see get drafted in half of those leagues. He'll be a guy that does get some recognition in the free agency wire more than anything as the season plays out. He is playing behind a projected top 10 line he is running with. Anthony Lynn might have him do plenty more than the small sample that has been seen.
9
Will Fuller

Not a lot of love for Will Fuller I tend to find very few. Now granted over the years Fuller has had trouble staying healthy on the field as his ultimate kryptonite. It seems as if though when he is on the field. Fuller statically made Watson better on the field which is strange to say for Tua. If this trend carries over in Miami. Here's a sneaky option to take a deeper look into. Lately, Jaylen Waddle is getting more of the attention over him so that plays to the sleepy factor.
10
Matt Ryan

Matthew Thomas "Matt" Ryan, nicknamed "Matty Ice," is an American football quarterback for the Atlanta Falcons of the National Football League.
Putting Matty Ice as a fantasy sleeper may seem a bit much, doesn't it? Well, he is almost never even picked up until the very late few rounds as a backup. Matt Ryan can actually give you a game or two that counts for something. After all, he has 2 capable Tight Ends and Calvin Ridley to put up adequate points.
BAdd New Item