Top 10 Prospects of the 2020 NFL Draft
Well as the commissioner has said the draft will still be on. Those of you considering making a mock draft. Maybe this list will help a bit of what names you should be familiar with.

The Top Ten

1 Chase Young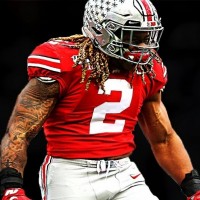 Granted he didn't look like a stud towards the end of the run, but with a very stacked loaded defense he can thrive like how Nick Bosa did with the 49ers. To me any player from Ohio Sate on defense usually thrives from the start. Chase Young who possibly land on a talented young roster like the Redskins would be very transnational move to make.
2
Joe Burrow

He is most likely going 1st overall since the college season concluded. This could be the one season trap, but how he transformed himself in his final season Joe Burrow is exactly what the Bengals need.
Overrated in my opinion. Just had one good season at LSU which could have been a bit of a fluke. Have a feeling he will be a bust in the NFL.
BEST in the draft one day he will be in Canton.
3
Isaiah Simmons

Isaiah Simmons is the Josh Allen (Edge rusher for Jaguars) of this draft. This is a guy who you can plug into your defense, and he will be a day one starter guaranteed. I don't see him failing unlike Allen, but he will be taken very high top 5 I'd say.
4
Jeffrey Okudah

While Chase Young was solid until the end. His teammate Okudah looked great in the many games he had at Ohio State. Now corner is considered a luxury type pick. Its rare to see a corner get taken so high, but I could see that with Okudah being that Patrick Peterson, Darrelle Revis type guy teams want. Good size, great awareness the ceiling for him is very interesting from as high as maybe 2nd to late top 10.
BEST CB in the draft
5
Tua Tagovailoa

Personally even after the video I still wouldn't touch him. He could be a great quarterback, but I gotta believe he can still play exactly like that. If he gets hit bad like that again he'll be gone pretty quick in the league that's my concern with taking Tua. If you have very good blockers (which he won't) maybe he does do well. Its just he's got the arm, but the mobility is the major concern. The sealing is from top 5, or perhaps a fall is possible as well. Either way Tua is going to be the talk of the draft because nobody knows exactly where he is gonna fall.
The best QB of the draft in my opinion. He won't be but he should be the first pick. An injury shouldn't affect when you get drafted.
Am I the only one who likes Tua better then Burrow as long as he goes to the Dolphins I think he will be good but Burrow I think he is a draft bust waiting to happen
6
Mekhi Becton

This guy could either be the next Joe Thomas, or Tony Mandarich is what Mekhi Becton reminds me of the monster like size at the tackle position. To me he is the best tackle by sheer raw size, and potential he posses. He would be an upgrade for the Giants that need offensive line help in a bad way.
7
Tristan Wirfs

The best guard in this draft. You need a good blocking for runs he is the guy to go to if there's a team that badly needs it. If The Lions were smart I would draft this guy over the favorites that they will pick instead. Another guy who could go top 5, to late top 10 the sealing is very high no way anyone passes on a rock from Iowa.
8
CeeDee Lamb

Here's a name who has really risen in a very wide open wide receiver class of other names who could go right next to him. He has good size, freaky fast speed. Lamb could be the Mike Evans or Amari Cooper of this class.
9
Derrick Brown

Derrick Brown for the longest time was going high as 3rd which is crazy seeing nobody has gone this high for a tackle since Suh. I don't know if he is that type of a player, but based off the tape he had the capabilities of pushing guys through. Lions do need another tackle, but with Shelton there most likely isn't gonna happen with the team setting up to be more of a 3-4 defense. While that does fit Brown's style of defense. I could see him being a late top 10 pick to maybe mid 1st rounder possibly.
10
Andrew Thomas

A lot people say his the 4th best offensive lineman. He has the size you want in a tackle. He fills the category for a lot of teams in need of a left tackle most likely. Blocking for Jake Fromm for many years now could be blocking for the likes of if I had to say Teddy Bridgewater, Kyler Murray, Baker Mayfield, Sam Darnold. Most likely falls into one of those teams. He is a must draft guy if he is available on the board take him.
The Contenders
11
Henry Ruggs III

Ruggs is a short speedster kinda like a Marquise Brown, but just a bit smaller. In today's game that's what teams want is the next Brown, or Tyreek Hill being the biggest example.
12
C.J. Henderson

Big body beefed corner I gotta say. Henderson is likely to fall within the 1st round somewhere.
13
Kenneth Murray

Likely will be a day one starter who will fall to a win now team that needs linebacker starts in the worst way imaginable.
14
Trevon Diggs

Tall lengthy corner, one of the bigger names who could fall late in the draft.
He's the younger brother of Stefon Diggs
15
Justin Herbert

Justin Herbert screams out Bo Callahan just his face alone. He could go high, but he could also be sitting in the green room. Oh wait he won't be.
Not a fan of him. He didn't look that impressive at Oregon. I think he's going to be a bust too.
16
Jerry Jeudy

Jeudy is another wide receiver a lot of teams love. It's the order they fall will be very interesting to watch.
I think he's going to be really good in the NFL.
17
D'Andre Swift

Very small tail back who could be impactful as a catching back. He has the talent, there are teams who could need some serious juice in the running game.
18
Antoine Winfield Jr.

While I don't think he'll go 1st round by any means, Winfield's son has serious potential in the NFL. What I've seen from him at Minnesota hopefully he goes to a team that needs a safety is where he could thrive best.
19
Clyde Edwards-Helaire
He is the Tarik Cohen of this draft. A guy who is very small as a running back, and will most likely be used as a kick return specialist or a guy to get short passes if he can be a proviable dual threat back.
BEST HB in the draft
20
Jedrick Wills Jr.

Wills is a day one starter who can fill in a major need at tackle. Expect fall between the late top 10 to mid 1st round.
21
Javon Kinlaw

A nose tackling monster that is rare of his size. Maybe he is a gamer, or maybe the long arms are a blessing disguise. Kinlaw has that monster potential that could go before Derek Brown.
22
K'Lavon Chaisson

The most desirable position into today's game is finding an edge rusher. Chaisson is a mid 1st round pick wanting to happen as a safe selection for whoever goes for him.
23
Grant Delpit

The biggest safety in this draft, and the odds on favorite to taken right off the board. There are many contending teams that could use a big body like Delpit to fill in.
24
A. J. Epenesa

He is a guy who can play upfront for a team needs help on the other opposite end. Epenesa has formidable size, and what many teams look to have.
25
Josh Jones

Offensive line, and Wide Receiver will mostly dominate this 1st round. Josh Jones will be another case of a lineman who gets taken off the board fairly quick.
PSearch List