Top Quarterbacks Entering the 2020 NFL Draft
Well the draft is coming up, and this year, as always, will be extremely interesting. There are many free agent quarterbacks, and teams in need of quarterbacks. These teams might choose to go to the draft to find their signal callers.

The Top Ten

1 Joe Burrow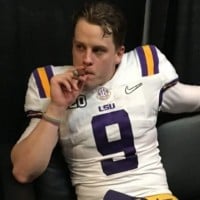 The Heisman trophy winner is the consensus number one pick this year after Tua Tagovailoa was injured. The senior lead LSU to a National Championship victory this yea, but some argue that he only looked good because of his supporting cast.
2
Tua Tagovailoa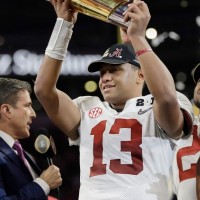 He was thought to be a lock for the number one overall pick before he injured his hip late this year. Injuries could be a concern with him, but he takes care of the ball well (33 touchdowns to 3 interceptions) and moves the ball well. I personally expect him to go to Miami unless the Bengals surprise us all and go for him over Joe Burrow.
3
Jordan Love
This quarterback from Utah State has a strong arm and good ball placement, but the junior is viewed as a rather raw prospect who will require some development to start for a NFL team.
4
Justin Herbert
The senior from Oregon has a strong arm and the skills plus the perfect build to be a quality quarterback in the NFL, but he needs to word on decision making in the pocket, especially under pressure.
5
Jalen Hurts
This quarterback out of Oklahoma has received mixed reviews, but is ultimately a tough quarterback who can lower his shoulder and run. He doesn't always make the best decisions with the football though. People seem to expect him to become the new C.J. Beathard.
6
Jake Fromm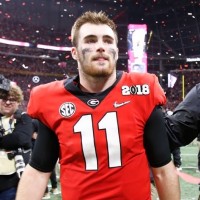 The quarterback from Georgia is comfortable standing in the pocket and making plays, but has struggled with turnovers in the past. He is calm on the field, and doesn't make panicked throws.
7
Jacob Eason
The quarterback from Washington has a really strong arm, but again, is viewed as a raw prospect who will require development before starting in the NFL. He isn't the most efficient quarterback yet, but has potential to make big plays.
8
Steven Montez
The quarterback out of Colorado is really up and down. He can look horrible for three quarters, and then blow up in the fourth. Overall, he lacks consistency and accuracy, and will need to be developed.
9
James Morgan
A potential risky pick, Morgan has the size and strength to play in the NFL, but still isn't great. He is only just showing up on draft boards this year.
10 Anthony Gordon
The Contenders
11
Nate Stanley
Coming out of Iowa, Stanley has some assets making him worth a look, but lacks consistency. I expect him to be picked late in the draft to be a backup or third string player
12 Khalil Tate
13 Shea Patterson
14 Cole McDonald
BAdd New Item