Top Ten Freakiest Non-Mainstream Music Artists of the 21st Century
It's supposed to be neither positive nor negative. I love freaky lifestyles and people, but not all of the artists' music
The Top Ten
1
Angelspit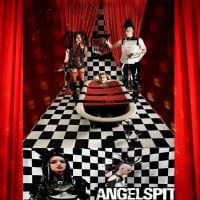 Angelspit is an Australian Industrial music project in the cybergoth subculture that formed in 2003. Current members are Zoog von Rock (vocals, production) and George Bikos (guitar), former members include Amelia Arsenic (vocals, production, 2004-2013), Valerie Gentile (guitar, 2011-2012) and Chris ...read more.
2
An Cafe

An Cafe, also known as Antic Cafe or Antikku Kafe, is a Japanese dance rock band consisting of Miku (vocals), Takuya (guitar), Yu-ki (keyboard), Teruki (drums) and Kanon (bass), that formed in 2003. Guitarist Buo left the band in 2007. ...read more.
3
Dat Adam

Dat Adam was a German experimental hip hop and electronica group consisting of vocalists Thaddeus "Taddl" Tjarks and Ardian "Ardy" Bora, and producer Marius "Marley" Ley, which was formed in 2014 and disbanded in 2018. ...read more.
4
The Birthday Massacre

The Birthday Massacre is a Canadian dark wave and synth rock band currently consisting of Chibi (vocals), Rainbow (guitar), Falcore (guitar), Owen (keyboard), Rhim (drums) and Nate Manor (bass), that formed in 1999 (even though the 2016 demo collection "Imagica" dates some tracks back at 1998). ...read more.
5
Jamie-Lee Kriewitz

Jamie-Lee Kriewitz, going only by Jamie-Lee as her stage name, is a German singer born on March 18, 1998 in Bennigsen. She won the fifth season of the German edition of the casting show "The Voice" in 2015. ...read more.
6
Blood on the Dance Floor

Blood on the Dance Floor is an American scene duo currently consisting of Dahvie Vanity and Fallon Vendetta that formed in 2006. Former members include Jayy von Monroe (2009-2016) and Garrett Ecstasy (2009). All of them provided vocals to the project. ...read more.
7
NIIC

Kyle McCarthy, better known by his stage name NIIC, is an American singer-songwriter, producer and YouTuber born on May 24, 1990 in New York City. ...read more.
8
SpongeBozz

Dimitri Chpakov, better known by his stage names SpongeBozz and Sun Diego, is a German rapper of Russian descent born on March 17th, 1989. ...read more.
9
Azealia Banks

Azealia Amanda Banks is an American rapper, singer and songwriter. Raised in the Harlem neighborhood of New York City, Banks began releasing music through MySpace in 2008, eventually being signed to XL Recordings at age 17. After releasing her debut single "212" to commercial success, she secured a ...read more.
10
Sinners are Winners

Sinners are Winners is an American industrial music project run by singer-songwriter Dahvie Vanity, that was formed in 2016. Currently, Vanity is the only official member of the music project, however, he did not state it to be necessarily planned a solo project (his previous group Blood on the Dance ...read more.
The Contenders
11
Jeffree Star

Jeffree Star is an American pop singer, songwriter, make up artist, fashion designer and internet personality born on November 15, 1985. ...read more.
12 The Score
BAdd New Item