Top Ten Best Free Safeties Going Into the 2020 NFL Season
The Top Ten
1
Minkah Fitzpatrick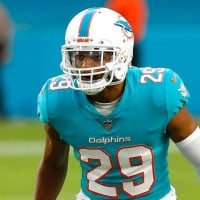 After being traded to the Steelers a fourth of the way through last season, Fitzpatrick had a breakout sophomore season, becoming an interception machine and making a good Steelers defense elite. He was well worth the first round pick traded.
2
Justin Simmons
Simmons is an underrated safety that is quickly rising through the NFL ranks. He was a second team all-pro last season, and expect more honors in his near future.
3
Anthony Harris
Harris co-led the NFL with 6 interceptions in a breakout season, yet he somehow didn't make the Pro Bowl. The Vikings will need to extend him soon.
4
Devin McCourty

McCourty hasn't slowed down yet, and has continued to be a great player over the last decade. With a new looking Patriots team, it will be good to have a veteran like him.
5
Earl Thomas

Earl Thomas III is an American football safety for the Baltimore Ravens of the National Football League.
Thomas isn't the same he once was, but the veteran free safety is still a great playmaker on a stacked Ravens defense and team.
6
Kevin Byard

Byard is also an underrated free safety for the Titans. He was key contributor on a team that went 9-7 and all the way to the AFC Championship.
7
Eddie Jackson

Compared to his first two seasons, last year was a down Season for Jackson, but now he looks to go into this season and dominate once again.
8
Justin Reid

The brother of Eric Reid, Justin once again had a strong season for the Texans. Now going into his third season, don't be surprised if he makes his first Pro Bowl.
9
Budda Baker

Baker has really emerged since his rookie season, and made his second Pro Bowl last season.
10
Marcus Williams

Williams has been a key contributor to a good Saints defense since his rookie season.
He made the fatal mistake
BAdd New Item