Top 10 Fretless Bass Players
They may play both fretless and fretted bass, but here we are interested only in their fretless bass playing.
The Top Ten
1
Les Claypool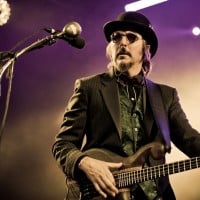 Leslie Edward "Les" Claypool is an American musician, singer, songwriter, composer, author and actor best known as the bassist and lead vocalist of the band Primus.
Master of bass players. Playing guitar/bass with frets isn't very easy. And its much harder playing bass/guitar without frets. Really great!
The best fretless player. He did not invent it, but damn does he master it.
Best One - WoopaBoopaHoopa7
2
Jeroen Paul Thesseling

He is a Dutch bass player, who usually plays metal, especially fast and (or) technical/progressive subgenres of metal.
I've seen him playing a 7-string fretless bass (see the image).
He played for Obscura, Pestilence, and a studio project Ensemble Salazhar.
For example, he played fretless bass on 2 Obscura albums: Cosmogenesis, Omnivium.
3
Steve Di Giorgio

He plays metal and jazz.
He's played for these metal bands: Death, Testament, Iced Earth, Obituary, Quo Vadis, Sadus, Charred Walls Of The Damned.
For example, he played fretless bass on the albums 'Individual Thought Patterns' by Death, 'Horror Show' by Iced Earth, and 'Defiant Imagination' by Quo Vadis.
4
Jaco Pastorius

John Francis Anthony "Jaco" Pastorius III was an American jazz bassist who was a member of Weather Report from 1976 to 1981. He worked with Pat Metheny, Joni Mitchell, and recorded albums as a solo artist and band leader.
He was the pioneer of the fretless bass.
5 Alain Caron
6
Mick Karn
Haunting and subtle with ease the way he made his bass sound
Inspired and inspiring. The man was a genius!
7 Steve Lawson
8
Percy Jones
Very inventive master of the art of fretless bass playing.
9
Dominic Forest Lapointe

Insane skills (Augury, Beyond Creation)
10 Mark Egan
The Contenders
11 Tony Franklin
12
Pino Palladino
A great welsh fretless bassist. A real pro...
13
Gary Willis
After Pastorius - he is the best.
14
Jack Bruce

John Symon Asher "Jack" Bruce was a Scottish musician, singer and songwriter known primarily for his contributions to the British supergroup Cream, which also included guitarist-singer Eric Clapton and drummer Ginger Baker.
Raise his status up. #15...really?
15
Sean Malone

16
Linus Klausenitzer

17
Tony Levin

Anthony Frederick Levin is an American musician and composer, specializing in electric bass, Chapman Stick and upright bass. He also sings and plays synthesizer. Levin is best known for his work with King Crimson and Peter Gabriel.
18
Robin Zielhorst
Dutch bassist who plays both fretless and fretted bass (progressive, technical metal - Synic, Ne Obliviscaris, and more).
19
John Patitucci
No, it's not John Petrucci of Dream Theater! Their names only look similar.
20
Sting

Gordon Matthew Thomas Sumner CBE, known professionally by his stage name Sting, is an English musician, singer, songwriter, multi-instrumentalist, activist, actor, and philanthropist. He is best known as the lead singer for the English band The Police
Yes, he sometimes plays frettless bass but he shouldn't be very high on this list because he can't be called a "master" of fretless playing.
Yes, he plays upright bass.
21
Bathiki Kumalo
Yes! His work on "You Can Call Me Al" is sublime.
22
Jeff Ament

He plays for a famous band (Pearl Jam) but I didn't put him very high because he plays the frettless bass like a fretted one and he rarely employs specific fretless techniques.
I guess he uses frettless bass for its different sound and not so much for its potential in terms of different techniques.
23
Jimmy Haslip
He's a left-handed player.
24 Alphonso Johnson
25 Richard Bona
PSearch List