Top 10 Friendliest Dog Breeds
Dogs are the most loyal companions known to man thats breed varys so much, here are some of the most friendliest dog breeds.

The Top Ten

1 Golden Retriever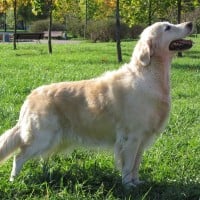 The Golden Retriever is a large-sized breed of dog bred as gun dogs to retrieve shot waterfowl such as ducks and upland game birds during hunting and shooting parties, and were named 'retriever' because of their ability to retrieve shot game undamaged.
Smart cute and friendly
Anything but pug. - GoroMajima
Very friendly.
Super dogs.
2
Pug

The Pug is a breed of dog with a wrinkly, short-muzzled face and curled tail. The breed has a fine, glossy coat that comes in a variety of colours, most often fawn or black, and a compact square body with well-developed muscles. However, Pugs have difficulty breathing, due to their extreme head shape. ...read more.
Pugs rule the world yeah vote me please
3
Labrador Retriever

The Labrador Retriever, also Labrador, is a sporting dog bred for aquatic game. The Labrador is one of the most popular breeds of dog in the United Kingdom and the United States.
This looks like my dog - QuarterGuysApprentice
cute
4
Greyhound

The Greyhound is a breed of dog, a sighthound which has been bred for coursing game and Greyhound racing.
5
Rottweiler

The Rottweiler is a breed of domestic dog, regarded as medium-to-large or large.The dogs were known in German as Rottweiler Metzgerhund, meaning Rottweil butchers' dogs, because one of their uses was to herd livestock and pull carts laden with butchered meat to market.
They look rude but they are so friendly
6
Cavalier King Charles Spaniel

The Cavalier King Charles Spaniel is a small spaniel classed as a toy dog by The Kennel Club and the American Kennel Club.
7
American Bulldog

The American Bulldog is a breed of utility dog. There are two specific types of American Bulldog, Standard and Classic; additionally, there are also hybrids of the two types.
Friendliest dog alive! Loves everybody!
8
German Shepherd

The German Shepherd is a breed of medium to large-sized working dog that originated in Germany. The breed's officially recognized name is German Shepherd Dog in the English language. The breed is known as the Alsatian in Britain and Ireland.
I have a German Shepard and she LOVES kids and the attention of people. - RockFashionista
9
Bearded Collie

The Bearded Collie, or Beardie, is a herding breed of dog once used primarily by Scottish shepherds, but now mostly a popular family companion.
10
Boxer

The Boxer is a medium-sized, short-haired breed of dog, developed in Germany. The coat is smooth and tight-fitting; colours are fawn, mahogany, black or brindled, with or without white markings, and white.
The Contenders
11
Australian Terrier

The Australian Terrier is a small breed of dog of the terrier dog type. The breed was developed in Australia, although the ancestral types of dogs from which the breed descends were from Great Britain.
12
Beagle

The Beagle is a breed of small-sized hound, similar in appearance to the much larger foxhound. The Beagle is a scent hound, developed primarily for hunting hare.
13
Black Russian Terrier

The Black Russian Terrier, abbreviated as BRT, also known as the Tchiorny Terrier is a breed of dog created in USSR in Red Star Kennel during the late 1940s and the early 1950s for use as military/working dogs.
14
Caucasian Shepherd

The Caucasian Shepherd Dog is a large breed of dog that is popular in Russia, Armenia, Azerbaijan, Georgia, and North Caucasus area.
15
Keeshond

The Keeshond is a medium-sized dog with a plush two-layer coat of silver and black fur with a ruff and a curled tail.
16
Newfoundland

17
Alaskan Malamute

The Alaskan Malamute is a large breed of domestic dog originally bred for hauling heavy freight because of their strength and endurance, and later a sled dog.
18
Leonberger

The Leonberger is a giant dog breed. The breed's name derives from the city of Leonberg in Baden-Württemberg, Germany.
19
Boston Terrier

The Boston Terrier is a breed of dog originating in the United States. This "American Gentleman" was accepted in 1893 by the American Kennel Club as a non-sporting breed.
20
Scottish Terrier

21
Staffordshire Bull Terrier

The Staffordshire Bull Terrier is a medium-sized, short-coated breed of dog. It is of English lineage, and is one of several breeds generally considered to be within the pit bull type.
If you say they are evil then you should meet one. They're only bad if they're trained
22
Doberman Pinscher

The Doberman Pinscher, or Dobermann, or Doberman, is a medium-large breed of domestic dog originally developed around 1890 by Karl Friedrich Louis Dobermann, a tax collector from Germany.
23
American Pit Bull Terrier

The American Pit Bull Terrier is a dog breed. It is a medium-sized, solidly-built, short-haired dog whose early ancestors came from the British Isles.
They are sweet dogs.
24
Dogo Argentino

The Dogo Argentino, also known as the Argentine Mastiff, is a large, white, muscular dog that was developed in Argentina primarily for the purpose of big-game hunting, including wild boar; the breeder, Antonio Nores Martínez, also wanted a dog that would exhibit steadfast bravery and willingly protect ...read more.
25
Saint Bernard

The St. Bernard or St Bernard is a breed of very large working dog from Swiss Alps and north Italy and Switzerland, originally bred for rescue.
PSearch List