Funniest Disney Channel Shows of All Time
The Top Ten
1
Good Luck Charlie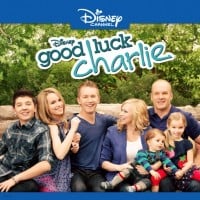 Good Luck Charlie is an American sitcom that originally aired on Disney Channel from April 4, 2010, to February 16, 2014. The series' creators, Phil Baker and Drew Vaupen, wanted to create a program that would appeal to entire families, not just children.
That's So Raven is funnier. Wake up from your coma and create the real new good list:

1. that's So Raven

2. Jessie

3. Good Luck Charlie

4. Raven's Home

5. Gravity Falls

Remove Austin and Ally and The Suite Life off this list. Thank you.
Good Luck Charlie should be, at least, #2! This is funnier than Jessie and Austin & Ally.

I love the gags of Good Luck Charlie. The characters are really funny.
That's So Raven is 10 times funnier than all of these shows in the top 15, which all suck, except JESSIE. Glad most of them ended.
I love all the actors and actresses I love dem all they r awesome they rock I wish I would keep watching and keep laughing you guys rock xtrimly and d biggest fan ever butmake more funny videos please tanxs
2
Jessie

Jessie is an American sitcom that originally aired on Disney Channel from September 30, 2011 to October 16, 2015. The series was created and executive produced by Pamela Eells O'Connell and stars Debby Ryan as Jessie Prescott, a small town Texas girl who moves to New York City to try to become an actress, ...read more.
The best and funniest. I was practically bawling my eyes out when I found out that the show was going to end. The show is hilarious and I can always count on it for a good laugh or to brighten up my day. Yes- I love this show because it is actually realistic, not just a fairytale dream that is far from possible. Any little child who watches Jessie would find it easy to relate, as Jessie and the others are just normal people. No, Jessie is not some Barbie Doll World where dreams come true and you get what you want, this is Jessie!
Jessie was the greatest Disney show of all time. It showed great character development talked about teenage issues. Jessie had the funniest Disney character of all time Bertram, he was such a comic relief. Emma grew up so much as did zuri. Best show in Disney of all time
I'm my opinion I think Jessie should have made more episodes, especially because it was way more successful than bunked. Why you might say? Because the humar, popularity, the actors that where in the film and more!
To the person who called this show racist. How wrong you are. It's diverse, it has stuff from other races, that doesn't make the show Jessie racist. It makes you racist to say this.
3
Wizards of Waverly Place

Wizards of Waverly Place is an American fantasy teen sitcom which ran from October 12, 2007 to January 6, 2012 on Disney Channel. The series was created by Todd J. Greenwald, and stars Selena Gomez, David Henrie and Jake T. Austin as three wizard siblings with magical abilities competing to win sole ...read more.
This show is definitely my no.1 because I just love the characters so much, especially Alex. She is always so funny and cool. Honestly, I don't think Hannah Montana as good as this show. This show is heaven, I'm telling ya. If you haven't watched it, you haven't laughed before.
The Movie and Alex vs Alex is the best of all time. Hannah Montana shouldn't even be on this list. Miley Cyrus is way much worse than selena gomez in wizards of Waverly place. I always laugh at Alex ( selena gomez), how smart and mischievous she was, it was the funniest
It's really funny than Hannah Montana... Try to watch some funny moments.
All actors in this Disney show are fantastic love love it!
4
The Suite Life On Deck

The Suite Life on Deck is an American sitcom that aired on Disney Channel from September 26, 2008 to May 6, 2011. It is a sequel/spin-off of the Disney Channel Original Series The Suite Life of Zack & Cody.
Brenda Song the twins Debby Ryan it's hilarious I can't never stop laughing
I love this show very all of the cast are very funny
it is one of the best Disney shows I have ever seen
This list is perfect, finally a list I agree with.
5
Austin & Ally

Austin & Ally is an American teen sitcom that premiered on Disney Channel on December 2, 2011, and ended on January 10, 2016. The series was created by Kevin Kopelow & Heath Seifert, the writers and producers of the Disney Channel sitcoms Sonny with a Chance and Jonas.
I love this show so much it's hilarious. Dez defiantly makes the show better and way funnier, love it!
This show is simply god's gift to Disney Channel :) It's beautiful, hilarious, timeless, priceless and just an all around phenomenal show.
The only thing I could say is I love this show so much!
The greatest show on earth!
6
Liv and Maddie

Liv and Maddie is a live-action Disney Channel sitcom that started on July 19, 2013, and ended on March 24, 2017. It is about two identical twin sisters named Olivia "Liv" Rooney and Madison "Maddie" Rooney (both portrayed by actress Dove Olivia Cameron; born in January 1996 as Chloe Celeste Hosterman) ...read more.
I love liv and Maddie. My sister was looking at Netflix and I came in the room and she came to liv and Maddie and said I should watched it. My mom said yes. I started watching and I loved it. But the one thing is I wish they could finish the show in there house in winsconsin. They should really make a spin off of it. In my room I always pretend I'm on the spin off of liv and Maddie. I also like it cause they chose dove Cameron to play liv and Maddie. I love dove Cameron. My favorite show is liv and Maddie and my favorite movie is descendants. Dove Cameron is a amazing actress she always makes the show or movie so exiteing. I love rotten to the core and if only. My favorite song in love and Maddie would be what a girl is, say hey, and on top of the world.
I love liv and Maddie
OMIGOD like best show ever. Has a lot of personality this should be first place.
I love you guys
Make a new season please! This show rocks! sad it ended! S1 E1: Twin-a-rooney! S4 E15:End-a-rooney
7
Gravity Falls

Gravity Falls is an American animated television series produced by Disney Television Animation that first aired on Disney Channel, and then on Disney XD from June 15, 2012 to February 15, 2016. The series follows the adventures of Dipper Pines and his twin sister Mabel in the fictional town of Gravity ...read more.
Gravity falls is by FAR my favorite show of all time. Whoever thinks Jessie is funnier you honestly suck. Jessie is such a dumb show and definitely one of the worst ever on Disney channel. Gravity falls however is relatable, teaches valuable lessons, has lovable characters, and has a genius creator, attributes that most Disney channel shows do not have.
This is the third worst show I just hate people who are like you have no life if you watch ant farm gravity falls is better then the others well guess what it is so stupid
Advice:watch all the other show but fish hooks wonder over yonder and GRAVITY FALLS
I feel so bad because the people who actually like this garbage of no life
Gravity Falls is the only new kid's show I even like now, but unfortunately it ended. Also I DO have a life.
Gravity Falls is by far the best show I have ever seen on Disney Channel. All of the other ones are just Disney stars smiling pretty and making bad jokes for the kids. Gravity Falls is the only Disney Channel show I put on to watch, not as background noise when I am on my laptop.
THE BEST SHOW ON Disney. WHY DO YOU EVEN WATCH THE OTHERS?! THE WORST SHOW ON Disney IS AUSTIN AND ALLY. NEXT TO LAST IS FISH HOOKS WIZARDS OF WAVERLY PLACE PHINEAS AND FERB ANT FARM AND THE REST OF Disney. SORRY IF I MADE YOU SAD, BUT IT'S SO TRUE. YOU'LL SEE IN THE FUTURE GRAVITY FALLS IS GONNA REACH THE TOP.
8
The Suite Life of Zack and Cody

The Suite Life of Zack & Cody is an American sitcom created by Danny Kallis and Jim Geoghan. The series was first broadcast on Disney Channel on March 18, 2005, with 4 million viewers, making it the most successful premiere for Disney Channel in 2005. It was one of their first five shows available on ...read more.
This show is so original and funny! The twins are actually good actors, unlike Dove Cameron on Liv and Maddie, who probably couldn't even play one character. Liv and Maddie is a rip-off of Suite Life and will never be funny. Not only that, but the jokes from Suite Life are re-used in JESSIE, and they don't even sound funny when they say the joke. Suite Life is so original and all the characters have personality. My personal favorite characters are Esteban and Mr. Moseby. I was born in 2001, so I grew up watching That's So Raven, Suite Life, Hannah Montana, and all the other shows that aren't corrupted.
I love this show
9
Hannah Montana

Hannah Montana, also known as Hannah Montana Forever for the fourth and final season, is an American musical comedy series created by Michael Poryes, Rich Correll, and Barry O'Brien which focused on Miley Stewart, a teenager living a double life as an average schoolgirl by day and a famous recording ...read more.
This show sucks with a capitail S. It has bad jokes, bad singing, bad acting. This is the exact definition of a bad show.
This show made my childhood and still watch this show.
It is the funniest Disney channel show ever
Number 1 Disney channel show ever
10
A.N.T. Farm

A.N.T. Farm is an American teen sitcom which originally aired on Disney Channel from May 6, 2011 to March 21, 2014.
Actually I was born in 1998, and even though shows then were good and funny, it doesn't mean that shows today aren't. I actually like some of the new shows that are on, they're cute, funny, and not bad at all. So yes, it's not everyone's taste but then just don't watch it, download all your episodes of that's so raven etc. And watch it, and Disney brought old shows back so there, if you don't agree that ant farm is the cutest show ever watch your '90's' shows then. On a different note, ant farm is funny, and jake short's adorable, china-ann is talented, the other actors are also very cute and talented, so if you don't have anything nice to say don't say anything at all.
Keep roocking bbabby girl china my friennds and I are biggest fans everyone shes ours forever baby I AM WARNING YOU SHES OURS OURS OURS OURS OURS LAST CHANCE OURS FOREVER IMWARNING YOU PEEKA BOO IMCOMING FOR YOUR YOUR BLOOD don't EVEN TRY IT MAN OR MISSY OURS OUYRS OURS OURS OURS OURSOURSOURS OURS OURS OURS FOR EVER EVER EEVVERY TOUCH HER AND WE WILL SAY BOO AND YOU WILL PEE IN YOUR PANTS AND YOU WILL CRY "MUMMY THER IS EVIL IN, MY T.V. aND SAY EVILL MUHAQHAHAAHAHAAHAHAAHAHAA WE WILL CURSE YOU MISSY OR MAN
The Newcomers
?
Timon & Pumbaa

The Contenders
11
Girl Meets World

Girl Meets World is an American coming of age television sitcom. The series made its debut on Disney Channel on June 27, 2014.
That show was horrible, it's just an utter disgrace to Boy Meets World.
The characters acted annoying, and, the jokes weren't even funny.
Riley was nothing but a brat.

Thank GOODNESS the show's finally over.

We don't need to watch another episode of it anymore.
12
Shake It Up!

Shake It Up (sometimes stylized as Shake It Up!) is an American sitcom that originally aired on Disney Channel in the United States from November 7, 2010 to November 10, 2013. Created by Chris Thompson and starring Bella Thorne and Zendaya, the show follows the adventures of CeCe Jones (Bella Thorne) ...read more.
So underrated. This has very great plots and is funny sometimes. The kids suffer from real life problems like divorce and being called goody two shoes.
Shake it up ROCKS! With Gunther and Tinka.. It's a show that'll send anyone to HYSTERICS...
Love it
13 Sydney to the Max
14
Best Friends Whenever

Best Friends Whenever is an American multi-camera sitcom developed for Disney Channel, created by Jed Elinoff and Scott Thomas and executive produced by Jed Elinoff, Scott Thomas, and Michael B. Kaplan. The series stars Landry Bender as Cyd, Lauren Taylor as Shelby, Gus Kamp as Barry, Ricky Garcia as ...read more.
I find it amazing! I'm in love with the show and the characters and cast and also the catchy song
It is so hilarious
Best
Trash
15
Lab Rats

Lab Rats, also known as Lab Rats: Bionic Island for the fourth season, is an American television sitcom that premiered on February 27, 2012, on Disney XD, and aired through February 3, 2016. The series was created by Chris Peterson and Bryan Moore and produced by It's a Laugh Productions for Disney ...read more.
Why is this last place? You people have no taste
The best show ever made
Love it
16
Lilo & Stitch: The Series

Lilo & Stitch: The Series is an American animated television series produced by Walt Disney Television.
17
Kickin' It

Kickin' It is an American martial arts-inspired comedy television series that originally aired on Disney XD from June 13, 2011 to March 25, 2015. Created and executive produced by Jim O'Doherty, the series is rated TV-Y7 and follows the karate instructor at an under-performing martial arts academy, ...read more.
So awesome. Watching it now
Best show ever
18
I Didn't Do It!

I Didn't Do It is an American teen sitcom that premiered on Disney Channel on January 17, 2014, and ended on October 16, 2015. The series was created by Tod Himmel and Josh Silverstein and stars Olivia Holt, Austin North, Piper Curda, Peyton Clark, and Sarah Gilman.
I Didn't Do It is such a TOTAL FAILURE, It sucks.
I didn't do it is a terrible show!
19
That's So Raven

That's So Raven is an American supernatural teen sitcom television series. It debuted on the Disney Channel on January 17, 2003, and ended its run on November 10, 2007. The show had a spin-off series, Cory in the House. The series was nominated in 2005 and 2007 for Emmy Awards for Outstanding Children's ...read more.
The only thing this show was, was funny. It was like "I Love Lucy" how Raven and her friends kept doing role playing in crazy outfits. The new shows (except for "Gravity Falls" and a couple Mickey Mouse shorts) have crappy humor and jokes. No wonder Nickelodeon's killing them.
This list is so off I can't even begin... Anything from early 2000's could top this list, but raven was the best, alont with even stevens
May be old but the funniest disney channel show ever!
This should be number ome
20
Phineas and Ferb

Phineas and Ferb is an American animated comedy-musical television series. Originally broadcast as a one-episode preview on August 17, 2007 and again previewed on September 28, 2007, the series officially premiered on February 1, 2008 and ended on June 12, 2015 on Disney Channel, and follows Phineas ...read more.
Hey Ferb, I know what we're going to do today! We'll vote for our show on this quiz!
This is Dr. Doofenshmirtz. I will hit this poll with my vote-for-this-show-inator! Yeah, that's self-explanitory.
For those that claim this show is too repetitive:

So is Wile E. Coyote. What's your point?
The show sucks, it's plot is too repetitive and never ever changing, and it's too predictable and lazy, boo.
21
Pair of Kings

Pair of Kings is an American television sitcom that originally aired on the cable channel Disney XD from September 10, 2010 to February 18, 2013. The sitcom's target audience was teenagers.
This is the funniest Disney Channel show I have ever watched because Boomer and Brady are comedy gold. I am 14 and I will still watch this show til the day I die. This show will give you abs because you will be laughing so much from it. The funniest characters are Boomer, Brady, and Lanny. If you watch the episode " Let the Clips Show" that episode will tell you some of the funniest things they have done throughout the show and if you say the show sucks or whatever then Get out, go home, know one was asking for your opinion
22
Tangled: The Series

23
Lizzie McGuire

Elizabeth Brooke McGuire, famously known as Lizzie, is the main character in the show. She is portrayed as a caring, rational, and cooperative person, although her animated alter-ego displays her true feelings from time to time.
Lizzie McGuire is the best show of all time
24
K.C Undercover

K.C. Undercover is an American sitcom developed for Disney Channel, created by Corinne Marshall and executive produced by Rob Lotterstein.
If you say no you will end up in the hospital. The Best Show Ever.
25
Andi Mack

Andi Mack is an American comedy-drama series that premiered on Disney Channel on April 7, 2017. The series was created by Terri Minsky and stars Peyton Elizabeth Lee, Joshua Rush, Sofia Wylie, Asher Angel, Lilan Bowden, and Lauren Tom.
PSearch List