Top Ten Funniest Goof Troop Episodes
Animated or not, Goof Troop is honestly one of the funniest and goofiest Disney sitcoms I've ever watched. And here are the top ten funniest episodes from it.

The Top Ten

1 To Catch a Goof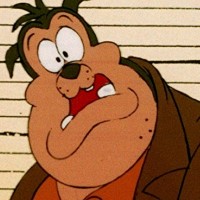 Pete's stomach churning diet bet with his wife and Goofy's ninja training hilariously collide with the Big Boy Bandit's burglary bash in Spoonerville. Every character is at their perfect best here, and it's hilarious.
2
For Pete's Sake

After sending his pal and next door neighbor Pete a poorly worded apology letter, Pete thinks Goofy and everybody else for that matter is out to kill him.
3
Gunfight at the Okie-Doke Corral

It's Goofy's great great ancestor Mopalong Goofy vs Pecos Pete in the old west, and he's really fixin' on cleaning up town.
4
Everything's Coming Up Goofy

The pilot episode. Goofy and Max finally make their move to Spoonerville! Right next door to his old "pal" Pete... who plans to use that property for his own personal uses. Also, Pete's epic mental breakdown upon seeing his tragically chipped boat. Watch it.
5
Partners in Grime

As the saying goes: Never do business with friends. Especially when Goofy and Pete of all people are involved...
6
Take Me Out of the Ball Game

Winning isn't everything, especially with Goofy and Pete, as they try to force their equally as bad sons onto a baseball team.
7
Goodbye Mr. Goofy

It's Goofy stay or Goofy go, and Pete's stuck with stay until he can find his neighbor's conveniently lost mortgage money.
8
Max-imum Protection

It's Home Alone, Goof Troop style! And those pesky burglars are for sure in for a Goofy surprise.
9
O, R-V, I N-V U

Troubles arrive when Pete's state or the art customized RV of the future gets stolen.
10
All the Goof That's Fit to Print

The ending of the episode... that is all.
The Contenders
11
Close Encounters of The Weird Mime

12 The Good, the Bad and the Goofy
13 The Ungoofables
14 Educating Goofy
BAdd New Item