Dane Cook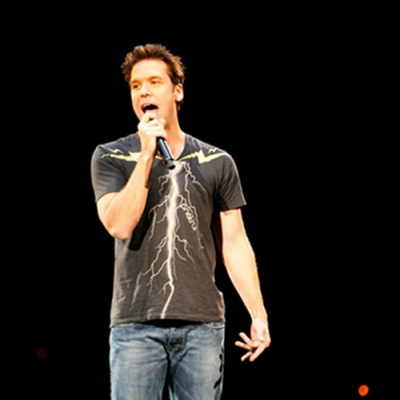 Uploaded by htoutlaws2012
Info
Dane Jeffrey Cook is an American stand-up comedian and film actor. He has released five comedy albums: Harmful If Swallowed; Retaliation; Vicious Circle; Rough Around The Edges: Live From Madison Square Garden; and Isolated Incident.
Comments
Top
Popular
Newest
Dane Cook is hands down the funniest comedian out there, he's hilarious, and his jokes all flow together. I like his story-telling kind of stand-up and he's hot and he moves around and does sound effects as he's doing stand-up overall he's amazing
My friend has no sense of humor... Whatsoever. I always wanna shoot him for it. But I showed him Dane Cook, Viscous Circle. He was crying on the floor, literally. Dane, knows life. He knows what everyone goes through in a day. He's not the stereotypical comedian that is always racist and whatnot. He rarely bashes on races. I have not heard him once make fun of a race. He uses what we go through everyday, and makes us laugh about it. Should be number 1 in my book.
Dane Cook is hands down the worst comedian who ever lived, and I've seen bad comedians before on T.V. and YouTube but never as bad as Dane Cook. When he tells a, a-hem, "joke" all it is is a lame story told in a hyperactive tone and you're supposed to find it funny. I find watching paint dry a hell of a lot funnier than Dane Cook.
SO underrated. People hate him and call him talentless because he's successful, but then why does he make millions of people laugh then, hm?
Great comic, his style isn't for everyone that is for sure but I personally think he has a great sense of comedic timing. I have been a fan of his comedy since he first started around 10 years ago. And whether you like him or not, he has sold more comedy records than just about any comic.
"I'd like to be a fireman but if I came to a house on fire... 'F**K It I quit! ' And I would just watch it burn with everyone else... then some lady would come up to me and say 'help my son! He's screaming in there! ' 'Well he's probably on fire'" greatest joke I've heard. - spartan32177
Although many people seem to agree that his constant movements on-stage seem to be the majority of his show, and that because of that, the overall comedy is... Well... Zilch. I, on the other hand, disagree! His humor is is incredible and the movements serve their purpose. Bravo, Mr. Cook! - izzychavez
The single most funny man on the planet. He makes me laugh so hard and at our house we constantly do Dane Cook jokes in everyday situations. Dane Cooks sees the simple things in life, understands them and makes ridiculously funny jokes about it.
Usually when I watch comedians I just watch but when I watched dane cook I have never laughed so hard he is amazing and I enjoy watching him... His stuff makes since and I can relate to it and understand I watched quit a few comedians but her surely is the best and I will stick to that in-tell I see different but intell then he is the best!
This guy is like so amazing! THe one that made me laugh the most was "Crying", I'm French but it was so funny that I didn't even care that I didn't half of what he was saying, I just wanted to have a real good time and this give is the best for that!
Dane Cook has a crazy sense of humor and he has a lot of truths in his stories. He nails it with cheating and relationships! Super funny and knows how to make you laugh!
By far one of the funniest individuals I have ever seen in my life. His stand up makes me cry tears of joy every time I see it. And the posts he puts on his Twitter and Facebook pages can't be beat.
"when you see someone wearing a superman shirt... you just wanna shoot them in the chest plate... and when they bleed, say guess not... "
Dane Cook takes the ordinary and makes it hysterically funny. I love his comedy! He is intelligent but hides it. I know from experience of his kind. I have had great friends like him!
Funniest comedian ever besides me... That's because I'm the god of comedy but that's neither here nor there.

He has great energy and his punchlines are replaced with act outs which are much better than one word punches that guys like louis unfunny ck do.

I love dane cook so much that I died of laughter when watching his old and brand new shows and also I would love to hear his new funny jokes and see people vote for him.
Should be number one. He always manages to make me laugh and I listen to his stuff all the time, it never gets old.
"THIS IS WHERE BENSONS USED TO BE! "
I tried watching the comedians on top of the list to see if they were funnier than DC... Terrible mistake! Not a single person can make me laugh more than he does!
Dane Cook had one great stand-up that I thought was hilarious. Everything I've seen him do since has been terrible. Way overrated
DANE COOK, even the mention of his name makes me laugh because every time I think of him I can't help but smile because I think back to all his stand up comedy and it just cracks me up. His videos was what supplied me with laughter at the times that I mostly needed them. Love you forever Dane. Stay strong xo - rawrxo
Duh, why is he on the list, his jokes are so cheesy, like he only had one decent joke about the kool aid man, and it only made me smile not even laugh
dane cook is the best guy in the world, i am riley curtis, and no offence dude...but one day i will beat your records. when i have a goal, i go for it. and i want to thank you for giving me something to look forward to.
Snarky. Yeah, it's a word. Google that s***. Google magic baby. And yes if you're wondering I do keep my keyboard this close to my face
Definitely should be in the top 10. He's a physical comedian and doesn't count on just the jokes. He makes it 10 times better by the way he moves around and the way he expresses everything. How can you hate on him? Doesn't make sense. Louis ck takes the #1 spot though in my opinion. Then brian regan.
I can hear his jokes twice in a row and it would still be funny. Dane is the ish! My friend showed me Catholic Church years ago in school and I asked who is this guy?! Followed his comedy ever since. Great attitude towards life and seems like a person who everyone would want as a friend.