Kevin Hart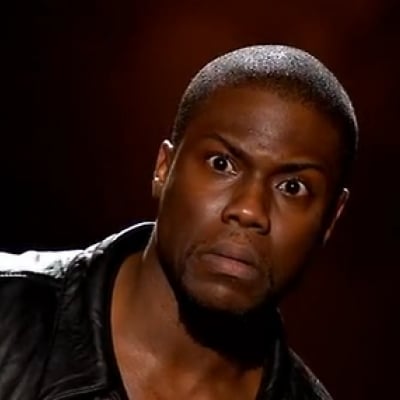 Uploaded by KJS2300
Info
Kevin Darnell Hart is an American actor, comedian, writer, and producer. Born and raised in Philadelphia, Pennsylvania, Hart began his career by winning several amateur comedy competitions at clubs throughout New England, culminating in his first real break in 2000 when he was cast by Judd Apatow for ...
read more
.
Comments
Top
Popular
Newest
He is my favorite comedian because he's so honest and open and his delivery is so perfect. I wasn't expecting him to be that funny, he will get you from all kinds of different angles--whereas most comedians are one dimensional. He tells stories and acts them out so well! You should check out his first DVD, it's great and I never laughed so hard at such good-spirited/light-hearted jokes. Another thing about most comedians these days is that they try to shock you with subjects or sometimes talk about very dark and depressing topics or just use comedy as a way to vent--which can be funny, but in the long run you tend to appreciate the comedians who've tried to keep it somewhat wholesome/light/positive and try to connect with their audience on a level of love and not bitterness or negativity.
This guy is very talented but also very funny to watch. I bet if you don't laugh about this guy, there's something wrong in your brain. Even though when I am from the Netherlands, Kevin Hart is the greatest comedian in the world to watch. I've been several times to his shows. But I keep laughing about them. I really think Kevin Hart should be a more successful person. I met him once backstage, when me and my girlfriend had bought a backstage ticket, but when you talk with Kevin Hart, it seems to be it is your best friend.

You really need to go to one of his shows. I bet you'll laugh about them as well.

Regards,
Peter, Hypixel Staff Team
Has some of the most classic lines I ever heard that simply get stuck in your head. I think David Chappelle and some other comedians that have been around longer have more extensive material and better jokes but I've never laughed harder than when I hear Kevin Hart. He really knows how to combine everyday life with original material that is relevant to the current times with classic lines.
What can I say the guy is a comedic rock star for sure! Followed his career since Soul Plane an I also watched all the movies he starred in an the one's were he was a guest on the show. This guy is so funny! I also follow him on Instagram an I truly believe that he is the only comedian who gives us something to laugh about everyday! What else can I say, he's just to funny.
Kevin hart is the funniest man live for what he does because I presonlly don't like comedian but he makes things so much funny that I just want to know all the comedians in the world to see if kevin hart is funnier than them. I bet he would win ever stand up show that there is if he would just talk about the stuff that he does on his "videos" or "shows" it funny just thinking about them!
Kevin Hart is THE most funniest comedian ever in this world and he made his comedian reputation funnier by being in the movie "Think Like A Man", also a great movie. STOP HATING ON KEVIN HART IT IS RUDE YOU KNOW!
WHATT? He should at least be top 10. The way he tells his jokes, how presents him self, the way he relates to the crowd and makes it feel like your actually there with him. Kevin hart is my favorite comedian for so many reasons. "HE SAID SHE ain't GOT NO NIPPLES! "
Wow! I am very disappointed in you, America. Kevin Hart is the funniest man on the planet. If you do not believe me watch his earlier works, my personal favourite is Seriously Funny, Check it out
Kevin Hart is way funnier than some other comedians on this list. He should be higher ranked. Im a grown littel man is hilarious if you haven't seen it, its a must!
He is the funniest man on earth your stomach will hert that's how funny he is he should be in the top 10 even number 1 if you haven't seen:kevin hart I'm a grown little man or:kevin hart serious funny. then you haven't seen comedy!
This man has me weak laughing an crying. He' funny and I love his Chocolate Drop character. Loved his NBA allstar antics. He also seems down to earth and a regular funny guy who's not stuck up
By far the funniest guy I have ever seen please look up some of YouTube videos even when he is doing normal stuff it's just funny the way he does it laugh out loud
You guys are lames this guy is the funniest comedian alive he should be in the top ten
At this moment, I think kevin hart is one of the funniest comedians because more so than the content of his stand up, it's the way he tells you his stories that makes it so funny I love him!
I have watched 6 out of the 16 comedians listed above and kevin hart is definitely funnier than all of them. I guess people who have voted for the above listed comedians haven't watched kevin hart yet. And where the hell is martin lawrence--- heres my top 3 - 1. Martin lawrence, kevin hart 3. Katt williams (though I hardly understood anything he said in kattapcalypse)
Kevin hart should not be listed as #26. He is definitely in the top 5 in my book. Non stop laughter. For anyone who has not seen his stand up I highly recommend it. By far my favorite comedian!
Funny as hell no one is better watched all of his stuff if you watch it all without stopping you will die laughing all right all right all right yeah
He is already the best comedian of this decade. He will be in the top 10 very soon! Hilarious! I have seen his last 2 shos, and I can't wait to see the new one coming out soon. If you haven't seen him you should really consier watching him before all these other comedians. Flat out one of the funniest persons on this planet.
He's the funniest man I ever heard, plus he's been in more movies than anyone I ever seen plus I don't even need to now watch the new jumanji movie to see how hysterical he was just funny lol all the way in my books
Kevin hart is the funniest comedian I've ever watched he has me in tears the entire time I'm so obsessed with him I watch his clips everyday just so I can laught they never get old. There isn't one of his stand ups where you don't laugh I will promise you that
He is one of the funniest comedians ever. He is one of those comedians that uses himself as a joke and isn't afraid to go to any topic he'd like. He will have you crying until you have no more tears
Funniest commedian I've EVER seen and I browse them on YouTube usually just searching for new comedians I watched all three of his standups IN A ROW because they all had me gasping for air and I'm one of those strange people that laugh with people but is hard to make laugh when your alone. This guy does it incredibly easy seen him live he's even funnier. A MUST SEE
He is a very very talented young man and what I like the most is he uses his he uses his punch line at the right time keep your mind is suspense
I think that Kevin hart is totally the funniest because I like the part that somebody got in the oven and said get your butt out of the oven before I turn it on and after that he goes HOT, HOT
Kevin Hart is definitely my favorite comedian. The execution of his lifetime stories is flawless, and we can all relate to his material in some way. He NEEDS to be number one on this list. :D