Lee Evans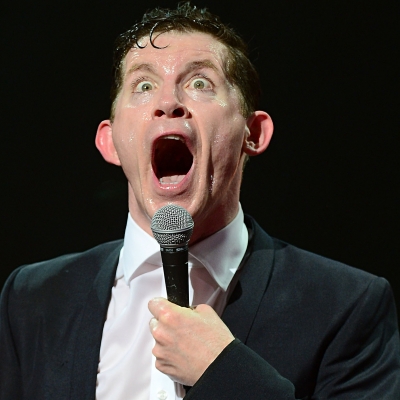 Found on static.guim.co.uk
Comments
Top
Popular
Newest
Lee Evans should easily be top 10. My most favorite comedian. He justs gets better and better. He breaks so many records in the UK. He is not only a very talented comedian but a talented actor and musician as well. When I went to see the Roadrunner tour, I laughed at just about every joke he did and I love his songs, they really do mean something. Despite all this he is so down to earth and such a lovely bloke and a great role model
No other comedian makes me hysterical with laughter like Lee Evans. He so clever the way he makes everyday things hilarious - I literally cry with laughter every time I see him. If you are feeling low... Watch him... he WILL make you feel better, make you smile and laugh laugh laugh. He is the most talented and amazing man. And his song 'Funny Man'? WOW... His voice and piano playing is just unbelievable. What a great talent he is. Respect.
Lee Evans is my favourite comedian of all time, he is one of the most brilliant comedians ever and is amazing at slapstick and the voices he does, he is by far one of the funniest men ever and should be in the top 3, he is a legend and I have never laughed so hard than I did whilst watching one of his performances, although not being for all ages I thing he is the best out there!
lee evans is without as doubt the best standup ever. this is purely because absolute everyone no matter what age can relate to his material. yes some other comedians are really good, but aren't really for all ages. most are to indepth and doesn't come across as funny. whereas lee evans is straight to the point.
Best comedian ever should definitely be in the top ten if not 1st put it this way if he was American hed be a lot higher on the list
Lee Evans is a master piece on one spot. One of the first comedians to preform on stages, where bands could only take place, at the time. I'm shocked at the fact he's not even in the top 20's, people should have better taste, to others that are higher up. But opinions are opinions, but Lee Evans is fact, he's a true work of art, and should be higher ranked, I'm honestly shocked, I've seen him live on his monster ture, and his last one of that. He was a role model, to many, including me. So to Lee, your my number one hero and role model, and u should be more recognisable to people, who have a taste for comedy and not.
What MATE!

Lee Evans is a brilliant comedian! Why is he so underrated? You've gotta love him regardless of your nationality! Seriously now, what's wrong with you people?! Evans shouldn't be so underestimated, he's simply hilarious!
The first time I watched Lee Evans was when a friend of mine showed me a video of one of his shows. At first I didn't find him that at all but as the show went on I found myself laughing longer and harder, now I can't get enough of him. His actions and expressions are hysterical, I love the accents and it always amazes me how he can sweat through an entire suit in just one show. Lee deserves to be number 1 with Je-fa-fa Dun-ham second - Danielsun182
Lee Evans should be number one.. He is absolutely amazing! Like someone else put, he is not big headed at all, not only have I been to shows but I've also met him and he is so down to earth. Such a legend, Respect this man! Love you lee x
One of the UK's finest comedians.. His energy on stage is incredible, and his view of current events sets him above the rest. His dithering style plays the loveable idiot to its finest.
I love LEE EVANS. He's so full of energy! All his jokes are cleverly connected and has a point, he out rules quick boring comedy, truly he is great at being different!
ABSOLUTELY hilarious and funny bloke. I am so surprised that Lee is not rated in top 5 of all times. Guy rocks the stage, makes you laugh so hard that your stomach goes into a cramp mode.
I think this guy should be number one because you look at his videos then you look at Jerry Seinfeld's videos and there is a big difference going positive on lee evan's side.
SHOULD BE NUMBER ONE! This man is so inspirational. His final song on the road runner song changed my life big time! He is such a humble man and incredibly funny. LONG LIVE EVANS!
HOW IS LEE ONLY 34TH?! Every single show I have watched he has had me crying with laughter! Even watching them when I know all the words he still has me in stitches, lee evans is the funniest comedian ever.
Funny through and though, jokes the act the songs. Spends 5 minutes at the end thanking the audience shaking hands. Just a all round performer with his head not in the clouds.
I got a six pack from laughing so much! Lee evans workout but very funny... Watched it with friends and parent all enjoyed it even I did after watching it 3 times still gets me
Best comedian ever, I have never seen a funnier performance than him, and he does it every time, how can he do it every time? Because he's the best, no one like hi
Just watched his big tour 2008 for the 2nd time... Laugh out loud, so funny! Should be in top 10 with all his energy and everything he brings to the stage
Lee Evans is a fantastic comedian. I love this man and his comedy.

Lee Evans has massive energy and always has me crying with laughter.
How can this legend be this low. He has entertained thousands for many years with his hilarious antics. He has endless energy that makes your stomach ache.
has played in one of the largest stadiums in the world and is immensely funny... if this were a British site he would be higher up - Jonuskong
No doubt this is one of the most energetic an hilarious comedians of all time, never fails to not make me laugh out loud
So original it's unreal... His impressions are superb! Really relates to the audience and what they're thinking in everyday situations...
Best comedian ever! So hilarious! I love his new one, Roadrunner. And I like his accents and facial expressions!