Ricky Gervais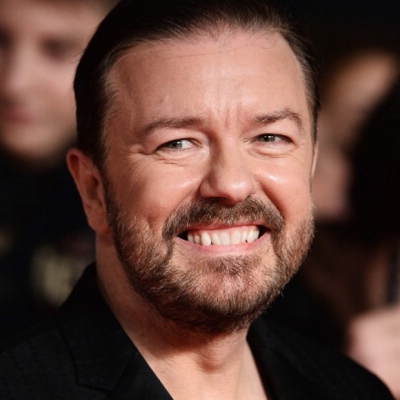 Found on bonappetit.com
Info
Ricky Dene Gervais is an English comedian, actor, director, producer, writer and former singer and manager.
Comments
Top
Popular
Newest
Ricky Gervais is pure comic genius! He touches topics people wouldn't touch with a ten foot pole, he does this not only in his stand ups and T.V. shows but in his podcast program as well.
I am never EVER visiting this site again, where is the true talent? Jimmy carr, david mitchell and what about PETER KAY. Yeah ricky gervais is a great stand up and definitely deserves a place in the top ten. What about RONNIE CORBETT? BEN ELTON?
He's the only one doing comedy that isn't just obvious stuff that anyone can relate to. I think there's too much American bias here that's why he's not higher up. Several of the ones in the top 10 I never even heard of.
I can't believe he's not in the top ten! I haven't even heard of any of the comedians that are in the top ten. He's way funnier than Eddie Izzard or Jimmy carr combined the fact that has less votes than them is insulting
- samm1
He has made a big impact on the delivery of humor in the past ten years and has been involved in many different aspects of comedy. His work is wide-reaching. He has opened up many taboo subjects to the public discourse.
This guy is a genius, from producing films to recording hilarious audio books with steve and karl, I don't understand how he has the time to create such amazing stand up performances. He should be number 1.
Politics, Animals, Out of England... Must I say more? He is a comedy genius! Jaw-breaking honesty, shockingly pleasurable intellect and kinda hot in a delightfully weird way! The bees knees!
Everything from his stand up to his sitcoms, all hilarious. Even when filming he's a practical joker. He genuinely lives and breathes comedy!
By far the funniest and most intelligent comedian alive. He makes you think during his self proclaimed "lecture"
What! He is the creator (with stephen merchant) of the office, extras and the Ricky Gervais Show. He is funny as hell
I thinks this list is about who is the most popular comedian. This is actually given by the media, and publicity of each comedian. Gervais is the greatest ever but you have to be intelligent and free of represion to understand... We are few in the world
You seen him in Grand Theft Auto-4? He's just as good as katt williams. Deserves top 10 for the very least.
How is he not the best in this list? I could laugh myself to death watching his stand-ups!
He's not the best in my opinion but he definitely deserves a higher ranking than 40 haha
His riffs on religion and Atheism are absolutely hysterical! Should be top 10
Ricky Gervais at #51 is the funniest joke of all. Best stand-up comedian ever!
Genius very unique and very clever comedian just natural and honest
Ricky is one of the best comedians out there he needs to be higher up
One of the bravest comedians out there.
This Man is a genius! I'm 'pretty sure he just lives a funny life! :-)
Speaks the truth. Excellent roaster. Brilliant man
Absolute comic genius. Great timing, delivery and content. I love how he immediately addresses the elephant in the room and turns the taboo into something we can all laugh about...even the target of the joke.
Love Ricky but I prefer his impromptu podcast. Love the dry take on things. Seriously love this guy!
Should totally be in the top ten...can't believe he"s down here. Genius and way better then someone like Dane Cook lame ass
Great comedian, has his own styl. I've seen him first in Grand Theft Auto game. Laughed me much better than Katt Williams.
Related Lists
Top Ten Best Ricky Gervais Show Episodes
Top 10 Best Ricky Martin Songs

Best Ricky Nelson Songs
Stupidest Nicky, Ricky, Dicky & Dawn Episodes