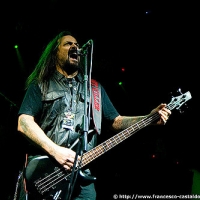 2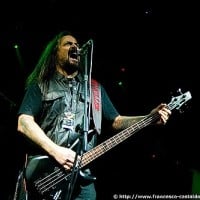 +
Glen Benton
Glen Benton is an American death metal musician. He is best known as the vocalist and bassist for the death metal band Deicide and was also a part of the band Vital Remains, where he has performed in recording sessions as well as live with them on a few occasions.
A controversial musician, Benton is known for his theistic satanist views and actions. He was originally going to commit suicide at age 33 in order to achieve a life opposite that of Jesus Christ, but he passed the age in 2000 and did not kill himself. In 2006, he stated that the statements he made were "asinine remarks" and that "only cowards and losers" choose to kill themselves.
Another controversial action of his is that, during an interview with NME Magazine, he shot a squirrel with a pellet gun to prevent any further damage to his electrical system in the attic of his home where the interview was held. This angered some animal rights activists who attempted to attack Benton by bombing Deicide's Legion tour at the International 2 at Manchester, England.
Lists Featuring Glen Benton