Iker Casillas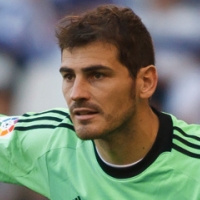 Found on s3.amazonaws.com
Info
Iker Casillas Fernández is a Spanish professional footballer who plays for Portuguese club Porto and the Spain national team as a goalkeeper.
Comments
Top
Popular
Newest
Personally I think iker casillas is the best in the world, his swift reflexes skills and more besides, he's like the back bone to his real madrid team. Thou @ time he becomes furious whenever his opponents manage to score an early goal on him. But I still him to be a leader
Casillas was goalkeeper for Real Madrid since a early age and has been there all his life, a team that is one of the greatest. Inspiration is what he is, greatest goalkeeper from Spain is what I think and deserves that.
Iker Casillas is much better than all the keepers because he has the right timing and everything although he didn't do well against Brazil 2013 confederations cup final because they where all terrible lucky goals but you should all know that Iker Casillas is the best goalkeeper in the world it says it on his shirt that's why I have baught everything of Iker Casillas and I have it on my wall
Iker Casillas is the best goalkeeper of all time because he has win 2 Champions 2 Euro 2008&2012 World Cup 2010.. More trophy than any goalkeeper.. His reflex and his confidence in itself make him "Special"... He is without doubt number 1
It Is The Best Goal Keeper Than Petr Cech And His Stop Is Very Good. Pert Cech Is A Small Goalkeeper Than Iker Casillas. Iker Is The Best Of The Best Goalkeeper.
Though he is injured but he is still amazing. Jose was a fool to prefer lopez. Casillas is one od the best goalkeepers that the world has ever seen. He IS the best
His reflexes are incredible. 1 on 1 is great. Saving is awesome. Every manager wants Iker Casillas. Captain for both club and country, when the defense has missed a tackle, always rely on Casillas!
Iker Casillas is really good because he thinks well before cathing the ball.
He is a great goalkeeper if not real madrid would have lost a lot of soccer matches I would also like to say that REAL MADRID is one of the best soccer team in history of soccer team! Go Real Madrid!
Iker casillas is the best goalkeeper in the world, is lead ship on an off the field makes any coach have condient in him as well as is fellow teammates. He's hard working an you can call up on him any time an he delivers, Is talent is extraordinary. Saint iker the best!
Class starts with C and ends with S so does Casillas. He is by far one of the best ever. His reflexes are world class and I'm pretty sure without him, Real Madrid wouldn't be as good. Top class.
He is not playing football to memorized as a good goalkeeper he play football to memorized as a good person...
He's one the best of all time and one of the most successful in individual awards and team awards. He's got great reflexes and ability. He has great discoloration
Iker Casillas is the best ever... I've never seen anything like him before he beats all those other goalkeepers
Iker Casillas is the best, he has the best moves, fastest reflexes and the best diving skills. No other goalkeeper can compare to him.
He is the fastest Goalkeeper. He know the future where ball will and he dives.
Casillas is always number 1 in my book and if he fails I still have faith in him
Iker, is the best he has a good reflexes and instinct in saving shots, Iker also show some leadership.
Casillas is the best because he has saved amazing goals unlike petr cech because he let goals in against every team
He is a Legend. The best goalkeeper in Football History. Only Goalkeeper to have received 5 IFFHS World's Best Goalkeeper Trophies in a row... That's the highest no. Got by anyone.
Most of the people think he is the best keeper ever because he is fast he catches shots and pushes
Casillas is the best goalkeeper alive it says on the fifa World Cup site
The best goalie in the world! Camilla saved lots of amazing goal, but he got injured. Noo!
Baddest guy that idiot manager should play him instead of that useless diego lopez
He's the best by far because he also plays for Spain and Spain won last years FIFA World Cup so he is amazing
Related Lists

Best Clubs Iker Casillas Has Played For