Ajith Kumar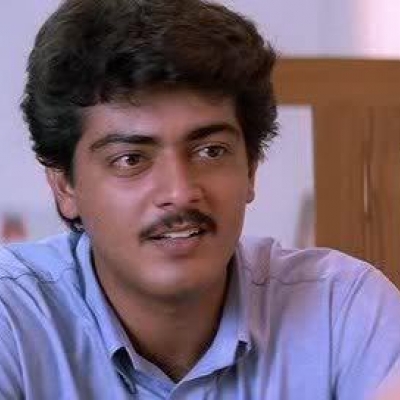 Uploaded by mpKarthik
Info
Ajith Kumar (born 1 May 1971) is an Indian film actor best known for his work in Tamil cinema. He is one of the most successful actor in Tamil Cinema. In addition to his acting, Ajith Kumar in a sabbatical, participated in the 2004 British Formula 3 season as a Formula Two racing driver and was ranked ...
read more
.
Comments
Top
Popular
Newest
He is called KING OF OPENING by critics, media and tamil film industry geneous.
He is very close to Superstar Rajinikanth another person who is known for his hardwork.
He was born on MAY 1 matching his hard work.
He proved as next superstar by acting on BILLA a brave hit of Superstar Rajinikanth.
He is being called as THALA by his ardent fans which means Head of all(thalaivan, king) (general which came under him)
He has risen to no 1 position without his father support nevertheless like his rivalry.
He is an actor not a dancer.
- thalada
To start, He doesn't act in many remakes.. Now that is the most important qualification in tamil cinema, because half the movies are remakes or copy from english movies, kamal copies english movies all the time, rajini remakes or sometimes copies english, vijay need not told about copying. The next point is that, he is one of the biggest gentlemen in the tamil film industry, Many people have accepted that fact, one can see any person who is working with ajith praising him. But the most important point is that he acts excellently, especially in his recent movies like Billa, Mankatha, and Varalaru. He does never over-act, his acting seems flawless and one can find the other person's acting in that scene to not be that good! He does different roles and mostly tries to avoid commercial movies, that's why some movies flunk. He never asks for the best comedian to act with him.. Ever! He can't dance well because of his spinal surgery, but he makes the song charismatic like no other (See ...more
Obviously he is one of the mass hero in the south Indian cinemas..
None of the heroes couldn't stand in front of his hardwork..!
Hardwork means thala! Thala means hardwork!
He always used to stand in his own leg not like others(I'm not talking about doctor. Vijay)! Because some people always used to live in their father's shadow..! But my thala is not only a actor, hardworker, also a car as well as bike racer.. And he owned a pilot license... Some people don't know how to drive a bike itself(Here also I'm not talking about doctor. Vijay)... Some people think only dance could make them as hero... But it's not correct... Don't you guys see Hollywood movies? There is no place for dance at all.. Even in Indian movies also it's just a part alone... At least now itself learn how to act..
He is Best Actor in south cinema, he win the 3 national award
Thala
Stand stands for sacrifice, bold, straight forward
He is a champion in car race
And 2 in cinema
He is a braver not be a slaver
Thala thala thaan
Get ready for mankaatha
Strictly no rules for thala the
Thala thala thaan
Thala is the best...
No one can stand before his talent... He is a good role model to youth... Our thala will rock in mangatha...

Thala is not only Best Actor but also a Great Human Being. He recently dissolved his fans club bbecause he wants his fans to take care of themselves and their family and not to waste their time. Now who will have the guts to do that? Except for Thala..

Guess what we fans showed our Love and told him silently that we stood by him in Everystep, By making Mankatha Huge Blockbuster in Collections...

Thala on behalf of all the fans... I wish you all the happiness with your family and also wish you good health..

Love ya...
The man behind many flops, but still being the best opener makes the cine industry think more than thrice about his magic.
THALA IS THE BEST ACTOR IN INDIA.. THE REAL HERO IN CINEMA AS WELL AS PERSONAL LIFE.. HE IS THE REAL GENTLE MAN. HE IS ONLY ACTOR WHO HAS DIE HARD FANS.. HE IS NOT LIKE OTHER ACTORS COMING UP WITH FATHER'S SUPPORT. HE IS THE MAN WHO IS APT FOR BEING IN FIRST PLACE..
Wonderful actor who brings change in character every film he is not only bringing change and also gives to importance for all new coming director
He is one of the car racer in India, he don't copy others style...
And then he is one man army in south India film industry...

Asal(real) Hero, Grt human being.. Great looking... Kathal Mannan..
He is a good Actor and speedy racer too... Expecting Billa 2 of Ajith... So smart & good looking
Thala Ajithkumar is a multitalented personality. Apart from acting he excellent in may fields like Racing n business. He is the only Indian Actor to have d license to drive a flight. He also has two 5star hotels in Malaysia. He is a humble human being and also has the Gutz to speak about anything in front of anyone. Thala rocks.
My rating for Best Actor would always stands for "one and only Mr. Ajith Kumar" because he is the one who gives lot of varieties in Tamil Film and didn't bothered about his failures, However he strikes the best opening in Tamil film, there is none other to meet his victory over Tamilans. Thanks to Mr. Ajith Kumar fans... Thala Rocks
One of romantic hero in collywood (chennai). I am really proud of being ajith fan... Hi thala... Carry on your carrier
Thala than top in the kollywood cinema, he is the ultimate actor in Tamil cinema thala rocks
Action speaks louder than words. The man who does not promote his film himself rather let the film speak 4 itself. He is our thala.
Always thala rocks..
he is also 1 of the best actor in India...
he is using all his efforts 2 achieve
THala always rocks. THala is great actor in Tamil film industry
He is the only actor deserve to be have great fans, he is the role model for many youngsters, great human being, simple man having great self confidence, he is called THALA by their fans, KING OF BOX OFFICE in Tamil cinema (Kollywood), a genuine man, apart from cinema as an actor he is the GOD for many lives...! THALA he is rocking!
Thala the mass hero in Tamil Nadu, and he is the one and only hero forever in our Tamil nadu keep rocking thala
If you see the way Ajith sir has grown as an actor over the years, you would have no doubts that his present brilliance would have taken tremendous hardwork and perseverance. The ease and perfection with which he plays multiple roles, and his sterling screen presence, make him a one-of-a-kind performer. He has an inbuilt style which doesn't require him to resort to gimmicks or antics. He doesn't need to have a perfect body or extraordinary dance skills, because that charismatic face, the inherent suavity and deep baritone are enough to make hearts race. The best thing aboit Ajith sir is that in spite of his brilliant performances and stunts, he is loved more as a human being than as an actor. He is a hero beyond the screen, a living inspiration to innumerable followers like me. God bless you sir. May every bit of your life be blessed.
A bold and honest man. We have proof of how honest he is despite the political pressure and possible repercussions of his actions. Many heroes are screen heroes however he has done and achieved plenty to prove that he is a hero in real life as well.
Thala is great actor he has world wide fans following, I don't know tamil, I am from andhra, but I like to watch ajith movie. He has own stylish in acting. Ajith has huge fans following in our andhra also, ajith will become south india number 1 after rajni kanth.
Related Lists

Best Ajith Kumar Movies of the 90s

Best Ajith Kumar Movies of the 2000s