Benedict Cumberbatch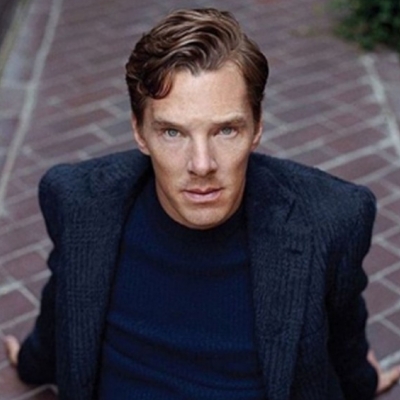 Found on woman.ru
Info
Benedict Timothy Carlton Cumberbatch is an English actor and film producer who has performed in film, television, theatre and radio.
Comments
Top
Popular
Newest
Benedict is the paragon of gentlemanly humility, honesty, and integrity. As an actor, his skills far surpass those of his peers. As a man, he never fails to be kind, gracious, and grateful for all the success he's had in his career. He chooses his work based on what he enjoys, not just a paycheck. Benedict Cumberbatch should serve as an example of how to pursue your passions and be successful while retaining your integrity as a person.
He is one of the most brilliant actors in the business. He brings his characters to life and can take you on an emotional roller coaster ride that you don't want to get off. He excels in both the theater and on the big screen, a feet not many actors can boast about. His intellect alone is astonishing and matches his acting skills. He is able to dive into any character role which makes him very diversified. Although he has reached international stardom, you will not find a more grounded, respectable, family oriented man in the business. Benedict Cumberbatch is truly one the most gifted actors of our time. He is a true star.
Benedict Cumberbatch is not just a regular actor. When he has a role in something, he brings that role/character to life. He doesn't just read words fed to him by someone, he actually puts part of his soul/personality into what he does, and it makes him such a beautiful person for doing that. Many people know him for BBC's Sherlock, but you can't forget Atonement, Amazing Grace, War Horse, BBC's Hawking, and The Last Enemy. I look forward to seeing his new work coming soon, Parade's End, and even him staring in Star Trek because of how spectacular he is on and off camera. I look up to Benedict Cumberbatch, and will continue to follow his work for a very, very long time.
Yes, he is amazing in Sherlock, but we have to keep in mind he's done other great projects. Benedict is simply amazing when he portrays the role of Stephen Hawking. The way he literally brought me to tears was simply astonishing.
Another great film is "Third Star". All I can say with that movie is "wow" Such well acting, so many laughs and giggles, but in the last scenes, he had me in tears once again with his great work.
Frankenstein. Wow, all I have to say is he is one amazing actor.
Step 1: Notice his androgynous looks: the long face, the perfectly formed lips, the luminous grey-green eyes... His cheekbones especially, you could cut yourself slapping them.

Step 2: Listen to his voice, if you haven't done so yet, then his deep velvety dulcet tones will most definitely ensnare anyone's attention.

Step 3: Look at the way he moves, how he gestures, how he walks, how he uses emotions like a puppeteer would a puppet. He does love to be dramatic.

Step 4: Go back to step 1.

This is how to love Benedict Cumberbatch.
Where do I start? He's an absolutely outstanding actor, very versatile, and incredibly loyal and dedicated to what he does. What he does is take a role, and build an amazing character, that every time, the audience are with every step of the way. He is great looking, incredibly nice, finds time for his fans, and replies to fan-mail! He is so humble, and such a lovely all rounder, and that's why I think he's an utterly beautiful person. X - LauraAura
When Benedict acts, he submerges himself into the character and it just completely draws you in. Unlike some other actors I've seen that just flop around the scene being emotional, he makes them seem so real. Especially how much emotion he laces in his eyes. It's the first thing that made me love him. He has charisma that just draws attention to him. Hopefully we'll seen him more on the big screen, we need more actors like him.
He doesn't just act, he becomes his character, he embodies everything they stand for, every word they are meant to speak, he gives life to. We don't see Benedict when he is acting, we see the character he has become. Couple that with the charming persona we are presented with in interviews, you have an all round star.
One of the most talented young British actors, this man makes every role believable and appealing. He has such charming personality, and ability to play even the most complicated characters. If you didn't watch Sherlock yet, do so, because his performance is stunning. He is by far my most favorite Sherlock.
Although Benedict start to being famous after many years he started his career, but I had watch all of his movies/drama/films, HE IS BORN TO BE AN ACTOR! He did very very well and giving full responsibility in his work. I had really fall in love with him since the movie"To the Ends of the Earth". he just steal my heart even more after War Horse, Star Trek, Sherlock, Van Gogh,12 Years A Salve, The Imitation Game and so on! He is giving the character a real and alive characteristic no matter what character he is!
A fascinating and highly-skilled actor. Steals the show the moment he comes into frame, regardless of how much or how little screen time he has. Conveys volumes in the lift of an eyebrow or a twitch at the side of his nose. He does not so much inhabit a role as the role inhabits him. As Sherlock says the physical is "just transport", so Ben becomes transport for the characters he plays, and they come truly alive in his head.
The amazing love, humility and intellect he conveys when you speak with him is mind-blowing. He is sweet, good looking, and mind-numbingly talented. He has proven himself not only a true actor in the range of characters that he has performed, but also as a man that all other men should aspire to be.
Benedict ' Cumberbatch, ladies and gentlemens. One, who changed my life since January, 2012.

He's incredible actor, amazingly kind and, without doubt, one of the most beautiful persons on Earth. Watch Sherlock BBC, Third Star, Wreckers etc. - and you'll see. He's just.. Greatest actor. Vote for him. From Cumberbabe (Kazakhstan, Almaty), with love.
He's a living proof that an actor can both be intellegent and humble. He knows what he is doing and always does it properly. It's surprising how enthusiastic and serious he can be in acting and performing theaters, he is definitely a life-role of many great young actors as well as most people. A great friend, an amazing actor, pretty much the best of actors in their role and in real life.
I think Benedict Cumberbatch is an actor well-worthy of the the recent attention projects like War Horse, Tinker Tailor Soldier Spy and of course Sherlock have earned him. I have been a huge fan of his for a long time, both his work and his manner in interviews and when talking to fans make me love him even more. He is absolutely brilliant, some may say 'paramount' ;) Also a special mention to Tom Hiddleston who I also love, but Benedict just edges it for me!
His talent and diversity as an actor is simply mind-blowing. 110 % devoted to his art, Benedict Cumberbatch doesn't just play his roles - be becomes them. On top of that, his vocal quality is extraordinary. That deep, rich expressive baritone... It sends shivers of delight down my spine.
With a versatile face that can grow from being innocent and naive to the villain in Star Trek, with a voice that read children's stories to voicing a dragon, and narrating the opening to the 2012 Olympics, Benedict Cumberbatch has showcased his talent in areas more than one and he is all deserving of a title. I hope to see more of this amazing man in the future and wish him all the best in his endeavors.
He nails every single role. He cannot do wrong! Sherlock? Nailed it. Hawking? Nailed it. Atonement? Nailed it. Hell, even his Jaguar commercials are fantastic. If you get the chance, go see his Frankenstein (or his Creature). He's incredibly versatile and has such commanding presence, he's one of the finest actors of this generation.
One of the most talented men film and theatre has to offer! Benedict brings beautiful emotional arcs as well as striking physicality to every role he plays. Once in a while a great actor comes along that makes me realize why I am going to become an actress when I am older and Benedict Cumberbatch is it.
He's just spectacular! His voice, his brain, his talent, his everything, it's all just amazing. He just has an undeniable skill to completely mold himself into any sort of character there is. So often I see actors who play the same character over and over again. Not so with Benedict. Every take on a character is fresh, different, and new.
He is always utterly convincing in every role he plays. His magnetism and charisma span stage, screen, and spoken word. He is master of all genres. The depth and technical brilliance of each performance are truly awe-inspiring. He is undoubtedly one of the best actors of his generation, if not ever.
He's not only unbelievably talented but also intelligent, humorous and just an all round awesome person. Besides, he supports fan fiction so I'm sold. But honestly, he's played Sherlock Holmes to perfection and as a huge fan of the books I definitely approve. Not only that, he's played many difficult roles and pulled them off amazingly well. Which is why he gets my vote!
I consider Benedict to be the finest English actor at this time.
Benedict Timothy Carlson Cumberbatch is a talented, wonderful, amazing, humble, beautiful actor who is gifted in every single way. He Deserves this award for all the work he's done in movies and on-stage theater. He a nice man who is always happy to get a photo with you. He's a truly lovely person. Long live the batch!
Benedict Cumberbatch is an extremely talented actor. He plays his character well. BBC chose extremely well in casting for him for Sherlock. Had any other actor been selected for the part, I wouldn't care for the show in the least. Benedict deserves to be number one. I'm ashamed to know that society has left him in only place twenty six.
Related Lists
Best Benedict Cumberbatch Movies