Denzel Washington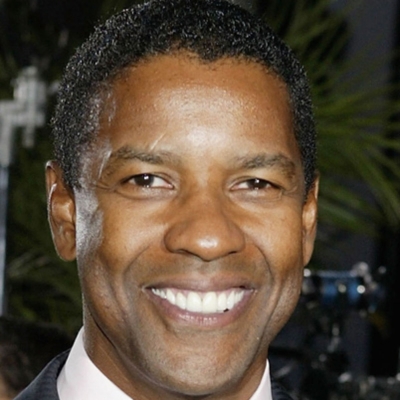 Found on files.biography.com
Info
Denzel Hayes Washington, Jr. is an American actor and filmmaker. He has received three Golden Globe awards, a Tony Award, and two Academy Awards: Best Supporting Actor for the historical war drama film Glory and Best Actor for his role as a corrupt cop in the crime thriller Training Day.
Comments
Top
Popular
Newest
It's a shame Al Pacino makes it to the top, but they do not recognize the great Denzel. Any role Denzel takes on to he delivers an unbelievable well pasted performance and is all around down to earth. I have never seen a film he stars in, which he does not completely steals the show from the rest of the characters. - nonofyall
I really think Denzel Washington is the best actor ever... You must to check all his roles in movies. He's just amazing.
JOHN Q was an awesome movie i have to give him 2 thumbs up on that one too. Rarely is there an actor that i would watch a movie with them in it where i didn't care what the movie would be about as long as they were in it.
I have no idea how it is that Washington is this low on this this. It is almost shameful, this man puts all of his emotions into to every movie he performs in. Even when he did plays you could tell the man was special.
Incredible. His rapid turn from dark, disturbed Alonzo Harris in Training Day to funny guy cop in Inside Man is astounding. Not a typecast actor, and certainly one of the most believable, real actors out there. A very talented man.
Seriously, Will Smith is ahead of Denzel Washington. I like Will but come on. This list has very little credibility just because of this one screw up.
I'm not a huge fan of many of his movies, but he is the most practical actor ever. It's like every scene he plays is just him acting natural. Like he isn't even acting, he's just talking with a camera recording what he is saying. - Ironsights51
How on earth can Denzel be this far down. The man is a legend. Much better than Heath ledger, leo (who is great), most of the people above him. This really disappoints me. This man being 22, heck why don't we make Schwarzenegger #1?
Give credit when credit is due, nobody works harder than Denzel. His role in GLORY and MALCOLM X just to name a few, alone proves my point. He is definitely the best of all-time.
Way better than some actors above him. Made many great movies and should've got an award for Malcolm X instead of being the bad black cop on training day. Pay homage.
His voice is amazing. His acting is fabulous. He is the best actor ever, not only for his movies, but for his power to convince people to watch him. He is amazing
Denzel! He Is Such An Awesome Actor And Nobody I Mean, Nobody Can Replace Him! I Love All His Acting And He Should At Least Be In The Top Five!
He is one of the greatest underrated actor man he can act in professional way he can make the story amazing even if the story not that much good
He's very good (except for that stupid John Q movie! ). Always intensely in the moment in scene. He is a very very good actor.
He is the best actor you can watch on T.V.. Brings good energy to the movie and make the movie more believable.
How in the hell is denzel washington number 12 he should be number one he has played every kind of role and nailed them every time.
An awesome actor. Training Day and The Bone Collector are my favorites. He is awesome and should be way up their on the list.
Almost all of his movies are excellent and he's a very inspiring African American actor - Mcgillacuddy
Best actor ever. He can act all roles with great talent. #1 Training day #2 Man on fire #Hurricane his best performance.
His observation is unbelievable and his delivery according to observation of human nature is just awesome.
Denzel Washington is one of the greatest actors of all times. The role he played "The Great Debaters" says all...
Let's not put Denzel in a catagory of best Black actor. He is a GREAT actor period.
I love john q. it was a really good movie. he is a great actor in anything he does. - jwileson
Yes, he is good actor, I have and like watching his movies. Elegant and smart actor.
awesome actor, so good he tricks you into liking bad movies. super intense - danajs24
Related Lists
Best Denzel Washington Movies
Most Underrated Denzel Washington Movies
Best 20th Century Denzel Washington Movies
Best Denzel Washington Movies of the '90s