Heath Ledger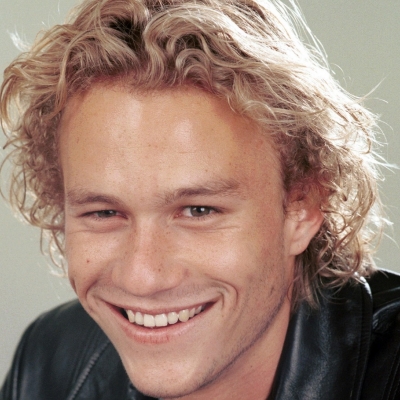 Found on popsugar-assets.com
Info
Heath Andrew Ledger was an Australian actor and director. After performing roles in Australian television and film during the 1990s, Ledger left for the United States in 1998 to develop his film career.
Comments
Top
Popular
Newest
Heath is a legend. He was able to fully understand and transform into characters in a way no one else could. Not just one, but TWO moments that he improvised during his unforgettable performance as the clown prince of crime during The Dark Knight are two of the best unscripted scenes of all time. Heath was able to immerse himself in a character and dedicate himself to that character and this performance, so much so that for that for the period of time in which the cameras were moving he truly became the character. I Brokeback Mountain the person whom his character was based on said that "he understands me better than I do. " It is because of his brilliance that these performances were more than just performances, and instead they became legends. He is my all time favorite actor and deserves to be in that #1 spot!
Heath ledger's performance as the Joker in The Dark Knight is exactly why Heath should be number one. He made the joker come to life. He portrayed him in ways no one else could. He dedicated 6 months in a hotel just to get the role of Joker in perfection. He is a dedicated actor who had so much skill and variety. He must be number one. His performance in Broke back Mountain was amazing but more so in the Dark Knight. The way he portrayed the Joker honestly sent shivers down my spine. Heath Ledger IS the best actor.. Ever.
I agree with everything else you said but it was just 6 weeks in the hotel not 6 months.
The performance he pulled out in the dark knight should've put him a lot higher than this. Even in all his other roles, with each movie he did he was getting better and better. One of the biggest losses to acting in all time. His career wouldve been a sight to behold if he lived... R.I.P. mate.
Care to watch Dark Knight. If you have then you won't see Heath Ledger below rank level of five. How is Heath Ledger having less votes? It is obvious that you people have not watched Dark Knight. If you have not seen Dark Knight, either you don't understand English or you are blind. Please support Heath Ledger. He is one of the best actors in the history of English movie.
He not a monster he is joker he's a man who will never born again, not in any univers. I just cried when he got died. His acting is so much real so amazing that none of the actor or director can think. He is a legend, he got some legendary senes in the dark knight which were not scripted, he worte his own dialogues and performed by himself without any other outer resource and I don't know why he is not on number 1, have people gone mad.
There are so many deluded people voting here that don't understand what acting is, they're all voting for the film stars not the actors! People like Tom Cruise and Will Smith aren't good actors, they just look good and don't become the character; they stay as who they are, the "film star". People like Heath Ledger, Jack Nicholson, Marlon Brando, Gary Oldman, Javier Bardem, Tom Hanks and many others should be higher up on this list! It's crazy, watch Brokeback Mountain and The Dark Knight -to name of few of his brilliant performances- and you will understand that that is proper acting from the best.R.I. P Heath Andrew Ledger, you will never be forgotten
Stunning, stunning actor. There is no question about it. He has a definite range, and ability. He was also not afraid to take the risky roles. Brokeback Mountain remains one of my all time favorites, and he work on The Dark Knight, 10 Things I Hate About You, and Monster's Ball... I could go on, really.
I'm voting for him over other actors mostly because of one movie. Everyone knows what movie I'm talking about too... It's The Dark Knight. His role as the joker, has placed him with the best and I don't believe anybody could ever beat his performance. I first saw him in A Knight's Tale, and when I heard he was going to be the Joker I laughed, like everyone else did... But boy were we wrong. - Strokavich
One of the most naturally talented actors of all time, performing difficult and diverse roles at a young age. He was as talent as he was handsome, oh that smile. He also was a pretty good dancer, I always watch repeats of his movies every time on cable. So sad he had passed way to soon, there were surely more greatest to come. He is in the top three of my best actors of all time.
He is the best actor of all time, anyone who thinks jack nicolstens a better joker than him doesn't know anything about the joker. Jack didn't act like the joker in the comics whatsoever. To be honest, mark Hamill from the animated series was the most accurate joker because he basically acted completely like the joker (also dark night rises joker was cool too) but Heath ledger takes acting to the next level, he created a new, more sinister joker than any other. HEATH LEDGER for the win
Heath Ledger was an actor that never failed to move me. He was so unique and is still the only actor to this day that really knew how to immerse himself and become the actual character he was given to portray. He put everything into his acting, I mean he literally locked himself in a hotel room for 43 days to prepare for his role as the Joker! And his portrayal of the Joker WAS AMAZING! Not to mention his performance in Brokeback Mountain, A Knights Tale, and The Patriot... pretty much every film he was ever in. I look up to him so much and in my opinion he really was the best and always will be in my heart. R.I.P. Heathcliff Andrew Ledger
I see no reason why Heath Ledger isn't number one. He's the best actor I've ever seen, he portrayed the joker wonderfully, making him an interesting, insane yet somehow charismatic character. Jack Nicholson doesn't deserve to be number one, compare the two jokers and you will understand.
How is this guy NOT IN THE TOP FIVE?! Did anyone watch his Oscar-winning portrayal of the Joker in The Dark Knight? Ledger KILLED the Joker (and the Joker killed him back). Only Mark Hamill and Jack Nicholson come close to this amazing actor's performance as the Clown Prince of Crime!
Heath was a superb actor. Not only could he make you cry and laugh, but he also made you cringe back in a strange combination of extreme terror and confused humour... He's also Australian, and therefore undefeatable.
I never knew undefeatable wasn't a word... Well, it damn well should be!
I know this one's a long shot, but lets be honest. Mr. Ledger's portrayal of the Joker in The Dark Knight is one of the most vivid and deep pieces of acting ever accomplished. In this single role he managed to secure the movie's place as the greatest superhero film of all time, and his own reputation as the greatest villain every to be committed to film. While this was his greatest achievement, Mr. Ledger also has to be noted for his various other roles, including one of my favorites in A Knight Tale. This just shows how truly diverse of an actor he was. May he rest in peace.
Heath Ledger's Joker was absolutely legendary. No one else can compare to that performance. I'm sure he was only going to get better with age, and we miss him every day.
We all know that he created a legendary psychic character in joker...He is the best joker ever. But he showed his great talent in the movies like brokeback mountain, monster's ball,two hands, the brothers grim, I'm not there, candy as well..The beauty of his expressions was precious. I love every character he portrayed. If he didn't die at the age of 28, he would've given us more. He is a legend and he'll always be remembered.
Heath didn't just recite a line or was able to cry at the request of a director or sound the same in every role. He was the character. He studied for months learning who the character was. Most actors portray every character the same, with no variation. What makes them famous is how handsome they are or are they a money maker, but lack the skills of being someone besides themself. We lost a true actor, Heath Ledger!
One of the greatest actors of our time. I didn't know anything about him at all when I watched "Candy". He was so powerful I cried my eyes out, and I'm a grown man. And his performances in "Brokeback Mountain" and "The Dark Knight" are immortal!
Forget about your Johnny Deep, Tom Cruise or Jim Carrey... They're just like mediocre clowns! Only the best actor like Heath can act like Joker-the legendary clown. See the different?
One of the best actors of all time. Contrary to popular belief his role as Ennis Del Mar is the best performance of his career. If you disagree then you probably have not seen Brokeback Mountain. (or you may just be a homophobe)
He should be on the first one his acting was spectacular he changed the way viewers looking at villains by giving his exceptionally spectacular performance as the joker in the dark Knight I still adore him
Heath ledger is the one of the most dedicated actors of all time. For acting in role for the joker, he locked himself up for 43 days in a motel room to get into the character... No sane person would do this... Truly an incredible actor... Hats off!
Amazing potential. Very flexible in acting roles. His take on the Joker is the best Joker by far and one of the greatest characters in movie history. Shame he died so young, he would've had a lot more oscar performances in his career.
He was best actor ever to mould himself into any character and the Hollywood has ever produced. I will say that in the coming years nobody could perform the acting of joker as in The Dark Knight. May you rest in peace Heath Ledger.