Kamal Haasan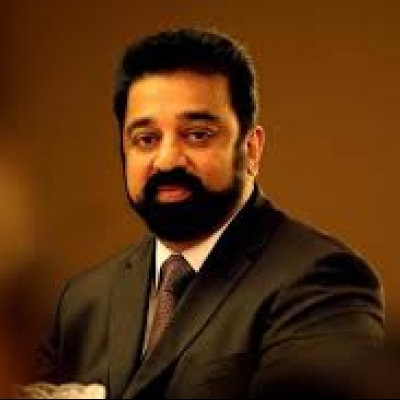 Uploaded by Kaushiknambisan
Info
Kamal Haasan is an Indian film actor, screenwriter, director, producer, playback singer, choreographer, lyricist, philanthropist and dancer who works primarily in the Tamil film industry.
Comments
Top
Popular
Newest
He is the living legend of Indian cinema. From the age of six each fim of his proved him as a great actor. He got his first national award at the age of six for the film "kalathur kannamma". His perfection, skills, uniqueness will find no match from any actor. Only actor in india to receive four national awards, 18 filmfare awards, two best actor asian awards, also awarded the fourth highest recognition given to Indian civilians-"The Padmashri". Adding to these, seven movies of this living legend has been sent as India's official entry to the oscars.
Kamal his currently working on the project "Marmayogi" produced by walt disney which he directs himself. His recent release "Dasavatharam", in which he plays ten roles is breaking box office records in India as well as in overseas.
Kamal haasan is a gift to Indian film industry... You can never see any other person who is involving the sections in which kamal haasan made records such as action (acting, All type of Dancing, all type of fighting, dialogue delivering, reacting) Direction (Hey raam, Virumaandi) Screen play (devar magan, mahaanathi, guruthippunal) won 4 indian national awards (Kalaththur Kannamma, Moondraam pirai, Naayagan, Indian) story, dialogue, lyrics, singer, etc. , etc. , near by all sections in film industry... HE IS A LIVING LEGEND, don't say that he is tamil star please say he is an Indian star...
He Done it all, All Bollywood Stars Copying South indian Actors Style and Body language, I Like rajini And kamal both But I rate kamal Slightly Overhead of rajini Kanth, Rajini has More mass than Any other Indian Actor In the History of Film Industry, But Kamal hassan Is a Master Class act* - StalinBlaze
Indian cine history maker, the only technically brilliant actor, director, dancer, singer, lyricist, producer and so on... Master of all trades, Perfectionist, Living encyclopedia, Scholar, moreover He is the only one who dares to create social awareness through his films.. undoubtedly THE RENAISSANCE MAN - Musica
The only one man who is having all the qualities to be an actor. No one will born to beat him in acting. The Legend of all times. Guna is a damn acting movie ever in all criteria. Power back performer from childhood. Even god will get jealous on his talent.
Oscars are waiting for him if he goes to holly hood. And now he is going act in holly hood. Surely he will win the Oscar. Of course, According to his view, Indian National Award is more valuable than Oscar, He is also deserve to get more National award of India (India has more cinema fans in the world) He is the right person to take the Tamil cinema to the world level cinema.
Kamal is a great actor. No one can be rated above him in tamil cinema. I don't know how you guys rates this. But he is the best actor in tamil cinemas. Watch his movies and you would understand it. He strain very much for his movies. I wonder how you rates vijay above Kamal hassan.
he is only actor get more awards in world nearly 172 awards he got. this is the proof of acting. he is the only actor got awards in all indian cinema languages. and important his films only nominated academy award for 8 times. he got living legend award.
His the best in India... No one can compete him... He has proven in nayagan... When it was stated in time magazine... Bollywood... Tollywood... Kollywood n mollywood should look up to him
Compare his acting with others and then decide his position in the list. Shocking due to this list. He is the man whom we can enable to say as one of the best actors in the world from India. Two of his films also taken for OSCAR nomination (Hey Ram and Nayagan).
He is one of the finest actor in india he completed 50 years in cinema. still he is most powerfull actor in term of business.
sachin birth for cricket...
a. r. rahman birth for music...
kamal hassan birth for acting... - rathinakumar12
BEST Actor - he is man of university of film. He is involved in various fields in cinema not just like that. He proved in all fields. He got the award for best choreographer, best child artist, best actor, best producer, best singer, best film (by Diresting/asst. Director), Etc... Someone can try but can't success in all fields how he does. He is living legend still learning that makes him always number 1 in the world of cinema
No words for this man, single handedly fighting to give good cinema, flip side of it is no actor in the globe can be imagined to stay in the hunt for the top spot in spite of all his bombs in BO, this shows this mans relentless talent and love for cinema many lessons here for us to learn
I think Kamal Hassan is the best actor in Indian cinema who has done almost all characters with perfection. Apart from acting, he has been into almost all fields related to cinema like singing, choreographing, lyrics, story writing, screenplay writing, music, dialogues, direction, etc. No doubt, he must be heading the list.
Every one can do acting. But only one can feel as it was real to them in their livelihood also. He acts naturally, he doesn't mean to act but it comes out normally. He was a gift to the entertainment choice people i. E films
If any body wants a real example for an actor...it has to be the name none other than Dr.Kamal Haasan. I have never seen an actor so versatile like him. He is the master of art in all aspects. On the whole one can say that Kamal Haasan is more a Phenomenon.
He is the legend in acting. He has acted in almost all the roles whom we see in our daily life. Films are not only about having couple of hit songs and rather have a story and good screenplay...its also about expression which should make a person feel for it...Kamal does that...
He is a master.. he should do more films/year..
He is a nice human being...
A man should have that quality that he has...
Many a times his efforts (brilliant) were not recognized.. but he is not tired of trying something new and different... He is my god..
The great and greatest Actor in the cine field which no have seen so far is our one and only Dr. Kamala Haasan... The legend... He is the only person who never go to the Oscar Award but the oscar comes in search of our great one Haasan
Kamal Haasan (note the correct spelling) is accepted all over India as the only living true actor. He is surpassed by only one actor from the yesteryears - Chevalier Sivaji Ganesan, who also happened to be his mentor. May be the name of this list should be corrected to "Top Ten Commercially Successful Actors in India". Even then Vijay will not make No. 1. He is a great entertainer but not an actor to be compared with method actors like Kamal, Amitabh, Mamootty or anyone else for that sake. It's a shame on the voters for either not understanding the list's focus or just being blind on the most commercial actor in Tamilnadu.
He the only person who able to do multiple role in a single movie and also able to do any type of role in any movie and he is the god father in acting no one can achieve his role and acting and in cinema profession he the one who fully sacrifices
He is the greatest actor in the world! Most versatile and master in method acting. He has won 4 national awards and definitely deserves to be in second place the least. How many national awards has shahrukh won?
He is Top Most, Versatile, Committed actor in Indian Film Industry and he is the example actor of other country like America, Japan, China etc. He can challenge any actor in India and World with excellent acting and being active and looking young.
If anyone think there is any special role they love to see on the screen then you will definitely have one from Kamal Hassan which will not let you down and stands above your expectation. That's why he is called "Universal Hero" in India.
He is a great actor after Shivaji Ganeshan. And he still searching what the Roll is missing. He's film like Guna, Nayakan, Indian, Anbesivam, Vettaiadhu Vilaiyadhu, Hay Ram, and more film etc...