Top 10 Greatest Comedic Actors
Some people do drama, some excel at Shakespeare, some are most convincing when blowing things up in action movies, and some actors are at their best making people laugh. This list is for the men and women who do the very best at acting in comedy movies.

The Top Ten

1 Jim Carrey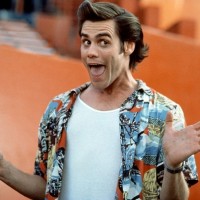 James Eugene "Jim" Carrey is a Canadian American actor, comedian, impressionist, screenwriter, and producer. He is well known for comedic roles in films such as Ace Ventura: Pet Detective, The Mask , Dumb and Dumber, Ace Ventura: When Nature Calls, The Cable Guy, Liar Liar, How the Grinch Stole Christmas, ...read more.
One thing is sure... You will have tears in your eyes after watching Jim Carrey's movies... If you are watching his comedy movies, you will have tears by laughing... And if you are watching his dramatic movies, you will definitely have tears by watching his acting.
A great actor, great human being who achieved his dream after great struggle... I don't want him to see getting older! He is the greatest comedian and great actor.
A funniest guy I must say he should be number one in spite of Ben Stiller, I do admire Ben Stiller as well but I think Jim has a lot of credit to his acting making funny faces along with words it makes one crazy laughing so much to the scenes. Liar Liar movie should be the example.
I've always been a fan and his new movies are also great. Can't say the same for Adam Sandler. His new movies are terrible. Jim Carrey is also just a good actor in general. If you've seen Eternal sunshine of the spotless mind I bet you agree.
He is not called the COMEDY KING fr any other reason..deserved best actor nominations for dumb & dumber, the truman show, eternal sunshine for the spotless mind, man on the moon, I love you phillip morris..but the oscars never recognized his eternal talent...He will always be the best actor..THE COMEDY KING
2
Will Ferrell

John William "Will" Ferrell is an American actor, comedian, producer, and writer. He first established himself in the mid-1990s as a cast member on the NBC sketch comedy show Saturday Night Live.
To Anchorman, Step Brothers, and evenjoy the children's film Megamind, Will Ferrell is the comedy genius. Every movie he has played in, I have laughed my ass off. Even with a small role in Wedding Crashers, he was funny hell. Step Brothers was an absolute favorite of mine, for the fact that it was just random and halarious. Anchorman is basically the best comedy movie of all time. Get Hard was absolutely beautiful. Elf is the gold mine of all Christmas films. Megamind even had my stumach hurting from laughter. And with the constant screaming, Will Ferrell is honeslty the best actor of all time.
He's so damn talented! He can say the stupidest things with a straight face and make it look hilarious! All his characters are original and awesome. Ferrel can kick Adam Sandler's ass any day.
Will Ferrell is like the Chuck Norris of comedies! he's never done anything that hasnt been just flat out hilarious! Old School, Talladega Nights, Blades of Glory, Step Brothers, etc... and he has the best quotes of all time!
I love will Ferrell movies, he the best of the best, a great support for him from Jordan.Hilarious one.
3
Bill Murray

William James "Bill" Murray is an American actor, comedian, and writer. He first gained exposure on Saturday Night Live, for which he earned his first Emmy Award and later went on to star in comedy films, including Meatballs, Caddyshack, Stripes, Tootsie, Ghostbusters, Ghostbusters II, Scrooged, What ...read more.
He has more comedic range than the other guys on the list (except Steve Martin) or those who should be on this list (like Robin Williams). He can play the side-splittingly funny moron (Caddyshack, What About Bob) or the class-clown (Stripes, Ghostbusters). He can be hilariously unlikable (Groundhog Day), and can totally inhabit other personas (Where the Buffalo Roam). He was great on SNL, doing signature characters and also filling in the blanks in skits. You watch Bill Murray, and you see comedy gold.
Bill Murray IS the best comedic actor ever. He doesn't take things to far or overdue them, he relies on dry humor alone without having to use gimmicks or anything else, and he's just hilarious!
I can't think of a movie where I was disappointed with his performance. Even arguably the worst movie of his career (Garfield) has a hilarious backstory as to why to took the role
He is Bill Murray. Enough said. I doesn't even try to be the best, he's too lazy, but still always on the top.
4
Robin Williams

Robin McLaurin Williams was an American actor and comedian. Starting as a stand-up comedian in San Francisco and Los Angeles in the mid-1970s, he is credited with leading San Francisco's comedy renaissance. He died in 2014.
Watch him on the T.V. show - Inside the Actors Studio. One of the funniest ad-lib routines ever recorded. He was probably one of the funniest human beings ever. The other one is not even in the top 50 (and maybe not at all - at least I did not see him), and he puts everyone else on this list to shame (except maybe for Robin Williams) is Groucho Marx. Steve Carell should not even be on this list. He is probably the most UN-FUNNY human alive. I literally cringe whenever I see him, because I cannot get rid of him fast enough.
His films=instant joy. Period. His passing was a disgrace not just for the filmaking industry/world but for the human race. Something really special was forever lost on 2014. It showed us that even the most noble and brilliant lights of this world can be shut down because of mental illness, people may forget but I don't. RIP legend.
How in the world is he not higher on the list!?!?!
He should easily be number 2 if not better then Jim Carrey!
Between his appearences in Ms. Doubtfire, good will hunting, Aladdin and good morning Vietnam, he's possibly the greatest comedian/actor of all time!
He's on another level to anyone I've ever seen in the way he seems to free roam his comedy on live T.V. and takes the show. His energy is so high people struggle to keep up with him. Such a loveable guy as well. He is very unique and is the funniest actor of all time.
5
Adam Sandler

Adam Richard Sandler is an American actor, comedian, screenwriter, and film producer. After becoming a Saturday Night Live cast member, Sandler went on to star in many Hollywood feature films that combined have grossed over $2 billion at the box office.
No. He relies on gimmicks. I think anyone can make a joke in a stupid voice with potty humor to make teenagers laugh. I'm not saying I haven't had a chuckle or two from him, but I'm pretty sure I was drunk.
He's got great movies that make you smile and plenty of them, and he just generally makes me smile and lagh in a legit way not make me feel uncomfortable while watching him.
Movies like big daddy show real comedy not just silly voices like will ferrel or jim carey
Worst. Actor. Ever. It's a shame that there are people who can watch his movies...
6
Steve Carell

Steven John Carell is an American actor, comedian, producer, writer, and director. He is well known for his portrayal of gaffe-prone boss Michael Scott on the American version of The Office, on which he also worked as an occasional producer, writer and director. ...read more.
When it comes to being fun and look casual doing it there is no better man than Steve Carell. He has brought up so much to the comedy industry and his movies have been absolutely hilarious.
He always adds a very subtle and moving seriousness to incredibly virtuoso playful comic acting. A very legitimate member of this list of giants.
I love him he's such a happy dude, nice dude, and his personality is awesome. He is so silly in mostly everything he acts in its hilarious
The office and anchorman made this an easy decision he's hilarious
7
Eddie Murphy

Edward Regan "Eddie" Murphy is an American comedian, actor, writer, singer, and producer. Murphy was a regular cast member on Saturday Night Live from 1980 to 1984.
He is an great actor and he can sing you know.( Dream Girl is amazing! )
I disagree with him being number 12. He should be in the top 3 for sure.
Voted for him because he's way 2 low on here
Keep it up Eddie :P :D (A)(D)
8
Ben Stiller

Benjamin Edward Meara "Ben" Stiller is an American actor, comedian, and filmmaker. He is well known for his roles in various comedies including There's Something About Mary, Zoolander, DodgeBall: A True Underdog Story, and Tropic Thunder.
He is a very good "straight man". He is good when other actors play off of him.
He's a great comic! Big cheers for him!
Hands down, Ben stiller is the best.
This guys is just sooooooo funny! Can't think of a movie where he hasn't made me laugh.
9
Charlie Chaplin

Sir Charles Spencer "Charlie" Chaplin, KBE was an English comic actor, filmmaker, and composer who rose to fame in the silent era.
I can't believe he has not been already mentioned. He was a real genius! He directed, acted, wrote the scripts, wrote the music and more for most of his films. Movies like 'Modern Times', 'City Lights', 'The Gold Rush', 'The Great Dictator' (not many dared to make fun of Hitler at the time) and many more are timeless classics, influential to most comedies that came after. One of the first to become independent in Hollywood, a great humanitarian and socialist and he is certainly one of the most recognisable icons of the 20th century all around the world.
Charlie Chaplin is the first, the last, the everything when it comes to modern Comedy!
We forget charlie chaplin he was great if he appeared in movies now he would be 1
He is the most comic actor, I have seen. He, not only made us laugh, but also cry.
10
Rowan Atkinson

Rowan Sebastian Atkinson, is an English actor, comedian, and screenwriter best known for his work on the sitcoms Blackadder and Mr.Bean
He can contort his face as well as Jim Carrey, can handle slapstick as well as John Cleese, and knows how to deliver a funny line. He can make himself look scared, sly, haughty, or whatever the occasion demands. As a history buff, I love the Black Adder series.
He has the best facial expression for comedy. No body in this list can do comedy (without uttering a word) as he did in Mr. Bean. British humor at its best.
Johnny English and Mr. Bean everything goes wrong and still it goes right that might be confusing but ones you watch it you'lle understand he is number 1
I think Rowan Atkinson is the best comedy actor in the world. He has ability to give pleasure to all kinds of people.
The Contenders
11
John Cleese

John Marwood Cleese is an English actor, voice actor, comedian, screenwriter, and producer. He achieved success at the Edinburgh Festival Fringe and as a scriptwriter and performer on The Frost Report.
This man, along with the other Monty Pythons, are the only comedians that will be remembered in 50+ years time. Cleese's effort to desensitise the public with 'black humour' and self-critique is by far and away the most revolutionary facet we will see in years.
John Cleese never fails to make me laugh especially in Faulty Towers and Monty Python! Great actor.
Jim Carrey and Adam Sandler suck now, this guy was amazing from the start.
The best hands down! love his acting as basil
12
Steve Martin

Stephen Glenn "Steve" Martin is an American actor, comedian, writer, producer, playwright, author, and musician. Martin came to public notice in the 1960s as a writer for The Smothers Brothers Comedy Hour, and later as a frequent guest on The Tonight Show.
No-one holds a candle to Steve Martin, certainly not Jim Carrey. So many comedic actors go overboard past the point of being funny. Steve has genuine talent. He stays in character during comedic trysts. Back in a time when less was more.
Pioneer of classic comedy and transitioned to great actor. Longevity should count for something.
13
Leslie Nielsen

Leslie William Nielsen OC was a Canadian actor, comedian, and producer. He appeared in more than 100 films and 150 television programs, portraying more than 220 characters. Nielsen was born in Regina, Saskatchewan.
Just watch Airplane! and the Naked Gun and you'll see what I mean.
Leslie Nielsen Was Really Funny And Random (In A Good Way) In Airplane
Legenda...Marina M. Lazovic kaze tako
14
Chevy Chase

Why is Chevy Chase so low? Most comedic actors are lucky if they have one film that stands out but Chase has at least 5 classic comedic films that will go down in history. He is underrated for a number of reasons: the first being that he is considered by many to be a jerk and while he shouldn't be a jerk that doesn't take away his comedic talent, reason number two is that after the 90's the quality of his films went down, however, from 1975-90 he was considered by many to be the definition of cool and was one of the most iconic comedic actors out there. Should those bad films destroy at least 15 years of quality entertainment? No! Should Chase be number 1? No! There are a few comedic actors who should be ahead of him. But he should definitely be in the top 10. He has had the most successful career of any of the origional snl cast members and one of the most successful post snl careers in the history of snl. Despite his faults he was a quality entertainer and I have always enjoyed his ...more
Caddyshack, National Lampoons Vacation, come on guys he should be in the top 10!
15
Peter Sellers

There is no comparison. Peter Sellers is the greatest of all time, save for maybe Charlie Chaplin. His performances in Dr. Strangelove alone are enough to top this list. Many of the people on here are very funny; even gifted. Sellers however possessed singular genius. Unparalleled. Adam Sandler?! Come on...
Peter Sellers was, without any doubt, the greatest comedy actor ever. He was also a brilliantly versatile actor who could have played any role. To have him at number 38 in this list is an insult! Jim Carey is not fit to be mentioned in the same breath!
No question he was the best. I've seen his Pink Panther movies dozens of times and laugh till I get short of breath. His French accents alone are worth the price of admission.
The Pink Panther, Dr Strangelove, The Mouse that Roared. The Ladykillers, Kind Hearts and Coronets, Heavens Above. Please miss that he ws a fine actor who could take on different roles with perfect accents and not just play himself.
16
Mike Myers

Michael John "Mike" Myers is a Canadian actor, comedian, screenwriter, director, and film producer, who also holds British and American citizenship.
Austin Powers, Wayne's World. Has the world forgotten this great comedian genius?!?!
Austin powers wasn't a hippie, he was a Mod/swinger. Big difference.
How is jim carrey better than mike jim carey is crazy austin powers is justa hippie
The Love Guru is great and so is he!
17
Chris Farley

Christopher Crosby Farley was an American actor and comedian. Farley was known for his loud, energetic comedic style.
This guy's life was like a firecracker compared to a candle. The other comedians on here have led fairly long, bright lives, while his was a short, lively explosion that ended too shortly. He was able to make an entire audience laugh without even telling a joke; something not many people can do. I miss him and wish he was still around, but damn did he leave behind a legacy.
He is hilarious in everything he does!
The best actor Ever
18
Kevin Hart

Kevin Darnell Hart is an American actor, comedian, writer, and producer. Born and raised in Philadelphia, Pennsylvania, Hart began his career by winning several amateur comedy competitions at clubs throughout New England, culminating in his first real break in 2000 when he was cast by Judd Apatow for ...read more.
This guy is HILARIOUS. In lots of funny movies, maybe a little crude, but very funny
This. Guy needs to be 2
19
Graham Chapman

Graham Arthur Chapman was an English comedian, writer, actor, and one of the six members of the surreal comedy group Monty Python.
Shame he went so young, he showed real talent.
20 Zero Mostel
21
Neil Patrick Harris

Neil Patrick Harris is an American actor, writer, producer, comedian, magician, and singer. He is known primarily for his comedy roles on television and his dramatic and musical stage roles.
He's so cool and funny in how I met your mother series
Awesome barney stinson love from India
He can turn a simple role to a main role
Deserve to be on top5
22
Jerry Seinfeld

Jerome Allen "Jerry" Seinfeld is an American stand-up comedian, actor, writer, producer, and director. He was born on April 29, 1954 in Brooklyn, New York. He is known for playing himself in the sitcom Seinfeld, which he created and wrote with Larry David. As a stand-up comedian, Seinfeld specializes ...read more.
Show about nothing we might have something here
He created the best T.V. show in history
Jerry Seinfeld Is A Legend
23
Woody Allen

Heywood "Woody" Allen is an American actor, comedian, filmmaker, playwright and musician, whose career spans more than six decades.
He's usually the same guy when he does comedy. He is a great writer more than anything else. However, one of the funniest lines ever was written and delivered by Woody Allen: "I was nowhere NEAR Cleveland! "
24
Jason Segel

Jason Jordan Segel is an American actor, comedian, screenwriter, and producer. He is known for his role as Marshall Eriksen in the CBS sitcom How I Met Your Mother, as well as for his work with producer Judd Apatow on the television series Freaks and Geeks and Undeclared, and for the critically and ...read more.
Probably has the funniest role in How I Met Your Mother in my opinion.
25
Jason Alexander
George costanza lord of the idiots
PSearch List