Quentin Tarantino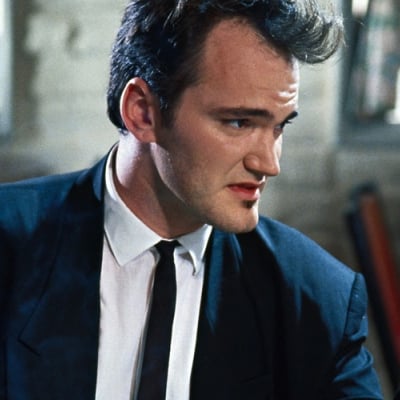 Uploaded by zxm
Info
Quentin Jerome Tarantino is an American film director, writer, and actor. His films are characterized by nonlinear story lines, satirical subject matter, an anesthetization of violence, extended scenes of dialogue, ensemble casts consisting of established and lesser-known performers, references to popular ...
read more
.
Comments
Top
Popular
Newest
Tarantino is without a doubt one of the best filmmakers in the history of cinema. His use of dialogue, style of characters, clever scenes, way of story telling, and ability to bring out the best in actors is what makes him unique and his movies distinctive. With his creative imagination he is a pure genius.
In my opinion, Scorsese is the best director of all time, but Tarantino is my favorite. All of his movies have great dialogue, amazing soundtracks, and absolutely incredible scripts that stun. If he's not the best director ever, he's certainly the best writer ever. Nobody does it like this genius.
I like how he casts Germans to play Germans, French to play French Japanese to play Japanese etc and has them speaking their language unlike most Hollywood Directors who make even foreign Films all in English and Nazis speaking English the whole time does not feel right.
Just love all the scenes and dialogues he sets up, and go crazy every second, every time someone talks in his works of art, every moment is worth thousands of other minor directors whole films. Pulp Fiction is just out of this planet, out of the all wortheless brains of ours, it resonates in such frequency far higher than we all could reach or understand.
He has yet to make a bad movie, even legendary director steven spielberg has had some stinkers in the bunch, tarantino has still not yet made a bad movie
I find Tarantino's films to be enjoyable, in their own individual right. I feel the varying style's to be an exemplification of his genius. Great Director, king of action movies.
Taking scripts and techniques of movies ( non-linear story telling, scripts of exploitation movies of the 50's, 60's and 70's... ) that already existed and rewrite them is not what I call originality or talent. He is just too overrated.
His movies are masterpiece! Pulp Fiction, Inglorious Basterds, Django Unchained, and even his last one, The Hateful Eight. He is so amazing.
I do believe Tarantino is one if not the best director of all time. Even though his latest film, the hateful eight wasn't my cup of tea.
Pulp Fiction, Reservoir Dogs and Django Unchained are some of the most masterful films ever crafted
Only Tarantino can make ultraviolence, drama, and comedy work together so smoothly! Best director in the world!
Every single movie he makes becomes a favorite in my list, that a proof that this man can do it right!
No one can make a movie like this guy. You can see his skill in many of his movies such as Django Unchained.
I hope he burns in hell he is overrated and makes trash film besides pulp fiction he is a little turf burn in hell tarantino
No doubt the best movie director of all time. His writer skills are unbelievable
All round beast, when you watch a film you can tell it is a tarantino, such a beast
Pulp Fiction alone makes him one of the top ten modern directors
Tarantino is in my opinion the best director of all time. His movies are so unique. His directing is incredible, as is his acting and writing. Every film he is included in is in someway sepcial. Very special talent.
He has to be number one! No one does dialogue like Quentin!
Eh, just watch a Tarantino movie you will understand why.
Should be on #1,Tarantino have the best movies of all time!
Just watch any movie... They are all classics now
Quentin Tarantino is one of the most talented filmmakers ever, since his violent movies do not make the public turn away. Rather he is able to attract public every time he makes a new movie making people excite when they see on a poster the phrase ¨Written and directed by Quentin Tarantino¨
His unexceptional way of story telling... His camera ideas... The way the screenplay runs is just amazing... Quentin tarantino truly desrves to be best director in this time.. Hats off to ideas... !
Great man smells like cheese cake I like cat f the prequels
Related Lists
Greatest Quentin Tarantino Movies
Best Movies Directed By Quentin Tarantino

Best Quentin Tarantino Characters

Best Actors that Appeared in a Quentin Tarantino Movie