Greatest Horses Ever
The Top Ten
Secretariat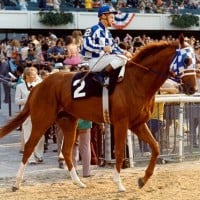 Secretariat was an American Thoroughbred racehorse who, in 1973, became the first Triple Crown winner in 25 years.
This isn't even close. He STILL has the record time at ALL THREE triple crown races. It's silly to pick any other horse
Alright, I've been putting this off long enough. You're the one that needs to look outside the box, Limey or Aussie, whichever one applies. Secretariat is not only the greatest equine athlete in recorded history, but, the GREATEST ATHLETE in history, equine or human! His multiple feats on the track are legendary. His ability to take in and synthesize oxygen is beyond comparison. But, then I wouldn't expect you foreigners to know anything about that. What are you people doing on this chat board anyway. Go to your European or Aussie chat boards. As far as comparisons, he would have run your Frankels or whoever straight into the ground! What he would have done to that poor old mare, Winx, on the track, would have been nothing short of abuse to an old female horse.
It is immensely telling that whenever this racehorse or that one world over is touted as the greatest of all time, that horse is invariably compared to the immortal Secretariat. As Charles Hatton wrote, Secretariat's "only point of reference is himself."
secretariat should have 100% of this vote. there is no other like him. Should hold all three records in the triple crown races (fastest time in the Preakness, but the clock malfunctioned). It's also been 34 FREAKIN' YEARS and nobody's come close.
American Pharoah

American Pharoah is an American Thoroughbred racehorse who won the American Triple Crown and the Breeders' Cup Classic in 2015. In winning all four races, he became the first horse to win the "Grand Slam" of American horse racing.
One of the best racehorses of all time. I really miss watching this horse run. I think he could beat other champion horses like Zenyatta, Ruffian, Affirmed, maybe even Seabiscuit. But Secretariat is and always be the best racehorse of all time. I'm gonna miss you Pharoah.
Maybe top 20. Nothing more than product of Baffarts illegal dealings
aah
Native Dancer
Seabiscuit

Seabiscuit was a champion Thoroughbred racehorse in the United States. A small horse, Seabiscuit had an inauspicious start to his racing career, but became an unlikely champion and a symbol of hope to many Americans during the Great Depression.
His and Pollards story alone, puts him on the list, but his record in handicaps, giving weight all round, and off level weights in Groups, stands out so much.
He was a little horse that withstood so much but he did prove he was the little horse could should be in the top five
why isn't seabisquit #1? read the the book for petes sake! youll see what I'm talkin about.
He shouldn't be 9th
Red Rum
Three first places and two seconds in the Grand National which is the most demanding horse race in the world. No other horse has come close.
Unbeatable in the Grand National, which is the toughest horse race in the world - An immense horse!
Red rum -murder on the racecourse
Came back to win his third national at 13
deemed too old to race
Flyingbolt
Hurricane Fly
California Chrome
Man o' War

Man o' War was an American Thoroughbred who is widely considered one of the greatest racehorses of all time. Several sports publications including The Blood-Horse, Sports Illustrated, ESPN, and the Associated Press voted Man o' War as the outstanding horse of the 20th century.
Not even close never lost a race.
Sham

Sham, an American thoroughbred race horse, a leading three year old horse in 1973, but was overshadowed by his more famous peer, Secretariat. Sham was a dark seal brown in color. While racing, he wore green and yellow blinkers.
Don't forget Secretariat's rival who ran with all his heart!
He is actually the second fastest horse ever but he had to race #1
The Contenders
Phar Lap

Phar Lap was a champion Thoroughbred racehorse whose achievements captured the public's imagination during the early years of the Great Depression.
This horse was hero to a nation in the depression years. An amazing 32 wins from his last 35 career starts incl. Australia's 2 biggest Derby's, a Melbourne Cup (Australasia's greatest race), 2 Cox Plates (the WFA Championship of Australasia) and then traveled to the USA where he raced in and won the Agua Caliente Hcp (World's richest race at the time) in Tijuana, Mexico. This win was achieved with a cracked hoof and was to be his last racetrack appearance after he died mysteriously and tragically of arsenic poisoning. Many believe US mafia/bookmakers may have been responsible. A truly remarkable horse...
Champion racehorse who did some truly remarkable things. A late maturer who was virtually unbeatable as an older horse. Won everything in Australia before winning the worlds richest race at his final start before he was poisoned. There were many times where bookmakers refused to take bets on him he was that good. Freak.
Carried 9s12p to win the Melbourne cup over 3200 no horse in 83 years has got near that at all.. In 25 years of international raiders including 4 time UK champion stayer Yeats.. The internationals have only been able to win it with 8s10p..
you might not now him because he is Aussie. But boy do we know him. 6 time holder of the Melbourne Cup, the biggest horde rcing event in Australia
Twist Magic
Kauto Star
Frankel

Frankel is a British Thoroughbred racehorse. Frankel was unbeaten in his fourteen-race career and was the highest-rated racehorse in the world from May 2011.
Unbeaten end of story!
Zenyatta
I loved this horse, but whats does she do when the big red machine throws 2.24 at her on a dirt track. She loses by 25, great horse an I loved her but thank god she didn't run in 73
now 18-0, she desereves the top spot. I really like secretariat, but Zenyatta deserves it. She's never been beat, never and she always tries her hardest. she is no 1
SHE IS A SUPER HORSE! Beat the boys in the breeders cup classic, she was the first filly/mare to do so. She is 14-0 best record for mare ever!
Zenyatta deserves no. 1! shes a superfilly! GIRL POWER!

Citation

Citation (April 11, 1945 – August 8, 1970) was an American Triple Crown-winning Thoroughbred racehorse stallion who won 16 consecutive races in major stakes race competition. He was the first horse in history to win one million dollars. He was foaled at Calumet Farms in Lexington, Kentucky. Citation ...read more.
Kelso
No horse ever won 5 horse of the year honors, Kelso did. This horse ran like the wind and set 9 track records in the process. IN 2 weeks in 1964, he ran like fire at the Jockey Club Gold Cup he set a world record on dirt with a sizzling time of 3 minutes, 19 seconds. Then 11 days later on turf at the Washington D.C. International he set an American record of 2 minutes, 23 seconds. He won 39 races and a perfect fit for him to be in the Horse Racing Hall of Fame.
Its Joeysworld
For veratility the greatest
Dr. Fager
Master Minded
Denman
2 Hennessy Gold Cups at top weight
1 Cheltenhem Gold Cup
Came second three times in a row in the Gold Cup
Ruffian
She shouldn't be 28! She was the best and she ran forever!
She is the queen whenever she step calmly on track. She won every race she completed with ease.Just one word:Perfect.
Saw match race cried my eyes out! she would have won greatest of all time ruffian forever!
Count Fleet
Barbaro

Barbaro was an American Thoroughbred racehorse who decisively won the 2006 Kentucky Derby, but shattered his leg two weeks later in the 2006 Preakness Stakes, which ended his racing career and eventually led to his death.
Black Caviar
But most of Black Caviar's races were group 3 sprints. I'd like to see WINX in the list. 33 consecutive wins, most of them group 1 and medium length and most notably Winx won 4 Cox Plates
25 starts - 25 wins!
Legendary mare!
Hickstead
Why are all of these horses race horses, Hickstead was such a great horse! In fact he was the best horse! He won everything! I do not understand why he is not in the top 15 at least! GO HICKSTEAD!
What is with all the race horses? Stix is the king of show jumping!
Hickstead was the most amazing horse ever miss him lots
PSearch List