Greatest Indian Cricket Players
Here is the list of top indian player's of all time.
The Top Ten
1
Sachin Tendulkar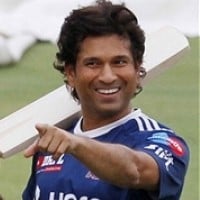 Sachin Ramesh Tendulkar is a former Indian cricketer and captain, widely regarded as one of the greatest batsmen of all time.
Sachin "the god of cricket;no one can replace him
He is the best. He is the manager, director and producer of Cricker. Got it!
No doubt about it. He is top run scorer in both test's and odi's
I think Sachin Tendulkar made over 100 centuries and scored more than 1708 runs and he is a good bowler in cricket. He has taken 5 wickets twice on the Australian Stadium Pert. He is my one of the favorite player.
2
Mahendra Singh Dhoni

Mahendra Singh Dhoni, commonly known as MS Dhoni, is an Indian international cricketer who captained the Indian national cricket team.
Long live Dhoni... And long live his captaincy... Because he is the only captain who can lead the Indian team to glory... He is a true legend...
Dhoni is the best n he will be the best... Noting more to say.. He the best
The only captain in the world to lift all of ICC trophies!
The only man who can change the game at the last point.. Greatest finisher the game has ever seen and above all a HUMBLE person. :) I am not comparing him with anyone, but still HE IS THE BEST. M/
There is nothing beyond CRICKET for me. I love this game and the man behind my infinite love to this game is Mahendra Singh Dhoni. I love everything about Dhoni. A nation can get another Sachin or Kohli but it is very difficult to get a cricketer like Dhoni who can keep, bat and lead the team in a best way.
3
Virat Kohli

An awesome player nobody can beat him
He is the only batsman to score 5 centuries in a row
He is the fastest to hit 13 hundreds
He scored 1000 runs the fastest
He is the next Sachin tendulkar
Cricketer of year 2012
He is awesome
He is our future star and captain
Next tendulkar
Classy player and is a rather vicious hitter and slams his shots with supreme power and speed. He will for sure be a cricket legend later in his career
4
Sourav Ganguly

Sourav Chandidas Ganguly, affectionately known as Dada, is a former Indian cricketer and captain of the Indian national team.
Ever laststing captain who inspires many OF THE CAPTAINS after him. We miss you 'DADA'. An all time best all rounder. A perfect off side player called him as off side GOD
He is wonderful player as well as great Captain in Indian HISTORY. DADA always DADA.
Redefining the Indian team after the 1999 debacle
The maker of the best team of all time for these three players
5
Kapil Dev
Top allrounder. He was the captain of world cup winning team in 1983
He is the best keeper in the world. No one can take his place.
Greatest all rounder for everer.
He is one of the greatest fighters ever seen in Indian cricket.
6
Yuvraj Singh

Yuvi is the best player in the world because of his batting and he is the star of Indian team
I think he is the best cricket player in the world
He is the best Sixer King
One of the cleanest hitter of cricket ball Indians ever seen,...
7
Sunil Gavaskar
First player scored 10000 runs in test cricket.
I think we should change the title to "Favourite Indian Cricket Player", too much bias for my liking. Some of these players are good but they aren't that good. Did they have the face one of the best bowling line-ups? (West Indies) No they didn't. Vote for the best, not your favourite player...

The top 5 should be Tendulkar, Gavaskar, Dev, Dravid, Kumble, once that's done then you can work out the appropriate order.
He is the good test cricket players
The very most selfish player who only played for his personal records.
8
Rohit Sharma

Rohit Gurunath Sharma is an Indian international cricketer who plays for Mumbai in domestic cricket and captains Mumbai Indians.
Best player of cricketing shots
He is best classical player than anyone else.. In almost all the time he don't fails to give a good score for his team.. No one can beat him.. I like him very much after the god (sachin)..
ONE AN ONLY STYLISH BATSMAN IN Indian CRICKET
A WINNING SUPER STAR
A NICE HUMAN BEING
Is in my opinion the best batsman in the world currently, even over virat.
9
Virender Sehwag

Virender Sehwag is an Indian cricketer whose aggressive batting has found success at the top of the batting order.
He is the blistering opener in the world
He is the highest run scorer in odi of 219
When he stands on the pitch awaiting the delivery, everybody has their heart skipping beats.
Virinder sehwag has the highest runs in the Indian cricket team no one can beat him
Selfless, destructive, aggressive yet funny. The cricketer who redefined the opening batting.
10
Anil Kumble
One big match winning player for India and would have been the same or more famous if he would have played for any other side.
Best spinner in cricket history a consistent performer nobody won more test matches for India than him
Top wicket taker of India
Definitely a greatest spin bowler and most under rated player. Only player in India to take all ten wickets in an inning.
The Contenders
11
Rahul Dravid

Doing many impossible games possible
Very good player test match
MUCH BETTER THAN TENDULKAR WHO ALWAYS SCORES BELOW 10 IN DO OR DIE GAMES
Hell YES!
Probably the best after Sachin
Belongs in 2nd place
INDIA'S MOST RESPECTED PLAYER
MOST TALENTED PLAYER
BEST TEST PLAYER

THE WALL!
12
Gautam Gambhir

Gautam Gambhir is an Indian politician and former cricketer, who has played all formats of the game.
He is a difficult time great batting player
You are the real champion. You can be the role model of young cricketers. You are the second wall of India.
He futrue captain of india. He is awesome player
You are a very very very good &excellent cricket player,I like you...
13
Suresh Raina

He is the only indian cricketer to make centuries in all formats of international cricket. He is a future captain for india and raina dhoni partnership is better than the best
He is player in test also
Should have been the king of Indian team after msd but the politics played better than him still he owns a special place in all the Indian cricket fans may u come back stronger chinna thala
He has played many match winning innings of India and CSK!
14
Shikhar Dhawan

He is the good place of Indian cricket team as they make a score higher than oponental team
He is very good bats man
Power shots of shikhar I can see. Powerful sixes
He is a powerful hitter! One of the great Indian openers!
15
MS Dhoni
Dhoni is number 1
Dhoni is real leader of cricket
I love you mahi
Provided Wings to Indian cricket
16
Hardik Pandya
He is the best bowler, batsmen and fielder
He is the best cricketer
He is best fielder, bowler and batsman
He is awesome player
17
Bhuvneshwar Kumar

Line and length very nice
He is best bowler in team India.
An experienced and expert in death bowling
Best bowler I seen... ! He is future legend... !
18
M.Azharuddin
THE WORLD number 1 STYLISH PLAYER
He is the one to take Indian Cricket team on Top
He is a real inventor of Helicopter shot... And specialised in flick shot..
Best cricket captain in indian cricket history
19
Ravichandran Ashwin

He is the best spinner in 2013
He spins off spin and leg spins which inspires my bowlingstyle
Best And taking wickets more and more
Best bowler and best batsman he an all rounder so why all people will support stupid virat Kohli
20
V.V.S. Laxman
He is one of the Best batsmen in India
Finest middle order batsmen India ever had in the team. Classy batting is his style
Classic player with great ambitions and will be one of the most elegant players of India
He is very underrated and should be at least in the top 10 if not in the top 5
21
Jasprit Bumrah
The best bowler (if you don't think this, then go and check the icc ranking)
Jasprit Bumrah is an outstanding bowler, so I think that this position is not adequate for him...
This guy is new but play like a experience bowler hats off
Bumrah Dismissed Gayle by 5 Runs... Did The Bhuvneshwar Kumar Chump ever do something like that?
22
Ravindra Jadeja
He is an amazing spinner and batsman.
He is a best all rounder
He can bat very well, if he can score runs on any desired rate
You are the great
23
K.L. Rahul
Kl rahul is the best player and he is the future of indian team .Love you sir keep it up
He is the best after Kohli and Rohit sharma in indian cricket he is the next top batsman in India after kohli
Stylish player
He is future of indian cricket team
24
Harbhajan Singh

Best Off-spinner who has 400 wickets and has a secret weapon called Doosra. Rick Ponting is his bunny and he can win games by bat too. He also scored some test centuries.

Good player of team
Worst Bowler in the world
His batting is awesome
25
Zaheer Khan

Zaheer Khan is an Indian former cricketer who played all forms of the game for the Indian national team from 2000 till 2014.
he is my favorite bowler and most energetic bowler of India
He is the best bowler of Indian team
Cracker bowler
One of the finest player in the Indian cricket team, played huge role in winning the 2011 WC, should be ranked higher!
PSearch List