Tuomas Holopainen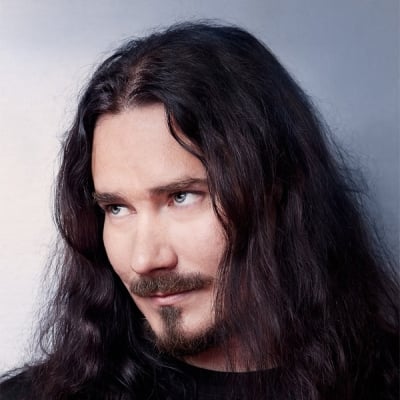 Found on deviantart.net
Info
Tuomas Lauri Johannes Holopainen (born 25 December 1976) is a Finnish songwriter, multi-instrumentalist musician (but mainly keyboardist) and record producer, best known as the founder, leader, keyboardist and songwriter of symphonic metal band Nightwish. He also studied jazz and classical styles.
Comments
Top
Popular
Newest
Tuomas is an absolutely incredible man. Not only is he a phenomenal composer who can create magical moments and stir emotions effortlessly with his fantastic melodies, bombastic symphonic rock tracks and rhythmic solos, his mastery of the keyboard is something to behold. Every album, every song, every moment by this man is beyond words. I see no reason why his name cannot be placed in the same breath as Hans Zimmer.
Tuomas is something completely out of this world. We only get to hear snippets from his own world. He's one of the greatest composers of our time and his band should be one of Finland's national treasures. As a Finn and a fan I'm proud of him and his achievements. He gets to live his dream and shares his talent with us which we should be thankful of. Maestro Holopainen is definitely one of the most memorable rock icons in Finland and maybe world as well.
I admire Tuomas because of his multi-talented ability to write catch songs that last a life time and charging forward above and beyond all other keyboard players with his revolutionary beats
Tuomas makes metal exciting, listenable, and rewarding. Yes, his music is heavy, but it dazzles technically and runs the emotional gamut. A brilliant composer, keyboardist, and synthesist with creativity and technique, and an ear that can conceive an entire album with the finest details.
He's the greatest keyboardist and the songs he compose are really beautiful. He's an incredible composer and person. And I hope he's going to compose a lot more beautiful songs.
One of the greatest artists of our lifetime. His amazing talent can be experienced trough his compositions, trough his lyrics and even more so trough his masterfully played keyboard.
If you never herd his music you are really missing out. Nightwish will make you a fan of Symphonic Metal. Tuomas is outstanding. His composing is the best. He puts a lot of work in his music.
He is one of that musicians that really make music! My heart starts to beat faster when I listen to his compositions! And I really think that he is just incredible compositor.
He brings soul to his songs while playing keyboard. Thus may be not the most technical keyboardist, but Tuomas always is my favorite. He is beethoven of contemporain era.
There are good Keyboard players in the world? But only one great composer in our time who just happens to be the greatest keyboard player in the world..Thank god for Tuomas Holopainen and Nightwish...And not forgetting Five other Awesome musicians to back him up..
When I first heard I cried for hours. Nearly 20 years. Still I thank him every day those tears! The world of my distant past I thank him again again again!
He is one of the most talented musician I've ever seen. Just listen Ghost Love Score or The Greatest Show On Earth.. those are his masterpieces. And all of the songs he has written. He is a great keyboard player too, amazing what he can do in live. Not every keyboard player can do what Tuomas does.
Greatest composer, lyricist, and pianist of all time. He truly captures deep and strong emotions with his music and carries the listener on an epic adventure.
He isn't just a keyboard player and a song writer. Tuomas Holopainen is a true composer and an absolute genius. He's truly a master.
He's a genius, something we never seen before. He not only plays perfectly and with a lot of emotion but also compose create a whole universe magically and beautifully.
He is an incredible Composer. He helped me with his Music through good an rough times. I hope he can continue for very long with composing and making such awesome music.
Tuomas is a great composer. I would mention him with Zimmer and Williams on the same page. He is classical, he is metal. He can set our hearts on fire. He is music.
The songs he put together are just pure art. It is amazing how he can give an extra touch to every song with his great melodies
Tuomas is probably the best keyboardist of all time! He's also written plenty of outstanding songs. I first heard Nightwish's song Storytime when I was 6 and I've loved Nightwish ever since, especially the keyboards. Tuomas has inspired me to learn piano and he also inspired me to write songs. Tuomas should definitely be in the top spot.
If Tuomas had been born Beethoven's era He would have been more famous composer than Ludwig van Beethoven!
A man that shrouds my daily routine in wonder, mystery and magic. Definitely deserving first place, at the very least, in my book.
Wonderful musician, strong character, charming songs and a great person
Tuomas is the greatest keyboardist and his songs are wonderful. He is talented person whose masterpieces I am proud of
He is the driving force for his band and I couldn't see Nightwish withouth him in it. Singers Change and Guitarists may change but Tuomas will always be the best thing that has ever happened to them. Hands down the best Keyboard player ever if not for that alone.
I was close to voting for Jordan Rudess, but the creative capacity of Tuomas Holopainen is simply brilliant