Luciano Pavarotti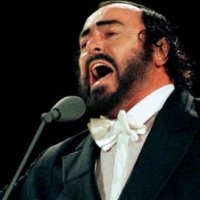 Found on i.telegraph.co.uk
Info
Luciano Pavarotti, Cavaliere di Gran Croce was an Italian operatic tenor who also crossed over into popular music, eventually becoming one of the most commercially successful tenors of all time.
Comments
Top
Popular
Newest
There are many components to singing professionally, so beautifully as Pavarotti did, during his career in operatic music. Here is a list of the components that in my opinion attest to the fact that Luciano Pavarotti, is without any doubt, the greatest operatic tenor EVER!

Components that justify my opinion:

1. Sang at a very young age in Modena Italy. Sang along with his dad, who also had a positive influence on Pavarotti, developing all aspects of his singing.

2. When he sang the high C's from an opera, he always looked confident and the high notes were breath taking.

3. No comparison at all, the way Pavarotti could hold high notes or any notes for a very long time. When he sang any song, he never looked nervous, opened his mouth and sang, with ease, the pieces.

4. Sang with his entire focus on Perfection, and got into his songs seriously. Well prepared and facial expressions really showed that.

5. In my opinion, it is the timbre of his ...more
Without doubt...Pavarotti is the greatest. His voice is just the right mix of masculinity and smoothness (femininity)...where as Johnathan Antoine's voice is "smoother", but that makes his song sound too feminine and so his songs (renditions) just doesn't produce the same emotional response. He is still young, so perhaps as he matures, his voice will develop and become greater, but for now, PAVAROTTI IS STILL THE GREATEST!
I was lucky enough to have seen Pavarotti three times at the Met in NYC, and own many of his recordings. He is surely the finest tenor of all time in my opinion. His voice. Is like honey, full and effortless with honest emotion; and never strained, no matter how big the voice. I could go on and on, I love and miss him greatly!
It's not enough just to listen to Pavarotti's Nessun Dorma. One has to actually see it - and one could've thought that high C came with such ease and so naturally as.. As breathing. No tension in his voice, pure beauty, absolute perfection.
THE Maestro. Period. Nobody had better technical command of his voice, intonation, greater power, and pure tone. Every time I listen to him sing, I tear up. Often times I weep. Ever since I was a little boy. Greatest voice God has ever put on earth. Hearing him sing is a life-affirming experience and evidence of all that is beauty in the universe.
A voice to die for. Bjorling was much better musically but didn't have the joy of 20th century recording so we don't know truly what his voice could have been like. Placido was/is a better actor on stage so with drama he won outright. Mario Lanza let Hollywood take him away but he could have gone on to be the greatest of them all. Why on earth are you counting Alfie Boe in this he doesn't belong in the same breath.
Luciano has set the standard by which all future tenors will be judged. None of his recordings do him justice. You had to see him in person to get the full effect of his charisma and the physical power of his voice.
Saw him in 1999 (i believe) on the Mississippi Gulf Coast of all places. My husband's company had premium tickets and I was got to see one of the most incredible, most fascinating opera singers of all time. I literally had chills watching him so effortlessly sing with such power and grace, while tears streamed down my cheeks. Absolutely, hands down, The Best voice ever!
The greatest voice of all time, his emotion, his passion, that magical voice would bring me to tears, I had the pleasure of hearing him at the Met since 1978, I have not attended an Opera since several years before his death, I wanted to remember him in his prime.
Measurably better than any contemporary tenor... Instruments show the vibration is there at the very top end. The lower ranges are a little less convincing, but that's a small price to pay for effortless high c's
There is no classical singer whose voice is as good or better than Luciano Pavarotti's voice. His voice is THE ABSOLUTE ULTIMATE. I've listened to Johnathan Antoine's voice but nothing about it inspires me. Long live Luciano Pavarotti's voice - it's the Rolls Royce of male classical voices.
Why is David Phelps on a list with Pavarotti? David Phelps should not even be on this list because he cracked and flated his notes on live videos people have put on YouTube with iphones. Lol
Pavarotti's incredible silvery top notes, voice, power and range make him one of the greatest opera singers of the recorded era. His interpretative abilities are immense, giving life to truly living characters for decades. He was not perfect, some roles where not fitted for his voice and at times he showed (especially in the later years) a not so solid technique compared to other tenors. He has become a milestone in the history of music and there are many other things that one could add and say about Big Luciano. I must say it is amazing and quite sad not to see names as Bjorling, Gedda, Vickers, Di Stefano or Gigli in this list and see Jonathan Anthoine in the first place that has a nice voice overall (that cannot absolutely be even compared to the names mentioned before), scarce interpretative abilities, a scarse technique and most of all no history. He is a product of this talent show industry, that tries to sell very mediocre singers as stars!
The very best of all time. I can remember the first time I ever heard him. I stopped everything, I knew that Pavarotti was truly the very best!
I was brought up listening to different tenors my father a working class man being a great fan. He once came home with a record by a little known tenor Fritz Wunderlich who was amazing but sadly died aged 33. Then my dad introduced me to the greatest tenor of all time Pavarotti. His range his phrasing all appeared effortless. I don't care he couldn't act or do opera. He sang from his heart he was the maestro. He knocked the socks off any other tenor past or present. We were truly blessed to have the great Lucciano there has and never will be another tenor like him.
No one combined power and emotion like Pavarotti. Bjorling did indeed have a "sweeter", more lyrical voice - certainly powerful, too, but no one has ever surpassed the range and power of Pavarotti. Truly a once-in-a-lifetime talent.
I have spent most of my life listening to the greatest tenors of our time and Pavarotti is certainly in the top two or three. His apparent ease of delivery and hight end register is to die for.
By far and away the world's greatest tenor since Enrico Caruso. The world will truly miss the voice of this maestro.
Luciano Pavarotti goes down in history as being the greatest male tenor ever bar none!
Comparing Pavarotti to any other singer is not only unnecessary, it is an insult to your hearing ability.
Such a powerful voice! His voice is strong and powerful, composed and very disciplined... He also has that golden touch on the emotions! Really like him!
I say Pavarotti is the greatest of all time... I give him the first position
Sure, there are good male tenor voices in the world but none of them are as superb or better than the magnificence of Luciano Pavarotti's voice.
Jonathan has all the qualities to follow Pavarotti, he is the best of all living tenors, but right now, of all times, Luciano remains the master!
Creates a warmth and sense of great feeling. A voice you never hear enough of. Sadly with us only in recorded forms. Still greatly missed
Related Lists
Top 10 Luciano Pavarotti Songs