Mario Lanza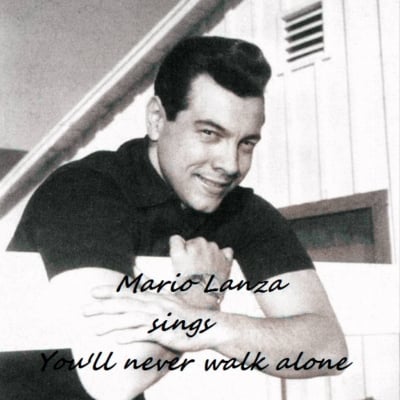 Uploaded by Ananya
Comments
Top
Popular
Newest
I have neither classical training or knowledge but I have every song this great singer ever made. I am 76 years old and nothing makes my musical day more gratifying than hearing a song by Mario that I haven't in my collection. Their are many tenors I admire and listen to but I always drift back to the most moving and sincere singer I ever heard. Ah Moon of My Delight. David Jackson
I have heard both Pavarotti and Lanza singing the area from Pagliacci - and there is simply no comparison - Lanza is so much better - clear, easy, emotional delivery, whereas Pava just screams at the top of his voice - like he is "delivering" (if you know what I mean). When I heard Lanza - I said "finally" I found the voice that soods my soul.
I was very young when Lanza died, but apparently I cried all day. You see Mario Lanza, though a tenor, sounded like my Father, who was a baritone. My father's voice had the rich tonal quality which I loved (he sang semi-professionally, but was a Navy Commander, away at sea a lot) and even at 5 yrs old recognized in Lanza's voice. Apparently I would sit, transfixed, at the gramophone and listen to my favorite's voice, it helped me get over missing my father.
I grew up with Mario Lanza, so perhaps I can't judge impartially. Having said that, I've listened closely to all the famous tenor voices (Caruso, Pavarotti, Dominga, Bocelli, etc. ), and I STILL like Mario the best. The passion of his singing is unequaled by any other singer (of either sex) I've ever heard.
Mario lanza's records were always being played in my home when I was very young. as a child, I had a deep appreciation of his tenor voice and continued with his movies until his death. in comparison to other tenors, I feel that his clarity is by far superior to most. to me he was the greatest tenor of all times.
I've heard no other that stirs my soul as much. If singing is math, then perhaps other tenors are better, but if singing is supposed to bring you closer to the creation of God, then Mario Lanza is preeminent. Every time I listen to him I think that other great tenors like Pav sound tinny. Mario had the ability to change the tone of his voice midway in the phrase and make it even richer. His power was unmatched and his emotion brings one to tears.
I think of all the tenor voices Mario lanza's voice had more power more feeling and his diction was perfect. My grandfather heard both Caruso and Lanza in person it took many years and one day he told me that not even Caruso had the power that Lanza did.
A wonderful voice full of warmth, power and versatility the original cross-over artist who should he have lived and returned to the opera world as he planned could have sung with Pavarotti, what a joy that could have been.
His version of I walk with god still brings a lump to my throat some forty odd years later, first time I heard it I was only seven so to me he will always be number one
I have Mario Lanza to thank for my great love of Italian Opera and for the tenor voice - he starred in the film "The Great Caruso", which I saw many, many times - my mother worked at the cinema! - He had a fine voice and deserves to be on any top-50 list.
The greatest tenor of them all. Know one put as much feeling and heart into each song or aria as Mario did each song sounded like it was the last performance he would ever give. Rest in peace Mario!
What I've heard, Mario Cocozza (Lanza) had the most God gifted tenor voice, Hollywood screwed him up and killed him at a young age (38) for opera type singers. What a shame, could have been many more years of THAT voice.
A complete all rounder who would have a much bigger "huge" impact with the operatic upper circles if he had done more stage work, which he intended to do and was preparing for before his untimely death
I was unfamiliar with the actor Mario Lanza until my wife recorded the movie he performed in "The Great Caruso". Boy was I impressed with his singing. Have enjoyed hearing him sing in all of his movies, especially Serenade. He has my vote for number 1!
As child my aunt had his record with Anna Moffo. I can still hear their Song of Hiawatha and the Hawaiian Wedding song. His voice can bring me to tears. While I still agree right now Jonathan Antoine is the new commer and amazing, give him time and he will by far out distance the older singers. He has brought opera to the young and young at heart
There have been and there is now some wonderful tenor's but to my mind none can compare with Mario Lanza. He had an unusual quality to his voice that is hard to describe but just took you to a different place.
In my 60 odd years of listening to music, he is by far the greatest voice & Tenor I have ever heard. It is difficult comparing to Caruso has his recordings were made before more sophisticated recording equipment was available. But to me Lanza is easiest the best I have ever heard
Since the 1950s when I was just 13 and started listening to Mario Lanza on the radio, all the rest of the wonderful tenors have not had that special thrilling musical effect on me as Mario has to this day.
The combination of beauty, power, passion and dramatic urgency put Lanza at the top of my list. That and the fact I am from Philly and Lanza was my grandfather's favorite singer.
One of the earliest to exploit "mass media" (movies) with great sound and so became popular as well as great (as a voice). He brought opera to the masses - color, sound, and costumes.
No one was better - perhaps as good! An angelic voice of supreme power, softness, and beauty! Not of this world - perhaps sent from God!
The greatest voice of the 20th Century! Beautiful timbre and color. Towering emotional power and phrasing. A voice not equalled.
I have been an admirer since first hearing Mario Lanza sing in 1956. Sadly he died before I was able to go and see him perform in a live concert. One can only imagine what he would have sounded like today.
He has the best voice ever recorded! He was just fantastic!
Grew up with his music.I walk with God, has a special place in my heart, played at my mothers funeral.
Related Lists

Best Mario Lanza Songs