Top 10 Greatest New York Yankees Players
The Top Ten
Babe Ruth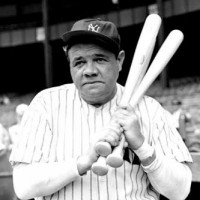 George Herman Ruth Jr., better known as Babe Ruth, was an American professional baseball player whose career in Major League Baseball spanned 22 seasons, from 1914 through 1935.
The records, the honors, the achievements, the ultimate game changer, this is what Babe is all about. It's too long to mention ALL of the honors he achieve here, but one thing is clear, he towers head to toe in importance of making baseball today just like what he did in the 1920s.
Its Joeysworld
Hit 50 homers in one season until roger maris smoked that record, still the best yankee
Not to mention best player in MLB history
Best yankee of all time period
Derek Jeter

Derek Sanderson Jeter is an American former professional baseball shortstop, current businessman and baseball executive who is the chief executive officer and part owner of the Miami Marlins of Major League Baseball.
First yankee for 3000 best plays fture hall of famer and everyone loves him even other teams and people in other countries know who he is. Jeter is the best and I'm not trying to fight against the yankees because I am a yankee fan from brooklyn and I've been a fan since day 1. #DJ3k #YankeeNation
A prime example of what a pro athlete is supposed to stand for. He is classy, a born leader, and a heck of a hitter to boot.
the perfect example of what it means to be a yankee
My favorite baseball player ever and always will
Lou Gehrig

Henry Louis Gehrig, nicknamed "the Iron Horse", was an American baseball first baseman who played his entire professional career in Major League Baseball for the New York Yankees, from 1923 until 1939. Gehrig was renowned for his prowess as a hitter and for his durability, which earned him his nickname ...read more.
Gehrig batted cleanup, increasing the pressure for pitchers to throw strikes to Ruth. If Gehrig had batted third in the order, with Ruth batting after him, their statistics might be reversed.
He was the true heart of the 1920s-30s Yankees. May not get the love the Babe did but was every bit as good a player and one of the classiest people to ever play the game.
Anyone who checks Gehrig's stats will know that there was only one Yankee better than him.
Baby roof is better that how is he lower than Derek jeter
Mickey Mantle
Number 1, if he wasnt injured. He would have. Been the best home run hitter of all time no doubt in my mind that he would be the number 1 homr run hitter ever and barry bonds wouldn't have even been close
Jeter should now belong above Mantle even. He's overrated
Derek Jeter better than "The Mick? " Let's get real people!
Probably would of been the best ever if he hadnt got hurt
Joe Dimaggio

Joseph Paul DiMaggio, nicknamed "Joltin' Joe" and "The Yankee Clipper", was an American baseball center fielder who played his entire 13-year career in Major League Baseball for the New York Yankees.
Joltin' Joe at its best, here's his 1955 Hall of Fame Plaque:Hit safely in 56 consecutive games for Major League record 1941. Hit 2 home-runs in one inning 1936. Hit 3 home-runs in one game (3 times). holds numerous batting records, played in 10 World Series (51 games) and 11 ALL-Star Games, Most Valuable Player in A.L. 1939, 1941, 1947.
Its Joeysworld
Why the hell is DiMaggio only 9th?! He's right up there with Babe Ruth and Mickey Mantle. Joltin Joe is a true legend!
Joe D ranks higher than 10th. He should be in the top three.
Derek meter above joltin joe DiMaggio? No.
Alex Rodriguez

Alexander Emmanuel Rodriguez, nicknamed "A-Rod", is an American former professional baseball shortstop and third baseman. He played 22 seasons in Major League Baseball for the Seattle Mariners, Texas Rangers, and New York Yankees.
HE'S THE MAN OF OUR TIME(NO MATTER WHAT TEAM HE'S ON)
Mariano Rivera

Mariano Rivera is a Panamanian-American former professional baseball pitcher who played 19 seasons in Major League Baseball for the New York Yankees, from 1995 to 2013. Nicknamed "Mo" and "Sandman", he spent most of his career as a relief pitcher and served as the Yankees' closer for 17 seasons.
He should easily be top 5! The man was a legend and will be missed forever, no one could play like he could!
No one will have more saves than him, try to best 652!
Greatest closer of all time. He beat Hoffman.
Great pitcher and all around person!
Yogi Berra

Thurman Munson
Thurman deserves to be in the Hall!
Don Larsen
The Contenders
Whitey Ford
Jorge Posada
Reggie Jackson

Reginald Martinez Jackson is an American former professional baseball right fielder who played 21 seasons for the Kansas City / Oakland Athletics, Baltimore Orioles, New York Yankees, and California Angels of Major League Baseball.
I met him at a car show he's really cool and he's Mr October which is a very important month
Roger Maris
Brett Gardner
Joe Pepitone
Phil Rizzuto
Ichiro Suzuki

Ichiro Suzuki, often referred to mononymously as Ichiro, is a Japanese former professional baseball outfielder.
Bucky Dent
Robinson Cano

Its possible he might get to the 3,000 hit club. If so, he's a sure hall of gamer.
Amazing now that he's a Mariner
Rich Goose Gossage
A call goes out to the bullpen and here he comes, its Rich Goose Gossage pitching. His career we're filled with saves, championships and awards. He was also one of the game's great clutch closers, here's one of them. In a game against the Seattle Mariners on September 3, 1978. He replaced Sparky Lyle in the top of the 9th with runners on second and third with no outs. Gossage then struck out 3 batters on 11 pitches and preserve a 4-3 Yankees win, a win that would later be important for it would lead the Yankees to their 3rd straight American League East crown.
Its Joeysworld
Mike Mussina
Roger Clemens
Don Mattingly
He is a legend
CC Sabathia

Carsten Charles Sabathia Jr. is an American professional baseball pitcher for the New York Yankees of Major League Baseball.
PSearch List