Gurmeet Ram Rahim Singh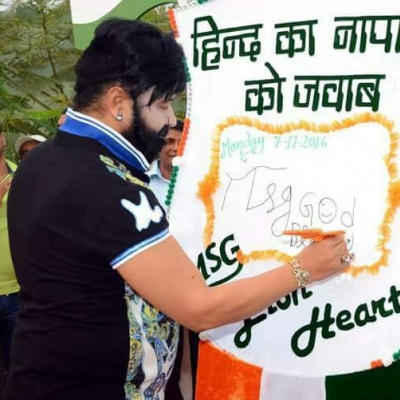 Uploaded by rajan77
Info
Gurmeet Ram Rahim Singh Insan (born 15 August 1967) is an Indian guru, music producer, singer-songwriter, actor, and filmmaker. He has been the head of the social group Dera Sacha Sauda (DSS) since 1990. ...
read more
.
Comments
Top
Popular
Newest
He versatile personality superb voice acting social worker so many worldwide records on his name
Great personality... & Great worker
Gurmeet Ram Rahim Singh is a wonderful person who can do multiple Humanities task & also comes first in these social activities for humanity
He lives in souls of millions of the peoples
He is a great social reformer. He is doing 133 humanity warks. He is a great Religious Guru. He has 78 world records. He is really a Super Men. He is perfect in all arts. He is also a Super Hero. He is the greatest person in the universe...
Great personality all rounder person. I have no words to say...
Best caretaker and over 130 welfare works are done by him. He is also an actor, director, singer. Totally he is an all rounder personality
He is marvellous in His every job... He is pursuing 133 social works to serve humanity...
He's really a great personality
He just shattered all records of Humanity in each social channel. Greatest Hero of mankind in all realms of universe.
He is doing 133 welfare work together to serve the humanity & recently got giants International award for his welfare works
He is the spiritual leader and his welfare activities are speechless. He is not living for him he lives for the sake of people. Salute to him
He is leading 133 welfare works across the globe
He is a great saint who has devoted his whole life for humanity. Salute to him
He is initiated human welfare services.
He is a great saint he always give message of humanity and suggests path to meet with god
A great personality in India who has initiated 133 welfare works...
Well done and carry on well fair works
Greatest personality in the World at present time. No body done 127 works 4 humanity Rather than guru ji, I fell happiness to vote him
Great work by Gurmeet Ram Rahim Singh
He has taught humanity and how to follow humanity in real sense
He is biggest great social worker and he made many good inventions for Indian youths
He is great man. He doing 133 welfare work.
HE is the Most Versatile PERSONALITY in Every Field including Medical,Engineering, Art, Director, Actor, Singing. No Doubt a Great Social Reformer too followed by 60 million People.
An all round personality n a great Guru of the times.
Related Lists
Best Honey Singh Songs
Best Arijit Singh Songs

Best Arijit Singh Songs From Movies
Best Songs On Judas Priest's Ram It Down