Greatest Romantic Classical Composers
The Top Ten
1
Frederic Chopin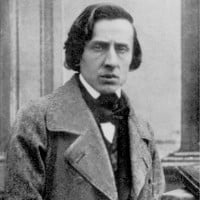 Frédéric François Chopin (1 March 1810 – 17 October 1849), born Fryderyk Franciszek Chopin, was a Polish composer and virtuoso pianist of the Romantic era who wrote primarily for the solo piano. He gained and has maintained renown worldwide as a leading musician of his era, whose "poetic genius ...read more.
Chopin's music basically sums up the Romantic era- to know Chopin is to know Romantic music. It's also good to know that he has strong classical roots as he loved the music of J. S. Bach. Hear Chopin in the hands of the right performer and you will be blown away.
Easy win for Fryderyk in this category. - cwysocki
EASY WIN FOR CHOPIN
2
Pyotr Illych Tchaikovsky
Totally first! I know Chopin was one of the greater piano composers, but Tchaikovsky's magnificence in EVERY PIECE is just beautiful.
The godfather of 20th century music, and beyond!
The Best Swanlake, 1812 Overture, The Nutcracker, overture romeo and julliette
3
Ludwig van Beethoven

Ludwig van Beethoven was a German composer and pianist. A crucial figure in the transition between the Classical and Romantic eras in Western art music, he remains one of the most famous and influential of all composers. His best-known compositions include 9 symphonies, 5 piano concertos, 1 violin concerto, ...read more.
Beethoven was both classical and romantic composer and he was the greatest of all time in my opinion.
4
Franz Liszt

Franz Liszt was a prolific 19th-century Hungarian composer, virtuoso pianist, conductor, music teacher, arranger, organist, philanthropist, author, nationalist and a Franciscan tertiary.
Vastly underrated. Most people only know a handful of pieces and claim him to have no substance, which is far from the truth. Just give Annees de pelerinage, or the B minor sonata, or Nuages Gris a listen and prepared to get awed by his harmonic innovativeness. As a man, he is the only Romantic composer that earns my respect. (Read the Walker biographies! )
Underrated
5
Jayesvar
His piano sonatas are technically perfect but underrated!
His musical compositions are very
Emotional.
He is not just a composer but also
An artist
His piano sonata number 1 is emotional as it made me cry
6 Nikolai Rimsky-Korsakov
7
Felix Mendelssohn
This guy is really influential, especially in the finding of Bach. I really like his string symphonies, they're light and elegant. His violin concerto and octet are of course time-honored, so I think he deserves over Liszt at least.
8 Carl Maria Van Weber
9
Johannes Brahms

There were a lot of great romantic composers, plus the romantic period was long so it (kind of) had composers like Beethoven and Tchaikovsky, but as far as composers born, lived, and died in the romantic period, Brahms is the best. To me the integrity and detail in his music is like the romantic equivalent to Bach. Brahms was a genius.
10 Modest Mussorgsky
The Contenders
11
Franz Schubert

Franz Peter Schubert (31 January 1797 – 19 November 1828) was an Austrian composer. Schubert died before his 32nd birthday, but was extremely prolific during his lifetime. His output consists of over six hundred secular vocal works, seven complete symphonies, sacred music, operas, incidental music ...read more.
One of the greatest composers in nearly every aspect- from chamber music, to lieder, to symphonies, to solo piano, to choral, and more. It is a real shame that he appears forgotten on this list.
12 Niccolo Paganini
13
Robert Schumann
I know it's been said many times, but it really is true: Schumann's music sounds more recognizably "Romantic" than any that of any other composer. - alexpijanowski
This composer is so underrated!
14
Sergei Rachmaninoff
I only want everyone to hear his Piano concertos, It's beyond, the feeling every part of this song gas somthing new,
Wow. I love him
15
Richard Wagner

Wilhelm Richard Wagner was a German composer, theatre director, polemicist, and conductor who is primarily known for his operas.
What... #14?! People are so clueless
16
Camille Saint-Saens
Great French horn solos
17 Edvard Grieg
18 Antonín Dvořák
19 Jacques Offenbach
20
Gustav Mahler
He is great!
First symphony: epic third movement
Second symphony: OMGOMGOMG
All in all, he has to go higher!
21
Giuseppe Verdi
HE is the most underrated composer of all time
22 Johann Strauss I
23 Edward Elgar
24 Richard Strauss
25 Johann Strauss II
PSearch List