Greatest Singers of Asia
The Top Ten
1
Siti Nurhaliza - Malaysia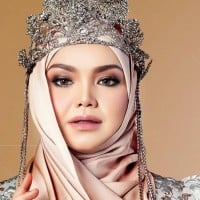 Living lagend. The country is bless to have her as one of the best country women.
The Voice Of Asia. Asia Musical Legend and Asia Number 1 Has Won Over 200 Awards As a Singer.. Siti Nurhaliza
She is the voice. Her voice is heaven. Everyone can check out her biography on History Channel. No 1 Asia. She not only hit the high note, but her voice is so beautiful like you in heaven. She is an angel!
She is Beautiful Insides and out. She is very Polite, humble Singer in Malaysia. Nominated for all Category in Singing competition and Won for each categories . Until Now, She Success with Her own concert . SITI NURHALIZA ON TOUR IN MALAYSIA, SINGAPORE AND INDONESIA on last year. Also the latest Concert Siti Nurhaliza in Adelaide, Australia . She still produce her own single and latest prepared for the new album . Waiting to release soon (after Covid19)
2
Sonu Nigam - India
Good but equal to atif aslam
Amazing voice, he can sing in every language! And he has a great versatility in his melodious voice! He deserve No1. )
He is greatest of all
I like sonu and atif
3
Lata Mangeshkar - India

Lata Mangeshkar is an Indian playback singer and music director. She is one of the best-known and most respected playback singers in India.
No one can match the voice & class of Lata ji ever again.. she's a legend..
The best female singer in the world :) and there is no doubt! I can suggest just check out her stuffs... When she sing, it just out of world, I mean it totally
She is a bigger singer than Madonna and in India she is worshiped like a god she has sung over 30000 songs in 14 different Indian languages
What to say about her voice and songs. Her voice is so sweet that even sweetness will too feel shy. She deserves number 1 rank.
4
Lea Salonga - Philippines

Filipina singer and actress Lea Salonga has released nine studio albums, three live recordings and is involved in at least ten cast recordings.
Her voice is clearer than my future love life... with Tony and Oliver Awardee, it speaks her caliber as a vocal singer...
Votes can't even tell how good she is. Aladdin, Miss Saigon, etc. She deserves more than the three above.
Miss Saigon, Fa Mulan, Princess Jasmine, One of Disney's best, Great in Opera and theater... what else could be? she's indeed great!
Conquered Broadway and the West End... Need I say more? Wong the Tony, and Olivier Awards in 1991...
5
Mohammad Rafi - India

Mohammed Rafi was an Indian playback singer and one of the most popular singers of the Hindi film industry.
Arguably one of the greatest singers of the world. Certainly the best ever male singer of India. He showed remarkable versatility and had the ability to sing and put emotions to any type of song. Truly a complete singer.
Great range, great emotions. Influenced so many other singers. Cannot be replaced by any other singer in india. Sonu nigam, manna they, lata mangeshkar believe that he was the best playback singer ever in hindi cinema.
He is angel and his is so.
I have never seen the singer like him
6
Hariharan - India

Hariharan is an Indian playback singer who has sung for Hindi, Tamil, Telugu, Kannada, Malayalam, Marathi, Bhojpuri, Punjabi, Gujarati and Rajasthani films, an established and foremost ghazal singer and composer, and one of the pioneers of Indian fusion music . In 2004, he was honoured with the Padma ...read more.
He has been one of the most acclaimed singers. His melody has been appreciated by the film fraternity. He is one of the most versatile and unique singers. His voice is very very sweet. He has received almost all kinds of awards.
The best magical magnetic voice ever in the world...
Amazing versatile multi lingual singer with fabulous voice.
The versatile genius...
7
Alka Yagnik - India

Alka Yagnik is an Indian playback singer. She is noted in Indian cinema for a career spanning over three decades.
Absolutely beautiful voice. She is an amazing singer.
8
Shaan - India

Shantanu Mukherjee, known as Shaan, is an Indian playback singer active in Hindi, Bengali, Marathi, Urdu, Telugu and Kannada films and a television host.
Shaan is wonderful. Very versatile
We want him back in Bollywood first
9
Fatin Shidqia - Indonesia

Fatin Shidqia Lubis, better known as Fatin Shidqia or Fatin, is an Indonesian singer and actress who won the first season of the Indonesian version of The X Factor in May 2013.
She is very charming and has rare quality voice, even thought she is new and still need to learn more but the natural 'herself' makes many people love her
Go fatin go salam jari kelingking... For ya...
Just love her voice and personality
She's the real greates voice
10
Anuradha Padwal - India
Absolutely beautiful voice. She is an amazing singer.
She is best singer
Legendry singer
Amazing singer
The Contenders
11
Agnes Monica - Indonesia
@agnezmo
Multitalented ( singing acting dance etc)
Hardworker
Has a wonderful voice
The usa needs the people all in one.. She can sing, she can dance, and she's gorgeous. And agnes have it.
She is a young diva Indonesia multytalented, have amazing voice, style and so sexi. I am Indonesian so proud of her go go @agnezmo we love you and always support you girls.
I always expecting all about her (album, show, etc) because she is "Wonderful"
12
Jagjit Singh - India
He is known as the King of Ghazals in South Asia, the homeland of music. His golden God gifted voice sits perfect for singing all sorts of songs. He sang in Hindi, Punjabi, Bengali, Nepali, Urdu, Gujurati, Marathi, Tamil. He is perhaps the greatest singer in India
13
Sarah Geronimo - Philippines

Sarah Asher Tua Geronimo aka Sarah Geronimo or Sarah G. is a world class and multi-talented Filipino singer, actress, dancer, record producer, model, host, coach/judge, commercial/product endorser and tv personality . She can also draw and plays the piano. Sarah is popularly known as the one and only ...read more.
She's not just a singer, but a total performer and the best artist I'ver seen.
She's very talented and down to earth person. Indeed, a role model to everyone.
Possesses a very soulful voice, good belter, she can mimic Celine Dion's voice and style as well as Christina Aguilera's. Sings songs with less effort. When she starts singing you'll be blown away! A trivia: She was the host in a philippine singing contest where Charice Pempengco joined. She can reach 5-6th octave and effortlessly hit C#5 and 6 and some other B#!
She's the best of all, nothing can beat her, she's extraordinary and she's an epitome of a true performer who really performs each songs from the heart. Truly world class artist of this generation, the one and only Philippines pride, the ever beautiful and ever talented, Miss Sarah Geronimo.
14 Babul Supriyo - India
15
Toshi - Japan

Toshimitsu Deyama, known exclusively by his stage name Toshi, is a Japanese singer and songwriter. He is best known as lead vocalist and co-founder of the heavy metal band X Japan.
Toshi is absolutely the best singers from Asia, his voice is like a dream and I feel deep inside their songs, he is really incredible. The best singer ever
Toshimitsu Deyama from X Japan
Yes! ~ X Japan is the biggest Asian band in the world! And most infueltial I love them, they have been around for almost 30 years now!
16
Charice Pempengco - Philippines

Jake Zyrus (born Charmaine Clarice Relucio Pempengco, formerly known by the mononym Charice), is a Filipino singer who rose to popularity through YouTube. He is a transgender man.
She's well-known all over the world-Russia, Brazil, France, Germany,
China, the United States, Canada, Australia, the Netherlands, Portugal, Sweden, Indonesia, Philippines, Malaysia, Singapore, South Korea, Thailand, Vietnam, and still growing.
She always amazed her audiences in her live performances,
Charice is always very good. She is known as the first Asian singer to be in the top ten list. I am very proud to be an Asian.
Dubbed by Oprah Winfrey as the Most Talented Girl in the World (if you think what I said is fake search it on Google " Charice Pengpengco " click the wiki)
17
Babbu Maan - India

Not only best singer but also very good human being love you ustaad g
He is great man and great singer
Saab is the best singer in the world
I love you meri jaan
18
Shreya Ghoshal - India

Shreya Ghoshal is an Indian playback singer. She has received twelve National Film Awards, twenty Filmfare Awards and eight Filmfare Awards South to date.
I can vote for her a thousand times. She rules it. Her voice, her technique. Even vocal coaches across the world get amazed by her singing.
AS "SUN RISES IN EAST" SO TRUE, SO IS THE FACT THAT "SHREYA GHOSHAL IS THE WORLD'S BEST SINGER AND LIVING LEGEND".. NO ONE CAN REACH HER CALIBER IN NEXT 100 YRS OR MORE.. LOVE YOU SHREYA GHOSHAL.. SO MELODIOUS and TOUCHING IS YOUR MUSIC.
Just listen to her songs, I think you'll get why she is at the #1 position...
She is versatile. She should be topping the list. However the talent is always her and she is always the talent.
19
Hriday Tulsiani - India
He is undoubtedly the best singer in Asia
Best singer on the list
He has an amazing voice!
Hriday all the way
20
Mohit Chauhan - India
Listen ti his rockstar album
Listen to his rockstar album
21
Kim Jong Kook - South Korea
Famous Korean singer. He was one of the members of the dancing group, Turbo, in 90s and now, he is a solo singer. According to the online survey, he is the most successful solo singer in Korea. Now, he is one of the hosts in the Korean famous T.V. show, Runningman. Standing on the top of Korean pop scene, he is a perfect model for many other singers.
hE IS FAMOUS. I SAW HIM IN RUNNING MAN.
Kim Jong Kook is also great in commedy programs.
In the commedy program called "Running man" in South Korea, Kim Jong Kook is having great popularity.
22
Samina Chowdhury - Bangladesh
Supper Singer!
she is a great singer
23
Super Junior - South Korea

Super Junior is a South Korean boy band. Formed in 2005 by producer Lee Soo-man of S.M. Entertainment, the group comprised a total of thirteen members at its peak.
24
Atif Aslam - Pakistan

Muhammad Atif Aslam is a Pakistani singer and film actor. His movie debut was the 2011 social drama Bol.
Atif aslam's songs are the best songs I ever heard. Love you Adeees
He is the best singer in the world with a magical and heart touching voice
Indeed he deserves a top spot, better than most of them who are anchored there at top; and if you ask his fans they wont digest him so ranked low. He's a true idol for current generation has wisdom and power to rise at any point of his career which very... Rarely any one possess
Greatest singer of the world...
25 Sadhana Sargam - India
PSearch List