Germany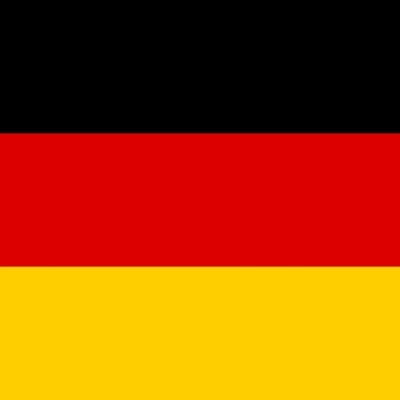 Found on wikimedia.org
Info
Germany was formally united in 1871 under the initiative of Bismarck with King Wilhelm of Prussia as emperor. The previous 'Holy Roman Empire', basically a continuation of the empire of Charlemagne/Karl der Grosse was dissolved in 1806. ...
read more
.
Comments
Top
Popular
Newest
Football is a sport where luck always will be a part of the game. Germany mostly anytime was a member of the close finalists like, I guess, any other nation. After almost 120 years of football history, Germany has proven to be one of the most consistent nations in football history, even if they didn't win a title every time. But how I've said in the first sentence, football includes a lot of luck.
Germany is the most consistent team in the world. Brazil was great but look at them now! They were crushed in the World Cup by Germany. Germany might not have a Ronaldo or maradonna or Messi but they have solid players in every position. Brazil, Italy, Spain, Argentina etc all have good players but they do have some holes in some positions. Besides we do have the greatest goalkeeper in the world and ever to live. When it comes to our players we have a strong squad that can play fantasticly and all are the masters of passing. Italy is never consistent and rely too much on older players, Spain isn't a contender because they have won it once and just now are becoming a considerable force, Argentina is a joke when it comes to competition because of their massive gap when it comes to player quality! They have Messi as a striker then a random 19 year old who is playing his first game playing behind him! Netherlands is the only team that I truly respect. They also make it to the semi finals ...more
With the exception of the first WC in 1930 and the 1950 WC from which they were banned, Germany have participated in all 18 of the remaining World Cup tournaments. In addition to this they have made it to the the semifinal a record 13 times in 18 tries for a ridiculous 72.2% of their appearances. This is 2 more times (11) than Brazil have managed in more tries (20 tries, 55%). They have taken top three on a record 12 occasions (66.7%), made it to the final a record 8 times (44.4%), and won the World Title 4 times (22.2%), second only to Brazil (5 titles 25%). In addition to this, Germany have won the European Championship 3 times, taken second 3 times, and made it to the semifinals in 8 out of all 14 European Championships (21.4% 1st, 21.4% 2nd, 57.1% Semifinalist). They are without a doubt the most consistently superb football nation in the entire world and an especially phenomenal tournament team.
What counts in football? Success. Three world cups, three European cups, 13 finals, etc. etc. Even if they don't pray to the god with the leather head, they find their own, rational way of succeeding. They play successfully, they market football successfully, they organize tournaments successfully... And they have won so many championships that it doesn't really matter that much whether they are winning them at the moment, even though they believe it is their damned responsibility win every time.
I had to look at the comments on Brazil, That they are the only ones that have qualified for every world cup.. Well perhaps on a technicality. Germany has appear in every world cup accept for one, where they were band due to the war. If you look at all aspects Germany out rank Brazil. You also have to consider is more difficult for the European teams because of the great competition, just look 8 of the top countries in the world are European. However, both countries are clearly the 2 top in the world.
Germany is better than Italy FIFA ranking do matter how can you sit there on your diving throne and say you are better when you can't make it past group stages? Germany has nearly always made it into the final four unlike Italy always being inconsistent. You can't say you're the best if you can go from winning to not making past the group stages and losing to Costa Rica. Germany is the nation of football. Brazil is the master but Germany is the child of Brazil same talents not as good luck.
The best nation in football legendary players in the 20th century like K.H Rummenigge, Gerd Müller, Franz Beckenbauer, Paul Breitner, Jurgen Klinsmann, Lothar Matthaus, Matthias Sammer and more.

The modern Germany has more to stylist players like Michael Ballack, Bastian Schweinsteiger, Misroslav Klose, and talents like Julian Draxler, Mesut Ozil, Emre Can, Julian Weigl, Leroy Sané, Joshua Kimmich, Thomas Müller, Mario Gotze, Felix Passlack, Max Meyer, Julian Brandt and more young talent who are waiting to rule the world for years to come
Germany is a tournament team and gets my vote for greatest ever. the consistency is amazing and they own most of the world records actually in the world cup stats. They most likely will match Brazil in world cups won soon and the only other major record they don't have - most appearances - actually works against Brazil. For example, Germany has been to more finals, scored more goals, and played more games in less competitions. Amazing!
In Germany, there is no good player because they're all good. For example, in Brazil when Neymar got injured and they had to play against Germany, They lost because they all depend on Neymar. In Germany, even if anybody gets injured, they still have loads of good players. Hands up for Bayern Munchen! Lewandowski!
Another important fact when talking about nations is that Germany is the only country in the world that has at least once won any major team and individual accolade on the men AND womens side. Since half of the worlds population are women, this is an integral part to a "nation" and what they represent, though, granted not at the forefront of sports glory.
The amount of world cups having participated in doesn't equal better skill, it just means that you have tried more. Of course Brazil has more wins, they have played more times, that's simple math, especially considering that in the early days of soccer, it's not like Brazil had too many nations to compete against...
Most world cup finals in the history of the sport. 4 world cup semifinals in a row 2002-2014. Highest world cup scorer of all time: Miroslav Klose. They have made every world cup except two: the first one in 1930 and 1950 because they were banned for what they did in World War II. They also gave the worst defeat to Brazil in Brazil's history (tied with Uruguay 6-0 Brazil September 18, 1920). They also have the best defender of all time (Franz Beckenbauer) and one of the twenty-five best goalkeepers of all time (Manuel Neuer)(He's ranked number 8 by bleacher report. They have also won the most UEFA European Championships (tied with Spain with 3).
Germans have been the most consistent soccer team in World Cup history. If you gave them the world cup they were banned from for being under the Nazi regime, they would have 5 titles like Brazil. But at least they keep coming back and finishing with a medal in almost every world cup they have played.
Germany is the best! They have produced some of the best goal keepers in history and won world cup 4 times. Germany have been in the finals more times than any other country ever. They have set more records and have really good players. Germany
Germany's nation is built on football. No one has ever come so close as many times as Germany. We have outstanding players. Brazil has amazing players but they rely too much on Neymar. Germany has no Ronaldo or Messi but we have good players that play as a team.
Germany have defeated Brazil, who are said to be the best soccer player country in the world, with an embarrassing 7:1 and always make it to the quarter- finals/finals. Brazil is good but Germany is better and getting better all the time.
Germany should be first due to their consistency in the world cups. Brazil may have won the most, but Germany is right behind them with 4 world cup wins. They are always a formidable team.
Germany is the best team, although id rather say Spain because that's who I root for but I must agree Germany is probably the best - Joansb
7 Germany-1 Brazil in word cup 2014 semi finals you really think that Brazil are better than Germany
Germany has beaten Brazil and Spain on many occasions, and I doubt many will forget the brutal victory of Brazil that paved the way for German victory in 2014.
I'm German and soccer is my life and there are a lot of soccer opportunities to chose from in Germany
Germany are definitely the best nation in football ever! Argentina have Messi, Brazil have Neymar, Uruguay have Suarez, Germany have a team.
I know Germany has got: Mario Gotze, Muller and all but they SUCK! Even thought they won the World Cup does not mean they're actually good! They are pretty good, I guess.
They are very consistent they make it to the semifinals all the time and they won the 2014 world cup after betting Brazil 7-1 in the semifinals
Germany May not have star players but easily outsmarts any other team. When watching them play it isn't hard to see a superior amount of team work, comunication, and skill. If you really compare stats and review games Germany rightfully deserves the title of best nation at soccer.