Top 10 Greatest Sports Icons
The Top Ten
1
Michael Jordan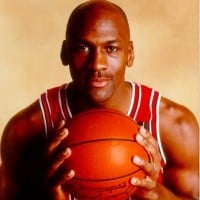 Michael Jeffrey Jordan, also known by his initials, MJ, is an American retired professional basketball player.
Michael Jordan can be considered as the most talented athlete of a single sport of all times.
His name can be equal with the word spectacle.
He inspired a lot of basketball greats after him.
All we have seen him playing, we are sure that we won't see anybody like him in future. We are lucky.
fantastic basketball player!

2
Muhammad Ali

Muhammad Ali (January 17th 1942 - June 3rd 2016) was an American former professional boxer . He was generally considered among the greatest heavyweights in the history of the sport.
Muhammad Ali (Cassius Clay) is definitely among the greatest boxers of all times, but not the number 1.
His career was exciting due to his selfish and provocative character. He had a lot of fans but enemies too. His involvement in several historic boxing matches (the "Fight of the Century", due to the tremendous excitement surrounding a bout between two undefeated fighters, Ali and Joe Frazier, "The Rumble in the Jungle" against George Foreman held in Kinshasa, and the "Thrilla in Manila" again against Joe Frazier) were among the most monumental sports' events of the 20th century.
But all these made him one of the greatest sports' icons that will be difficult to be forgotten.
GOAT sportsperson. Transcended Boxing
3
Pele

Edson Arantes do Nascimento, known as "Pelé", is a retired Brazilian professional footballer who played as a forward. He is one of the best players in football, hence why he's nicknamed the "king of football".
Best footballer ever , GOAT footballer ever.
Those who saw him almost all of them agree. None of those media hyped fake Messi Ronaldo propagandas . Those who research about football history and are honest in their judgement knows Pele is no 1
The meaning of the word iconic is diferrent than the word best.
Iconic person is a famous person that represents something of importance.
Football is the most popular sport in the world.
During his career Pelé travelled all around the globe with his club (Santos) playing many friendlies with other clubs, so millions of people shaw him playing and gained a popularity and fame as no one athlete before or after him.
"My name is Ronald Reagan, I'm the President of the United States of America. But you don't need to introduce yourself, because everyone knows who Pelé is."
-US President Ronald Reagan, greeting Pelé at the White House.
"Pelé was one of the few who contradicted my theory: instead of 15 minutes of fame, he will have 15 centuries."
-Andy Warhol.
Pelé was elected 'ATHLETE OF THE CENTURY' by International Olympic Committe (the highest sports authority) in 1999.
That's why Pelé is the most iconic athlete of all times.
4
Bruce Lee

Bruce Lee was a Hong Kong American martial artist, action film actor, martial arts instructor, philosopher, filmmaker, and the founder of Jeet Kune Do.
He is legend
5
Mike Tyson

Michael Gerard Tyson (born June 30, 1966) is an American former professional boxer who competed from 1985 to 2005. He reigned as the undisputed world heavyweight champion and holds the record as the youngest boxer to win a heavyweight title at 20 years, four months and 22 days old.
6
Diego Maradona

Diego Armando Maradona (October 30, 1960 - November 25, 2020) was an Argentine professional footballer. He was known for "The Goal of the Century" and the "Hand of God" goal. He died of cardiac arrest on November 25, 2020 at the age of 60.
In his country "El Pibe de Oro" was always more than just a sports hero - he was a divine figure. It was the Houston Chronicle that described Maradona perfectly: he was the combination of Michael Jordan's athleticism, Babe Ruth's power and Mike Tyson's human fallibility. In a country that survived many social frustrations and several military dictatorships, El Diego became a symbol of hope and an idol to millions.
7
Roger Federer

Roger Federer (born 8 August 1981) is a Swiss professional tennis player who is currently ranked world No. 3 in men's singles tennis by the Association of Tennis Professionals (ATP). He has won 19 Grand Slam singles titles, the most in history for a male tennis player. He has held the world No. 1 spot ...read more.
He is regarded as the greatest tennis player ever and he definitely is.
But his achievements and less compared to female legends Margaret Court and Martina Navratilova, in a sport similar competitive for men and women.
8
Michael Schumacher

9
Michael Phelps

Michael Fred Phelps II is an American competition swimmer and the most decorated Olympian of all time, with a total of 22 medals in three Olympiads.
he is the greatest sports icon because all the medals he won in olympics are recorded for his country.
10
Ayrton Senna

Ayrton Senna da Silva (21 March 1960 – 1 May 1994) was a Brazilian racing driver who won three Formula One world championships for McLaren in 1988, 1990 and 1991 and is regarded as one of the greatest Formula One drivers of all time. He was killed in an accident while leading the 1994 San Marino Grand ...read more.
Although I can't say that he was the best driver of F1 of all times, his racing career and his death made him the greatest icon of the most distinguished sport.
The Contenders
11
Carl Lewis

Frederick Carlton "Carl" Lewis is an American former track and field athlete who won nine Olympic gold medals, one Olympic silver medal, and 10 World Championships medals, including eight gold. His career spanned from 1979 to 1996, when he last won an Olympic event.
After the 1984 Olympics, Carl Lewis was continuously compared with Jesse Owens. But Owens' track and field career lasted only two years (1935-1936).
Carl Lewis was voted "World Athlete of the Century" by the International Association of Athletics Federations and "Sportsman of the Century" by the International Olympic Committee.
One of the most decorated athletes of all times.
The only disadvantage in his assessment is that he made only two individual world records in his career, both in 100m. He didn't manage to break Beamon's and Mennea's records although he was very close.
12
Johan Cruyff

Hendrik Johannes Cruijff (1947-2016) was a Dutch professional football player and coach. As a player, he won the Ballon d'Or three times, in 1971, 1973, and 1974.
13
Franz Beckenbauer

Franz Anton Beckenbauer is a German former professional footballer and manager. Early in his playing career he was nicknamed Der Kaiser because of his elegant style, dominance and leadership on the field, and also as his first name "Franz" is reminiscent of the Austrian emperors.
Greatest German sports' icon.
The greatest player in the history of soccer. Nicknamed "Der Kaiser" ("The Emperor"), Franz Beckenbauer is one of the most important athletic figures in German history. While he started his career as a midfielder (most elite players are goal scorers in their youth), Beckenbauer earned his stripes as a dominating defensive sweeper. With a rare ability to stop the ball as opponents tried to invade the offensive zone, and a strong talent to impact his team's own offense, Beckenbauer is one of the most versatile players in history. He's like a ballerina, aggressive style led his teams to strangle opposing offenses and apply consistent pressure in the scoring zone. Leading his West germany squad to a win in the 1974 World Cup, Beckenbauer also went on to coach in the World Cup and he remains highly involved in the sport. For the advances he pioneered on the defensive end, and for his strong leadership during international championships, Franz Beckenbauer must be considered ...more
14
Vasily Alekseyev
In 1993 was named the best athlete of all Soviet and Russian history.
In my opinion, greatest European athlete ever.
15
Lionel Messi

Lionel Andrés "Leo" Messi is an Argentine professional footballer who plays as a forward for Spanish club Barcelona. He is also known as one of the greatest football players of all time. He was born in Rosario, Argentina on June 24th, 1987.
Football is the most popular sport in the world by far.
Lionel Messi is the greatest football icon of the 21st Century.
Is an magician
16
Magic Johnson

Earvin "Magic" Johnson Jr. is a retired American professional basketball player who played point guard for the Los Angeles Lakers of the National Basketball Association for 13 seasons.
Arguably the best Lakers player in team history and a PG that forever changed the position, Johnson has been praised for his accomplishments on the court since arriving in the league.
Yet off the court, Johnson has been less prevalent in the sports headlines since he announced that he was diagnosed with HIV on November 7th, 1991.
17
Usain Bolt

Usain St. Leo Bolt is a Jamaican sprinter. Regarded as the fastest person ever timed, he is the first man to hold both the 100 metres and 200 metres world records since fully automatic time measurements became mandatory in 1977. Along with his teammates, he also set the world record in the 4×100 metres ...read more.
The Olympic and World Champion Justin Gatlin graciously bowed to Usain Bolt after the final of 100m in 2017 World Championships.
This was one of the greatest moments I've seen in sports history and a sign of Bolt's greatness.
18
LeBron James

LeBron Raymone James is an American professional basketball player for the Los Angeles Lakers of the National Basketball Association. LeBron has played for the Cleveland Cavaliers, Miami Heat, and the Lakers.
19
Nadia Comaneci

Comăneci is one of the world's most famous gymnasts and is credited with popularizing the sport around the globe.
She is the first gymnast to be awarded a perfect score of 10.0 at the Olympic Games (seven times) and her presentation remains unforgettable.
In 2000, she was named as one of the Athletes of the 20th Century by the Laureus World Sports Academy.
20
Jim Thorpe

James Francis "Jim" Thorpe was an American athlete and Olympic gold medalist. A member of the Sac and Fox Nation, Thorpe became the first Native American to win a gold medal for the United States.
Best multi-sport athlete of the modern era.
In 1950 Associated Press elected him as the best athlete of the first half of the 20th century.
21
Hank Aaron

Henry Louis Aaron, nicknamed "Hammer" or "Hammerin' Hank", was a retired American Major League Baseball right fielder who serves as the senior vice president of the Atlanta Braves.
22
Martina Navratilova

The former Czechoslovak and later American professional tennis player is considered one of the best, if not the best, female tennis players of all time.
She won 18 Grand Slam singles titles, 31 major women's doubles titles (an all-time record), and 10 major mixed doubles titles, combined marking the open-era record for the most number of Grand Slam titles won by one player, male or female.
23
Babe Ruth

George Herman Ruth Jr., better known as Babe Ruth, was an American professional baseball player whose career in Major League Baseball spanned 22 seasons, from 1914 through 1935.
24
Tiger Woods

Eldrick Tont "Tiger" Woods is an American professional golfer who is among the most successful golfers of all time.
25
Joe Montana

Joseph Clifford "Joe" Montana, Jr., nicknamed Joe Cool and The Comeback Kid, is a retired American football quarterback.
PSearch List