Top Ten Greatest Sports Stars
The Top Ten
Diego Maradona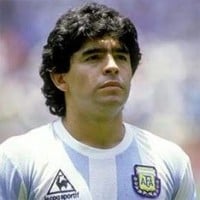 Diego Armando Maradona is a retired Argentine professional footballer. He is known for "The Goal of the Century" and the "Hand of God" goal.
Must admit I hate him.. But can't deny the huge popularity he has. He was literally the face of football at his time. Do ask wrong stuffs and still managed to get away.. But great achievements no doubt..
Wow. You make a list with a DECENT topic, and put a JOKE at #1?
Michael Jordan

Michael Jeffrey Jordan, also known by his initials, MJ, is an American retired professional basketball player.
I am a huge Chicago Bulls fan. Jordan is king along with Pippen and Rodman. Go Bulls1
With 6 championships and plays even better when he's sick or mad, he needs to be #1
He is 10x more better than lebron, kobe, larry bird and etc.
Who cares about American football? Messi is better
Muhammad Ali

Muhammad Ali (January 17th 1942 - June 3rd 2016) was an American former professional boxer . He was generally considered among the greatest heavyweights in the history of the sport.
Originally known as Cassius Clay, at the age of 22 he won the world heavyweight championship from Sonny Liston. Ali changed his name after joining the Nation of Islam in 1964, subsequently converting to Sunni Islam in 1975, and later to Sufism. In 1967, three years after Ali had won the heavyweight championship, he was publicly vilified for his refusal to be conscripted into the U.S. military, based on his religious beliefs and opposition to the Vietnam War. Ali was eventually arrested and found guilty on draft evasion charges; he was stripped of his boxing title, and his boxing license was suspended. He was not imprisoned, but did not fight again for nearly four years while his appeal worked its way up to the U.S. supreme Court, where it was eventually successful.
Muhammad, he's a hero. He never gave up even with all of the set backs he had in life. No one thought an African American could be a sports star, but he changed that.
The ever strongest and most powerful in his field
More better than manny pacqiao, mike python and etc.
Babe Ruth

George Herman Ruth Jr., better known as Babe Ruth, was an American professional baseball player whose career in Major League Baseball spanned 22 seasons, from 1914 through 1935.
You all have to realize what babe Ruth did is amazing. Just imagine a tiny ball coming at you. You have no idea were it Is going to come from. You don't even know what pitch the pitcher is going to throw and you have to it 400 feet. Babe Ruth did that 615 Times.
How is he not number one he changed the game of baseball. He is one of the best baseball players of all time.
Babe ruth was a great baseball player
Best baseball player ever
Pele

Edson Arantes do Nascimento, known as "Pelé", is a retired Brazilian professional footballer who played as a forward. He is one of the best players in football, hence why he's nicknamed the "king of football".
Pele was an absolute master when it came to ball control, he played with more skill than most modern players do. But, in my opinion, still only second best to, well... George best.
Should be first! He's the God of Football! Please.. They consider him the 'God'.
Start striker at such a young age
Best footballer ever.
Lionel Messi

Lionel Andrés "Leo" Messi is an Argentine professional footballer who plays as a forward for Spanish club Barcelona. He is also known as one of the greatest football players of all time. He was born in Rosario, Argentina on June 24th, 1987.
Christiano Ronaldo is about 100% better than lionel caca or Michael Jordan. A 5th grader is about as good as both Lionel and Michael. But for playing like Christiano Ronaldo, you have to practice daily 24/7 for about a year.
Why why WHY does Lionel Messi always have to be better than Ronaldo? Ronaldo is about a billion times better! A 4th grader could play better than Messi. Come on what are you thinking, PEOPLE!
He is a great sport star in all ways a magician when it comes to soccer. He has a wonderful attitude and a excellent shot on goal
You guys do not know what you guys are taLking about Messi is a billion times better than the Ronaldo.
Ronaldinho

Ronaldo de Assis Moreira, commonly known as Ronaldinho or Ronaldinho Gaúcho, is a retired Brazilian footballer.
He is the world's most appreciated athlete. People just love to see him in the field. The game saver of FC Barcelona. A true athlete who showed pure masterly of the skills of soccer overall. Very disciplined fellow as well. Never heard in the media of him assaulting anyone or havin multiple girlfriends. Role model for many soccer enthusiasts these days. Should be no.3!
No. 5! A top class striker also with great skills. A guy who trained his left leg to dominate after his injury to his right! Came back from recovery and was more powerful than ever in the field. Winner of many awards plus highest goal scorer overall for the FIFA World Cup.
Joe Montana

Joseph Clifford "Joe" Montana, Jr., nicknamed Joe Cool and The Comeback Kid, is a retired American football quarterback.
Many people think tom brady is the greatest qb. WRONG!
He is the best Qb in the world
Lebron James

LeBron Raymone James is an American professional basketball player for the Los Angeles Lakers of the National Basketball Association. LeBron has played for the Cleveland Cavaliers, Miami Heat, and the Lakers.
What is LeBron James doing on this list? He is lucky to be a top 50 athlete. He is nowhere near the top 10
I agree that LBJ is still quite good but MJ is still 10x more better than lebron james
Awesome job, awesome shoes!
Usain Bolt

Usain St. Leo Bolt is a Jamaican sprinter. Regarded as the fastest person ever timed, he is the first man to hold both the 100 metres and 200 metres world records since fully automatic time measurements became mandatory in 1977. Along with his teammates, he also set the world record in the 4×100 metres ...read more.
The worlds fastest athlete in the world. No men can't beat him
Unbeatable in his sport. What other athlete can say that.
He is for sure the fastest athlete and man on earth.
Possibly not the best ever sportsman but he is the best current sportman
The Contenders
Tony Hawk

Anthony Frank "Tony" Hawk, is an American professional skateboarder, actor and owner of skateboard company Birdhouse. Hawk is well known for completing the first documented 900 and for his licensed video game titles, published by Activision.
Floyd Mayweather
Wayne Gretzky

Wayne Douglas Gretzky CC is a Canadian former professional ice hockey player and former head coach. He played 20 seasons in the National Hockey League for four teams from 1979 to 1999.
Wayne Gretzky for sure. I don't follow, play, really have nothing to do with hockey and I know Wayne Gretzky! There aren't many people in the world who haven't hearc of Wayne Gretzky,
This list is a joke. Nobody changed their sport like Wayne did. He did more for his sport than any other person on here.
Gretzky is the only guy on the list that makes the rest of his sport's Hall of Fame look completely irrelevant.
He should at least be in the top 3. he could score, deke, and make great plays. not to mention, he retired with 61 records!
Jim Brown

James Nathaniel Brown is a former professional American football player and actor. He was a running back for the Cleveland Browns of the National Football League from 1957 through 1965.
Best NFL HB of all time. It taken at least 5 people to take him down what a beast
Jerry Rice

Jerry Lee Rice is a former American football wide receiver who played 20 seasons in the National Football League, primarily with the San Francisco 49ers.
He has the most receiving touchdowns in history. Many people consider him to be the greatest of all time. He should be a lot higher up on this list.
Seattle is my favorite team!
Omg he's the best I forgot all about him
Best football player in NFL history
Screw Jim brown Jerry rice is the bomb
He is the best football player in football I watch a video and got like 50 touchdowns in a row vote for Jerry rice
Kobe Bryant

Kobe Bryant (1978 - 2020) was an American retired professional basketball player. He played his entire 20-year career with the Los Angeles Lakers of the National Basketball Association. Kobe Bryant has won 5 NBA championships with the Lakers and was the all-time leading scorer in Lakers franchise history. ...read more.
A great shooter when it comes to 3pts
The greatest 60 pt. game I ever saw
Jackie Robinson

Jack Roosevelt Robinson was an American professional baseball player who became the first African American to play in Major League Baseball in the modern era.
First black person to play in all white league that is pretty impressive to me
He showed to the world that black people have also talent at baseball
Best African American baseball player
Roger Federer

Roger Federer (born 8 August 1981) is a Swiss professional tennis player who is currently ranked world No. 3 in men's singles tennis by the Association of Tennis Professionals (ATP). He has won 19 Grand Slam singles titles, the most in history for a male tennis player. He has held the world No. 1 spot ...read more.
I love him so much caus he inspired me to play tennis and I have been playing tennis since I was 8 amd now I'm 12 and I have a USTA team and we are going to state champions
Johnny Unitas

John Constantine Unitas, nicknamed "Johnny U", or "The Golden Arm", was an American professional football player from the 1950s through the 1970s.
Top Quarterback to ever live from the Baltimore Colts.
LaDainian Tomlinson

LaDainian Tramayne Tomlinson is a former professional American football player who was a running back in the National Football League for eleven seasons.
Sachin Tendulkar

Sachin Ramesh Tendulkar is a former Indian cricketer and captain, widely regarded as one of the greatest batsmen of all time.
He is the god of cricket. he is worshiped by millions
Ask the competeters to play 463 9hr matches (ODI) & 200 5day matches (TEST) for 24 years of time. Does any one exist.. ?
Greatest sportsperson ever...
He shouldn't be on this list... He is not a human all others here.
SACHIN TENDULKAR IS A GOD. I mean come to suncontinent and experience his greatness. He is worshipped here
Kevin Durant

Kevin Wayne Durant is an American professional basketball player for the Brooklyn Nets of the National Basketball Association. He has played for the Oklahoma City Thunder, Golden State Warriors, and the Nets. He was MVP of the 2017 and 2018 NBA Finals.
He has improve a lot this year
Sanath Jayasuriya
The Greatest of All-time... He is a World of Inspiration... He came from a village & became a Legend/Personality & a Celebrity!
The Greatest Cricketer than Ever played the Game & Perhaps the Greatest Sportsman ever to play a Sport!
He is the best of best sports man
The Master Blaster! The King! The Immortal!
Wilt Chamberlain

Wilton Norman "Wilt" Chamberlain was an American basketball player . He was born on August 21, 1936 in Philadelphia and died on October 12, 1999 in Los Angeles due to heart failure . ...read more.
He made approximanetly 100 NBA records and some of some still stand for more than half of a century.
100pts career high not bad
Cristiano Ronaldo

Cristiano Ronaldo dos Santos Aveiro is a Portuguese professional footballer who plays as a forward for Italian club Juventus and the Portugal national team.
He is the coolest striker ever born. His team real Madrid is also best but unfortunately this time in UEFA CHAMPIONS LEAGUE they lose.he should be above messi
PSearch List