Greatest Tennis Players of All Time
A list that gives the top 10 tennis players of all time!
The Top Ten
1
Roger Federer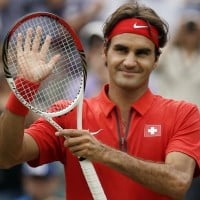 Roger Federer (born 8 August 1981) is a Swiss professional tennis player who is currently ranked world No. 3 in men's singles tennis by the Association of Tennis Professionals (ATP). He has won 19 Grand Slam singles titles, the most in history for a male tennis player. He has held the world No. 1 spot ...read more.
The nicest out of the big three, and also the best on the court. I would love to meet him one day to thank him for being an amazing human being and tennis player.
I vote for Federer.

A good player must have the ability to combine effectiveness with fluency and elegance in the execution of the game. Nature knows no reviews. A less effort implies less energy consumed, and if you want effectiveness and results, you have to be an exquisite in sport.

Just pass a look through the pictures of the faces of the players hitting the ball, most completely dislocated by the effort. Then watch Federer, there is NO effort! Even today, nearly 34 years.

I have almost 45 years following this sport, I have never seen anything like it.

To achieve this and to be the current world No. 2, still playing with such Giants of the sport (Djokovic, Murray, Nadal, etc. ), must be more than superlative.

In addition, with more age than the rest.

When another player proves me to be able to transmit that feeling that everything is fluid in tennis, I change my mind.

Thank you.
You can make a case for Nadal at number 1 due to his head to head record vs Federer, especially in the Slams. This case could definitely be made if the day comes when Nadal surpasses Fed's Grand Slam record.

I'm saying that Federer had a 4-5 year run in which he destroyed the competition in a way nobody ever had before. Perhaps he took advantage of a time that lacked top heavy competition, but you can only play what's out there. I've never seen such domination by one player for that length of time.

Federer's game is like watching a machine at work. His greatest strength is his groundstrokes, particularly during his mid to late 20's. He could hit the ball with such power and at such an angle that gave his opponents no chance to stay in the point once a rally began. He had such a complete all around game and very rarely lost a match by beating himself with excessive unforced errors.

And to top it all off, he's been a true sportsman in both victory and defeat, a ...more
At the age of 38, he manages to take current number 1 to the longest game in Wimbledon history
2
Rafael Nadal

Rafael "Rafa" Nadal Parera is a Spanish professional tennis player, currently world No. 1 in men's singles tennis by the Association of Tennis Professionals.
For me, greatness is a combination of two factors: how good were you at your best and how long did you stay that good? Djokovic at his best is the greatest player the game has ever seen, but he's only performed at or near that level for about 3 years. Federer demonstrated incredible consistency and longevity, remaining at an elite level for nearly 10 years, but even at his best he was a step below the level Nadal and Djokovic have achieved. Nadal is the best combination of longevity (first major in 2005, still going strong 8 years later) and peak performance (winning record against every top competitor of his era, particularly Federer, and the highest overall winning percentage of any player in the open era).
It is very possible that the 3 best male tennis players are all playing (near the top of their games still) right now (2018). I don't think it's possible to rank them yet. As far as careers that are completed, I'd say Pete Sampras is the best ever (and I'm an Agassi fan) - Federer, Nadal and Djokovic are still writing and building their legacy. Federer at 37 years old is still winning majors (which is insane), Nadal at 32 is still #1 (2nd oldest only to Agassi at 33) and Joker is back at his A-game at 31.. If they all retired today, you'd have to put Federer #1, but taking where they are now, and projecting where they'll end up, I'd say Nadal has the best upside. 17 slams to Rogers 20, but he's 5 years younger..It'll be interesting to see where they end up
He's 10-3 against Federer in slams, and 8-4 against Joker! Plus he has an olympic gold medal, the other 2 don't. (He also has an Olympic gold medal in doubles, too)
As much as I hate to admit it, that noisy Spanish bastard is pretty good.
3
Novak Djokovic

Novak Djokovic is a Serbian professional tennis player who is currently ranked world No.1 in men's singles tennis by the Association of Tennis Professionals.
By the end of his career he will be greatest of all times by every parameter.
GOAT in my opinion already...He is the BEST when the 3 GOATs are at their peak!
Positive H2H with both Rafa and Roger who are considered as being better than him.Plus he has won all 4 majors in a row which I think nobody will ever do, he is the greatest returner ever to play the game and finally he is the king of saved match points.
The only player in tennis history (since 1877, the amateur era and the Open Era) holding all 4 Majors titles on 3 different surfaces at once! Most complete tennis player ever. The one and only Novak Djokovic!
4
Pete Sampras
Federer until recently didn't have the competition that Sampras faced throughout his entire career. Sampras faced Borg, McEnroe, Agassi, Chang, Martin and even Federer himself and if he had continued to play, he would have won more majors.
Lord I miss this guy's matches. He made it look so easy to win, until the day I picked up a racket and learnt it is quite the opposite.
Based upon the competition he had to play against, and that volley and serve of his, he is the greatest!
14 grand slams winner! I know Federer has 17 but 14 is a lot and a great serve also
5
Bjorn Borg
He was my costume for Halloween it was pretty nice he hurt ma back so it wasn't really that great but still don't care
He is the only tennis player to have won Wimbledon and the French Open in the same year for 3 consecutive years
won Wimbledon a record 5 times in a row and the French an all time 6-times record, and he also won them 3 time back to back, in a ROW!!
Just the best at his time
6
Martina Navratilova

Definitely the greatest tennis player to have ever lived. She ruled the court like an empress. The champion of 18 Grand Slam singles, 31 Grand Slam women's doubles and 10 Grand Slam mixed doubles titles (phew)... Now ask who is the best.
How on earth can Djokovic be placed in front of Navratilova?
One of the greatest in regards to their gender
7
Jimmy Connors
Great backhand and service return. Excellent footwork and determination.
GREAT FIGHTER, THE LONGEST CAREER AMONG THE TOP PLAYERS. IF HE HAD HAD A BETTER SERVICE...
He only won 8 slams but he played against much tougher competition. In his era, at least six opponents had multiple slam wins. Today, it's the same three guys winning everything.
8
Steffi Graf

Should be number 1..played very intelligently with huge variety. Movement second to none. Pulled the women's game to a level no-one else has yet to match
The real deal - it was like watching a goddess with no weaknesses. Truly astonishing. The way she structured points was so intelligent, like a world champion chess player!. THe movement was supreme..actually even more graceful than the wonderful Roger. Class personified. Thank you Steffi, you are missed ridiculously!
Best in every aspect - only player ever to win all 4 grand slams at least 4 times, best movement ever, most weeks ever at number 1, only player ever to do the "golden" glam slam, won a GS final 6-0 6-0. These facts don't lie...
The reason I play...such an impressive player and pure class as a person. took the woman's game to new heights and had the ability to be top across all surfaces like no other
9
Boris Becker

Boris Franz Becker is a German former world No. 1 professional tennis player. He was successful from the start of his career, winning the first of his six major singles titles at age 17.
10
Ivan Lendl
Ivan has to be way higher than this all his wins tournaments won and his year in the top come on know
Unglaubliche schlage wenn man bedenkt das er in den 80er jahren gespielt hat und die tennisschlager von heute fast nicht zu vergleichen sind
The Contenders
11
Andy Murray

He is one of the best and most talented athletes ever. He has an exquisite backhand. Amazing footwork. Strong emotions, and he's crazily passionate about the sport.

He will be a grand slam winner and a legend soon.

-Mohammad Nawaflih
He win every match in this year
He isn't a legend but quite good voley
Murray has won Wimby! Yay!
12
Andre Agassi

Should be number 3 behind Federer and Sampras.
He is so good look at his stats
He is really the best player EVER!
13
John McEnroe

John Patrick McEnroe Jr. is a retired American tennis player, often considered among the greatest in the history of the sport.
Mac should be higher on this list. His 7 slams aren't spectacular, but he carried the US Davis Cup team for years and is the greatest doubles player on this list, with nobody close. And...he had the prettiest game to watch from a fan's perspective, again nobody close.
14
Serena Williams

Serena Jameka Williams is an American professional tennis player. The Women's Tennis Association ranked her world No. 1 in singles on eight separate occasions between 2002 and 2017. She reached the No. 1 ranking for the first time on July 8, 2002.
Number 1 in my book
Number 1 player of all time... ask McEnroe
Should be no. 1 not no. 18
GO SERENA!
15
Rod Laver
Laver won the grand slam (all 4 majors) as an amateur in 1962. He then turned professional and as a result was banned from playing the 4 grand slam tournaments for 5 years. He was allowed back in 1969 when tennis turned professional and duly won the grand slam again in 1969. How many grand slams would he have won if he wasn't banned for 5 years? He is the only player to win the grand slam twice and the only player (male or female) to win the grand slam in the open era. He also won the doubles grand slam 6 times and the mixed doubles grand slam twice. He was won the Davis Cup 5 times as a member of the Australian team. How's he going so far?
2 true Grand Slams after being barred for 5 years in between? Need I say more? Game, set, match!
2 Grand Slams - Unbelievable. Most of those in the list above Rod have never achieved one Grand Slam! - John McEnroe had the best touch and was by far the most entertaining but Rod Laver has it on achievements.
unstoppable on all surfaces. grand slam X 2. several years apart, I might add. In his time, he was by far the best.
16
Maria Sharapova

Maria Sharapova is a Russian professional tennis player of Belarusian descent. Sharapova has competed on the WTA tour since 2001. She has been ranked world No. 1 in singles by the WTA on five separate occasions, for a total of 21 weeks. She is one of ten women, and the only Russian, to hold the career ...read more.
Maria sharapova is so talented and the most beautiful tennis player
Maria is best female and so hot
17
Monica Seles

Without a doubt, the greatest womens tennis player in the game at her time. Even Martina Navratilova went to Florida to bring Monica Back to the game after her stabbing, that says allot.
Without the stabbing would have dominated as Graf before her, unconventional but steely! A true champion.
A true champion. One of the hardest fighters the game has ever seen.
18 Lleyton Hewitt
19
Margaret Court
She has won 24 Grand Slams, a record and the highest of both genders, so she should at least be in the top 5.
Margaret Court was measurably faster than the players of today beating the best Australian female sprinters over 100 meters. She bench pressed greater weights than the current female players. After having a child she serve volleyed on clay to beat Chris Evert in the French Open stopping the longest clay court run for a woman. Her doubles skills with serve volley tennis added to her Grand Slam showed she was a multi skilled tennis player. She won more slams than anyone.
Did better than most people against Evert on clay - which is saying a lot.
20
Venus Williams

21 Justine Henin
22
Jo-Wilfried Tsonga
He is one of the most aggressive tennis players ever. Once he has confidence he can sometimes be unstoppable.
Jo fights until the end, for example, against Roger Federer in Wimbledon 2011 when he was 2 sets down, and in the 3rd set he built up his confidence, and in the 4th and 5th he was ripping winners to Roger Federer.
23 Mardy Fish
24
Andy Roddick

25
Chris Evert

Should be ahead of Venus, Seles, Sharapova, and Margaret Court.
I agree. Back in the 1970's, The other top women were scared of playing her. Chris tended to dish out several bagels and sticks! Most women just wanted to get a few games against her and avoid total embarrassment!
An all time great. She changed how women played tennis and she was the first teenage terror.

There were a spate of Chrissie clones and the modern day game has the mark of Evert. She started it. When she started in the early '70's, her game and poker face demeanor was a novelty and opponents could figure out neither her game nor her!

She destroyed top players and their reputations from age 15 and instilled a sense of fear and helplessness in opponents including the top women. She rarely lost to someone she was not supposed to lose to, and often won 6-0,6-1.

She sowed doubts in the minds of serve and volleyers through excellent anticipation and service returns, followed by lobs and passing shots. She made them look silly - with her lobs when they rushed the net and with her drop shot when they stayed back. And boy... she made them run side to side, and front to back. Tiring and demoralizing! On the other hand Evert seemed to never run and never sweat. It was ...more
The player that had the best winning percentage of all time is the best player in my book!
PSearch List