Top Ten Best Green Bay Packers Players of Week 6, 2018
Once again, Aaron Rodgers plays the hero card and masters yet another 4th quarter comeback in prime time to win the game 33-30 on a Mason Crosby field goal. Which players stood out? We're looking at the top ten best Green Bay Packers players of Week 6, 2018.
The Top Ten
1
Aaron Rodgers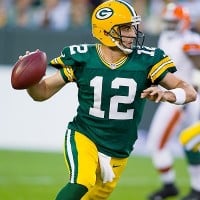 Aaron Charles Rodgers is an American football quarterback for the Green Bay Packers of the National Football League.
Where would the Packers be without him? Rodgers pulled off another magic trick, with over 400 yards passing, key scrambles, and 2 touchdown passes, both to Davante Adams. Now his knee has time to recover heading into the bye week. - PackFan2005
Safe to say that without him they would have lost. Aaron Rodgers bailed out the Packers from what would've been a bad loss Like only Rodgers can - Randomator
2
Davante Adams

Davante Lavell Adams is an American football wide receiver for the Green Bay Packers of the National Football League.
To be honest, Adams is the man who takes the cake for this week. He had over 130 yards receiving for 2 touchdowns, one of them coming late in the 4th quarter to propel Green Bay. He's the new star receiver at Lambeau. - PackFan2005
3
Nick Perry

While not producing any sacks, Perry deflected three passes. I mean, dang, that's quite a total for a linebacker in a single game. - PackFan2005
4
Mason Crosby

Crosby bounced back from his disastrous week 5 performance with this game, making all of his PAT's and field goals, including the game winner with three seconds left on the clock. - PackFan2005
After the ugly game he had in Detroit there's really no better way to get redemption that that. Simply put he went from zero to hero - Randomator
5
Jimmy Graham

Jimmy Graham is an American football tight end for the Green Bay Packers of the National Football League.
Graham was just one of Green Bay's three receivers that lit up the field on Monday, with a 100 yard game from the large tight end. - PackFan2005
6
Marquez Valdes-Scantling

The rookie was starting once again to fill in for Randall Cobb, and he definitely didn't disappoint. His most impressive play was that tight catch near the sideline. His future is looking bright. - PackFan2005
7
Ty Montgomery

Montgomery had his first touchdown in a while here, but what was most impressive was his 60 yard kickoff return that was called back by a penalty. - PackFan2005
8
Aaron Jones

Jones was used a bit more in week 6, and it payed off. He had explosive rushes and nearly a touchdown in the game. - PackFan2005
9
Kenny Clark

Clark once again showed what a wrecking ball he is, getting pressure on CJ Beathard, and coming up with a sack. - PackFan2005
10
Kevin King

Oh, C.J. Beathard. He actually looked good until then. The 49ers waited until I actually got my hopes up to blow it all away of just a few plays. - SirSheep
Who would have thought that King's first career interception would come late in the 4th quarter on 3rd down with the 49ers in field goal range? He came up clutch in the end, and didn't do too bad throughout the game. - PackFan2005
BAdd New Item