Adrian Smith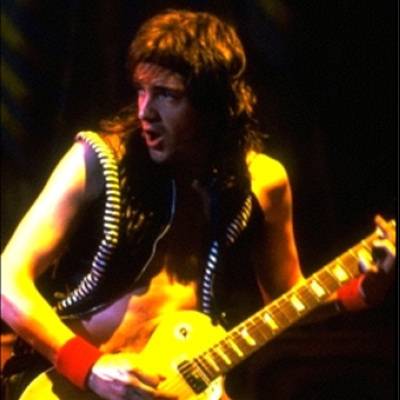 Uploaded by zxm
Info
Adrian Frederick "H" Smith is an English guitarist, best known as a member of Iron Maiden, for whom he writes songs and performs live backing vocals on some tracks.
Comments
Top
Popular
Newest
Adrian Smith, Dave Murray and Janick Gers all deserve to be higher up on this list. Without their efforts, Hallowed be Thy Name and other great songs like The Trooper, Aces High, wouldn't exist.

Hendrix, Page, Slash and others are good, but they're tremendously overrated. And what is Synyster Gates doing on this list? Yngwie Malmsteen can blow off anyone's socks with his sheer speed, and Alexi Laiho plays incredibly hard solos and growls and the same time. It's really disappointing to see the talented guys way down on this list.
I feel the guitarists of Iron Maiden are quiet and mild mannered off stage, so they don't often attract the attention that the other... erm... let's call them drama queen guitarists tend to attract. And that's alright. Some of these guys on the list absolutely deserve their place. But the influential guitarists of Iron Maiden and Judas Priest in particular deserve more credit than they're getting here!
Whoever put him so low in the ranks do not know what a good guitarist is... Listen all his fantastic solos as well as Dave Murray. Both must be in the top 15. Slash in front of them... Kidding me - Stranger
He plays just so beautifully, pure art in his solos! I wish people would give him more attention then slash who in reality is fairly amateur compared to him!
Excellent guitarist and songwriter. Too bad he's often overlooked He's an incredibly talented musician, same as everyone in Iron Maiden.
This guy has to be somewhere on the Top Ten, he's awesome!

My personal favorite - "Flash of the Blade". Excellent in my opinion."2 Minutes to Midnight"
"Rime of the Ancient Mariner". greatest solos: "Wasted Years", "Stranger in a Strange Land" and "The Wicker Man".

Iron Maiden is one of my favorite bands.
How can the LEGEND, Adrian Smith (along Dave Murray) be so low? These people are the kings of Heavy Metal.
How is this number 61? This band is completely underrated, they're the greatest band I've ever heard! - Alex12345269
I completely agree. In the US, however Iron Maiden has always been underrated, which is sad. - mcapehart
Amazing solos and musicianship. I do not understand why he, Michael Shenker, Glen Tipton, and K.K. downing are not much higher on the list.
Somewhere in time, listen to the album, you'll see you'll all see, Adrian's my favorite in the band. Up the irons.
I can't believe this guy isn't in the top 10! Some kiddies gotta realize that speed and how fast you can play and sweep picking and (shudders) dive-bombing isn't everything and definitely doesn't make a guitarist. Gr can't believe that Herman Li is above him...
Adrian smith just under top 50... You gotta be kidding me.
Love iron maiden! They are simply the best! I think that Adrian Smith should be on the better place!
The guitar played in 'THE THIN LINE BETWEEN LOVE AND HATE' is the best ever. So thumps up for Smith.
Any body ever hear The Trooper, its on the Xbox 360 version of guitar hero 2
Great player, and the best guitar team in the world (Iron Maiden, Murray/Smith)
My favourite guitarist, excellent songs and solos
Adrian is good deserve a better place.
Should be at number 3 below Hendrix and Van Halen - Himalayansalt
My god, Smith is totally underrated on this list.
Wow kirk gets 5th and Adrian Smith is # 55...
Can't believe that he doesn't rank higher. he's solos binds me with just enough of evrything, effects, speed, melody and heart. maybe not the best guitarist but the best solowriter, and I think there is more to solos than wah-wah and crazy speed (kirk hammet, dimebag and buckethead as examples)
What? He is below 50? Rly? One of the best guitarists in the world is below 50? He deserves at least to be in top 10.
He's the MASTER of phrasing, the god of melodic solos. solos are not fast, not shred, adrian is melodic and he is better than almost every player in the world
Related Lists

Iron Maiden Songs With The Best Adrian Smith Solos
Best Sam Smith Songs
Top 10 Best Will Smith Songs
Best Will Smith Movies