B.B. King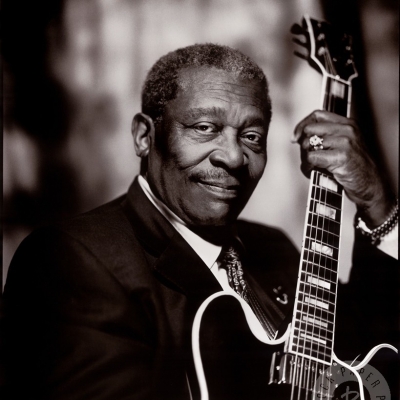 Uploaded by LightningBlade
Info
Riley B. "B.B." King was an American blues singer, electric guitarist, songwriter, and record producer.
Comments
Top
Popular
Newest
WHAT A AMAZING GUITARIST... I LOVE THE FACT THAT LOVED HIS GIRLIE... HE MADE MUSIC HIS SOUL HE MADE IT HIS LOVE HIS LIFE HE SHOWED ALL OF US WHAT MADE HIM ALIVE AND WHAT GOT US THROUGH SOME GOOD TIMES AND BAD HE PLAYED HER WITH LOVE HE PLAYED HER WITH ANGER HE PLAYED HER FOR ENJOYMENT HE MADE HER HIM AND SHE WAS LOYAL TO HIM AND HIM TO HER... THANK YOU, B.B. kING FOR LETTING US HEAR YOUR AMAZING MUSIC AND LETTING US GO ON YOUR TOURS...
Should be on the overrated list, great voice but one or two notes of minor chord "feeling" from Lucille don't interest me
Better than the best. Plays about 20% of notes comparing to the fastest "neck sprinters", but sounds 200% more musical than all of them taken together. Lucille does sing...
To me he should be number one in this list, because he could not play chords but we were all looking forward for each single note when listening to his blues melodies.
I am very surprised to see B.B. king on place 38 and not being in the top 10, also wandering - how is cobain, knopfler, clapton and steve rai vaughan not in the top 10?
One of the only artists I know of who can tell a story within a single note. A man who knew about quality over quantity, I guess people value super speed these days. In my opinion the guitar is an extension of the body and BB new how to make his guitar tell a whole story without him needing to sing.
Definitely top 10. One of the pioneers of playing the electric guitar. There's a reason his guitar is named Lucille... It doesn't make noise. It speaks.
Why the hell is the old guitar-god not in the top? It's thanks to him so many of the guitarists on this list are guitarists
He inspired a lot of great guitarists. But he is just not an amazing guitarist
I just love how easy he always made it look. When you can jam and look like it's no effort, that's talent.
Just one note of this guy means more than billions of others in this list (except Jimi Hendrix).
I honestly don't have a reason to love him he's just bluesy and tells us that how blue we can get - Youg
Seen probably half of the guitarist in the top 20 of this list, B.B. Is definitely top three.
He was in rolling stones top 100 greatest guitarists of all time... And he was in the top ten
There is no way Synyster Gates is better than B.B. King. - naFrovivuS
B.B. King as number 19? Go study music and then we'll talk
Blues Boy King should be higher up on this list
He sings with his guitar.. Blues legend.
WHY THE HELL IS B.B. KING HERE, he should be up there, on the top 10!
You stupid bastards the king is only third to jimi
19? List should read 1: Buddy Guy, 2: B.B. King 3: everyone else.
He gave life to "Lucille". He must be in the top 10.
The king of the blues and king of the guitar.
This man is legendary. Nearly all smooth clean legendary lick or run has been created or remade by this master. The king deserves far higher place in the internets hall of fame
Wow a legend, but come on folks he only knew 1 bend!
Related Lists
Top Ten Stephen King Books

Best Songs On Avenged Sevenfold's Hail to the King
Best Stephen King Movies

Best Lion King Characters