Brad Delson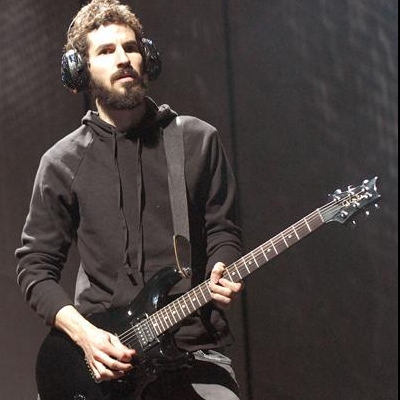 Uploaded by Rorywilbren
Info
Bradford Phillip Delsonis an American musician, best known as the lead guitarist and one of the founding members of the Grammy Award winning rock band Linkin Park.
Comments
Top
Popular
Newest
Brad Delson at 67th on the list?! That can't be right. He should be right up their with the guitar legends because he is one himself. I am a massive Linkin Park fan, and I have seen them play live. Brad really does have a passion for the guitar. He plays WITH the band instead of insisting solos every song. Every time he strums the notes a masterpiece is created along side the other members of Linkin Park.
You might be kidding by placing him at 59 surely I am not saying he deserve number 1 or 2nd position but then also he should be in top 15. If anyone doubt his talent then he/she should listen songs of him like papercut, a place for my head, etc. His master piece is in LITTLE THING GIVEN YOU AWAY
Just like there's an "employee of the year award", brad needs to get the "band member of the record" award for The Hunting Party.
One thing that nobody mentioned was Brad's look. He has his own style, he customizes his guitars and he designs his own headphones. I think he deserves a better place on the list, because Linkin Park is just an amazing band and they make GOOD MUSIC.
It's not about he customizes his guitars and designs his own headphones. It's all about skill, okay? And his skill is just average. - exo_politik
BRAD so below! He is the best guitarist of present and Linkin Park is the best band of present. he is so fast in the hunting party. He practiced so hard on his guitar the he broke his backbone. He can also play both guitar and turn table at the same time. He deserves to be in top 20
Oho! So even finally here! This website is just a crap website! The one who created this list should be hanged to death. Brad Delson is the greatest guitar legend! No matter what people think about him... But he is the one who changed the life of the genre nu metal!
...! How can this be happening... Brad is the best guitarist I've ever know... Guys listen to In pieces, Lying from you, Pushing me away, Bleed it out, New divide, The messenger... He has played such amazing guitar... He's down here at 65... He should be standing at the top...
It means you've never heard Jimi Hendrix, Slash, Eddie Van Halen, etc. Go listen and you'll find out he's not the best - exo_politik
To Start with.. I'll state, for a fact.. Brad Delson does not believe in doing incessant solos simply because he does not like to "show off". Right Then I knew he was the Best Guitarist in the World. Linkin Park has urged him since Minutes to Midnight, Listen to In Pieces, Burning in the Skies, Shadow of the Day, EVRYTHING.. just AWESOME!
Brad should at least be in the top 50. For example, In Pieces, The Little Things Give You Away, and the harmonics that he uses in songs like In the End, Pushing Me Away. Overall, he should be in the top 50.
Brad is my role model he inspired me to play guitar (as well as Slash and Hendrix but mainly Delson) I think he deserves a higher rating at least in the top 25, well that's my opinion at any rate!
Brad is a very good guitarist and should be in the top 10 I think it because he plays so much different styles with Linkin Park and he is very clever. Yeah hi didn't actually made much solos but that is because of LP's style it's hard to combine rap, bass, scratches, screams, singing,2 guitars, keyboard and drums and make solos in the half of the song because this is too much instrumental and it'll not sound pretty good and I think he's the best for his years and style so he deserves higher place in the chart
What! What Brad doing so down below!
He's an awesome guitarist, for proof just watch live performances of Linkin Park. His guitar prowess is so amazing that sometimes he make the guitar cords sound like a totally different instrument entirely! And hear the guitar solo of In Pieces, you'll know what Brad Delson is made up of!
Brad is incredible! I've seen Linkin Park a couple of times live, and in each show he was so good at the guitar. He really gives everything, every time!
This Is A Good A List So Far... But I'm Disappointed Seeing Brad List... I Understand Order Of This List.. The Guitarists Very Fast Are In The Top Tens Of This List... - Eon
Brad Delson got his guitar to fame! His guitar skills are so awesome that created the greatest rock band Linkin Park. If You're a fan of Linkin Park!
Brad Delson's guitar skills are mediocre, he's not bad but there is nothing good about his guitar skills either, it ain't worth the list
Brad is superior! He deserves a much higher rank. In my opinion his ability to play guitar is amazing. I'm his fan. I Love Linkin Park!
He plays thing simply, but the can play hardcore songs too that's a non-show off guitarist he deserves 15th place I think.
Brad Delson is the best guitarist in the whole world cause he is the formal member of Linkin Park. Linkin Park Rule!
Brad Delson, in my heart, you're the best one. I know, you're a victim of injustice of the world's vote. God bless you, Brad...
Brad Delson is good guitarist, but most people even know his guitar skills, the best, cool...
While I agree that Linkin Park is a great band and Brad is a great artist, his skills are definitely not the best.
No. Brad sucks. His work is terrible, it's just a few power chords.
BRAD Delson---guitarist of the best band Linkin Park... Is the best guitarist... He's on 67
His guitar always Rocks! He worths top 30 position.
Related Lists
Top Ten Best Brad Pitt Movies

Best Brad Paisley Songs

Best Characters Played by Brad Pitt
Best Brad Dourif Movies

Top 10 People Named Brad