Carlos Santana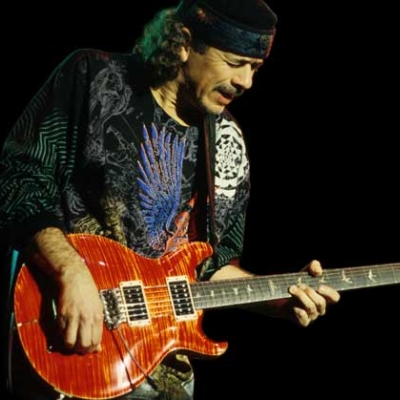 Uploaded by LightningBlade
Info
Carlos Santana audio is a Mexican and American musician who first became famous in the late 1960s and early 1970s with his band, Santana, which pioneered a fusion of rock and Latin American music.
Comments
Top
Popular
Newest
This guy can play anything. He can play great expressive slow blues leads (you want emotional leads, he's up there with David Gilmour and John Frusciante), he can play virtuoso solos with the best of them, and he's a genius acoustic guitarist to boot. And with any of these, he's instantly identifiable, in the way that he uses vertical vibrato or straight tones on held notes instead of standard vibrato, his impeccable sense of complex rhythm and phrasing, and his awesome trill technique. I like shred, but sometimes feel and tone are more important, and there's none better than Carlos Santana for that.
Carlos may not be the fastest player but he carries the ability of making melody and producing passion through his guitar. This task is not easy and some other guitarist don't even come close. He has played with the greatest because he is the greatest!. He has sacrificed and devoted his life to the guitar and music. He has the ability of speaking through his guitar!... Passion drives this man!
I don't play the guitar, I don't even know the names of guitar manufacturers or what band people play in. I am not a guitar nerd. But I know a good'un when I hear it. I was lucky enough to grow up in London in the swinging sixties AND to go to Woodstock. Chuck Berry, The Beatles, Jimi Hendrix Rolling Stones, Eric Clapton.. I have heard all these guys live. Two guitarists are standouts for me. Peter Green and Carlos Santana based not on their performances but the sound they make with the guitar.
Unique guitar sound -- purest, smoothest, most singing guitar of all; you need about two notes to recognize him in any context. 17 is far too low for him -- perhaps he was not flashy enough? I'd rank him equality with the other "gods" of the rock guitar (Jimmy Page, Eric Clapton, Jimi Hendrix, Jeff Beck, Jerry Garcia, Pete Townshend). I am not sure, however, I would place any of these guys tops as best guitarist ever -- I might go for a classical guitarist or, more likely, a flamenco guitarist (Paco de Lucia, most likely).
Saw him outdoors at the World's Fair Park and though I liked most of the songs, SambaPa Ti was unbelievably magical. perfection as it floated over the air during dusk. hearing it live made it become one of my Top Ten. too bad the friend I took for her birthday kept calling the band Chicago. Getting a 2nd hand mild high from all the dope smoke going on around us didn't after years of feeling that way definitely didn't hurt the effect either. Every time I play or hear the song I'm right back on that hillside on a mildly muggy night with that song floating on a small breeze. I could almost see the notes floating through the air. It was an unbelievably magical experience that will stay with me forever and no, I hadn't even hit being stoned.
't hurt the effect
Hands down my favorite guitarist of all time. If he isn't first, he should at least be 2nd after Hendrix. I've seen this guy in concert multiple times; you know you're THAT talented when you can play like he does and make it looks so easy. My husband and I are expecting our first child and have agreed to name it after him, Carlos for a boy or Santana for a girl. There is no way this guy should be this low on the list.
Carlos Santana is one bad mama jama. And he is a guru at guitar. Prince should not be at the top 5 because Prince is getting lessons from Carlos. And carlos won the most grammies in one night. And me and my dad know when he steps on that wah wah cry baby or any other effect pedal the star that he is with better step down and might as well give up playing guitar because you will get embarrassed. And Carlos will always be the best guitarist in me and my dads music book. And Carlos is the best guitarist who has ever lived!
For more than 5 dacades, Carlos has evolved in numerous musical directions but never losing his his passionate, immediately recognizable guitar tone. No one masters tone as Carlos Santana. He may not be the fastest nor most technically skilled guitarist in the world in terms of notes per second, but nobody plays as passionate and with such clarity as Carlos Santana. Why use hundreds of notes and shred to no purpose when you can say eveything in one note.
Has the most distinctive style of guitar playing. Amazing to listen to, Smooth and Maria Maria are two of my favourite songs of all time. Santana is so different to the metal guitarists in rock bands, and he plays the instrument with ease. His style is derived from his Latin American heritage and popularised the Latin Rock style of guitar playing.
I grew up in a age of great guitarists and there is no equal to the mastery that Carlos Santana displayed in his work. His performance on "Europa" to modern hits such as "Smooth" transcends time to all age groups. His talent deserves recognition.
Carlos santana is the most gifted guitar player I ever have listened to and he is capable to make me cry, just listening, to him playing. He is definitely number ONE, and has been for over 40 years!
Carlos Santana should be in the top 10! Everyone, vote for him! He is incredibly incredibly talented and amazing and I just love listening to all of his music!
Absolutely agree! Santana definitely should be in the top three if not the top. His abilities with the guitar are unparalleled in this list! As a Julliard trained musician myself I feel especially able to make this comment. Santana can make the guitar sing with unbelievable nuances and energy that no one else can match.
This man renders music as a means of expressing beauty... Real beauty that transcends the measures of vision and verbalization. Through his music, we are in touch with beauty that would have escaped us. God bless Sanatana.
Beautiful solos... so inspiring... what is wrong with these people? Syn gates is nowhere near the top hundred... and the guy from 30 seconds to mars? What the hell are they doing at the top? And slash don't deserve number 1...
How Santana did not make the top 10 is amazing. The selection committee must be U.S. suburban teenage boys, because on a world level Santana's impact is far greater than most in the top 10.
I think Santana is the best in the world no1 else but him seriously I mean they put Eddie Van Halen as no. 7 but they put Santana as no. 18! I mean who is doing the voting around here!
There is no drought that Santana is the best guitarist ever he play with multiple singer but when you hear the all you her is the smooth voice of his guitar, he really dose make the guitar cry.
This page is not about the skills of the artist here, Is about their popularity in the people... Sorry again but this page isn't realistic... Look this Carlos Santana at 20th!? You must be kidding...
One of the best and purest guitarists period. The man broke barriers in the 60's and has continued to have success for over 5 decades. If you are looking for one of the best guitarists ever, then you have to include Santana in your top ten.
I have been very very lucky to have been close to the man as he performed
At several venues over the years as well as most of the guitarists on this
List. All are good in their own right, but some were not on this list at all I.E., Al Dimeola, Andre Segovia, John Lennon, and many, many more...
Thanks for playing and we, ll keep on listening! Mike
Santana needs to be up there at number one he is an amazing guitarist who can bring his guitar and music to life through the way he plays. Never heard a better Guitarist!
Carlos Santana definitely deserves to be there in the list of best tens, he brings the guitar as it has a soul of it own, I wonder what is his name doing down here.
Santana was extremely versatile in his guitar playing and he was also absolutely mind blowing. in my top five best guitarists of all time, Santana is number two. Why he's not on the list above, is beyond me. - walter34
Santana can play rock to blues and the rhythm to all his songs are just amazing. I don't know a single person that knows him or have herd his songs say that he is a bad guitarist.