Gary Moore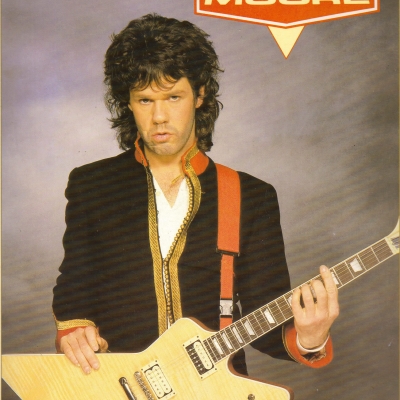 Found on photobucket.com
Info
Robert William Gary Moore was a Northern Irish musician, most widely recognised as a singer, songwriter, and virtuoso rock and blues guitarist.
Comments
Top
Popular
Newest
Ridiculous list... Gary Moore not in the top ten?! The guy could play a guitar better with one arm tied behind his back than 99% of the guitarists higher on your list. Slash... Give me a break! Gary Moore should be required listening for any serious guitarist. Do the names Philip Lynott, Greg Lake, Jack Bruce, Glenn Hughes, George Harrison, BB King, Peter Green, Rory Gallagher, Albert Collins, Neil Carter, Bob Daisley, Cozy Powell, Brian Downey, Ozzy Osbourne, Eric Singer, etc. , sound familiar? Gary has worked with all of them and more. The true master of tone, innovation, phrasing, and much more. Gary should be in the top three. RIP, Gary "Windfingers" Moore...
He Can play anything, Has unbelievable Tone and Phrasing, amazing Vibrato and just brings Balls to everything he plays. A Great songwriter also with an incredible back catalogue. The Best guitar player I've ever heard. He just makes you feel everything he plays. RIP Gary, The best there ever will be!
Top Ten for sure. Maybe even #1. Nobody else who is broadly considered a top player for so, so, so many styles. And he doesn't just fit into those styles - he puts his own fingerprint on each. If you are like me where you are looking for fresh sounding guitar sounds (since rock is on life support) then check him out. Out In The Fields (Classic Rock); After Hours (more Blues); Victims Of The Future (Metal/Rock)...he's got a primo tune for any mood you're in. Check him out.
His tone and sense of melody cannot be surpassed in my opinion. He's also one of the best technicians around, with a fantastic balls to the wall picking technique. Just amazing. The best ever.
This guy was superb. Obviously underrated, he should be far higher up this list. One of the all time greats, he could really make you feel emotions from his sounds. Must share within the top five on this list!
The combination of his vocals, rhythm guitar, and most definitely lead guitar, make him the most talented and underrated guitarist on this absured list. Slash, even in the top fifty is a joke. I just started listening to Gary about two or three years ago, and, he blew my mind then and still does. Who ever put this list together should actually listen to all his music, and, then place him in the top 5 where he belongs.
What is that list? he had everything what guitar player should have. his vibrato was just amazing, sustain blows my head every time. he was so fast, and clean when he doing his solos, he was faster than eddie Van Halen, just find "gary moore interview 2004" and just listen when he picked up a red gibson explorer. THE MOST UNDERRATED GUITARIST EVER, he should be in top3 with Jimi Hendrix and Steve Van Vaughan.
Gary Moore is the most versatile guitarist on the planet. His solo's scream he is probably not only the fastest but cleanest guitarist. It is amazing he is not well known simple put next to Jeff Beck he is the best guitarist on the planet.
I saw Gary live when I was stationed in Germany.. He was the Best I had ever seen... Technically much more advanced than anybody I had ever seen or heard in the States... It's a tragedy he's gone... He had so much more to give..
You have got to be kidding... Kurt Kobain and Slash rated about Gary Moore?! This is obviously just a popularity contest and not really based on true skill level. That said, Gary Moore should be in the top three along with Jeff Beck and Jimi Hendrix. Enough said...
Gary Moore at 90.. What? Surely he has got to be in the top 5 of all time. I know its about personal taste but this guy had such an amazing tone, he could play the blues or rock out just as well. Loved his Thin Lizzy stuff and all his blues tracks. RIP Gary.
If someone that actually plays the guitar could hear Gary Moore play the Roy Buchanan song The Messiah will come again... They would rate this guy way above some of the people on this list. His version will just make you shake your head. Wow.
Gary is so underrated. His technical ability, his tone, his emotion. All incredible. The way he can put so much feeling into a note. So much feeling into everything he does. Who can surpass that?
Gary Moore is certainly an underrated guitarist, and it is a shame to see that he still does not get the recognition he deserves even after his death. The man packed so much emotion and feel into his guitar, even the simple riffs from songs such as "Parisienne Walkways" sound beautiful.
This list is ridiculous... Just listen to Gary Moore's music from his days with Skid Row (the original), Collosseum II, Thin Lizzy, BBM (Bruce, Baker Moore), Greg Lake (of Emerson, Lake, and Palmer), and his extensive solo stuff; NOT ONE guitarist past or present could play like Gary Moore. He had a tone to die for, perfect phrasing, and he was the unknown and underrated heavy metal shredder of the 80's--YES folks, even faster than Eddie Van Halen. Not only that, but Gary Moore had vocal talent to match.
Gary Moore is one of the most creative guitarists in history! Everyone who thinks that he is just some guy who can only play blues is wrong! I think he could play better than most guitarists in EVERY genre.
One of the best - and one of the ugliest guitarists ever. Cannot believe this man is not higher. I suspect that once people are near the top they get more votes and other slips from view. Shameful list.
Nobody can rip and still sound real and authentic like this guy. Listen to his rendition of Red House on the Strat Pack video. It's on YouTube. This is just a small example of what this master could do. God rest his soul.
Great guitar player. Very emotional playing and he also has a wicked fast technique. He plays slow sad blues better than any guitarist has ever done in my opinion. His playing often brings me to tears. He's awesome.
Should be top ten. Such speed, control and attack in his playing. No one else like him, great songwriter, he should get much more recognition. Real soul in his blues work too, very versatile.
Gary Moore behind Tom Kaulitz? It's unthinkable! Who made this list? It's ridiculous! Gary Moore is a great guitarist in the world! Rip Gary!
Gary Moore is one of the most underrated guitarist of all time. In my opinion he is the best guitarist of all time, he can play everything.
This guy was my inspiration to become a guitarist his solo work got to me in a way no other guitarist did. He should be at least in the top 30.
Funny to see folks like Dimebag Darryl ahead of Santana, Gary Moore, Tommy Iommi, etc. Gary Moore gets my vote - he can play any style you want. I really can't say if he's a better blues, rock or jazz player...he is just the best. Miss hearing him.
Of the best ever, should be top 3, way better than slash. I thought Slash's solo on "give in to me" On michaels jacksons song was rubbish. Empty rooms live 87 is amazing.