Herman Li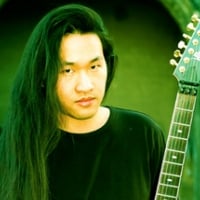 Found on earwolf.com
Info
Herman Li is a Hong Kong-born, British Chinese musician, record producer, and lead guitarist for the British Power-Metal band Dragonforce.
Comments
Top
Popular
Newest
Guitarists get better with every generation. Herman li is as good as they come. People may disagree but I think to be a great guitarist you need to be quick, and hit every note. Herman Li does that plus more. I reckon he has experience from all other great guitarists then he has added onto that.
How the hell is this not in the top 5!? This is like the best guitarist EVER! Herman li can play any solo made by Jimi Hendrix, Kirk Hammet, Slash, Jimmy Page, Synyster Gates, but NONE of them can play the solos he has in Through The Fire and Flames, Valley of the Damned, Black Wintre Night, Black Fire, Heart of a Dragon, The Last Journey Home, My Spirit will go on, or Evening Star, NONE of them! This is by far the craziest, awesomest, fastes guitarist ever! - Rock!!
Ridiculously fast, and part of a twin-turbo-threat also comprising Sam Totman. He also stands out quite well on his own, in fact his solos are much more random and yet more melodious than Sam's.

He also considers Marty Friedman among one of his influences - I believe that Herman has surpassed Marty there. - K3W3L
Just an awesome guitarist! I think he should be in the top 10! WO! Dragonforce is one of the best bands I've ever known and Herman Li is the perfect guitarist for that awesome band! If you don't think he's amazing you are one messed up human being.
Only guitarist that I have ever heard that uses video game noises in songs. Pac Mac noise in Through the Fire and Flames, Motorbik ein My Spirit will go On, Elephant in Cry for Eternity. Some of the fastest fingers that I have ever seen pick up a guitar. He's completely amazing and worthy of the number one spot.
The most powerful and attractive guitarist I ever had! And also he was so amazing for playing solo! And I like his hair so much m/ and I think he must be the first guitarist of the world!
Through The Fire And The Flames that's all I gotta say that's the greatest and longest solo I've ever heard nobody can beat that or do that and number 1 can do the things he does with his guitar and his whammy bar number 1 can make the pac man sound he should be top 10
Have you ever heard through the fire and flames it has one of the best guitar solos of all time same. Have you ever heard heroes of our Tim, operation ground and pound, cry thunder, reasons to live, where dragons rule, the game, fallen world, valley of damned, holing on, heart of the storm, and finally the rest of their songs
1. Not a fake - original
2. Although a drunkard, still respected
3. Try playing their songs live, so fast that even they find it a bit of a problem
4. People can play their own self-composed songs, right?
5. Vote for him if you think that he deserves more respect (seriously, he does)
He is the greatest guitarist alive today not as great Hendrix but he deserves to be right after buckethead.

He plays so quickly I play guitar and can't move my hands that fast without holding cords and going up and down the guitar. He should be #8.
Well Herman Li, I must say the most insanely fast guitarist out there, when I listen to him he really does send shivers to the spine, through the fire and flames I mean come on the amazing solo that follows the pac man effect. its breath taking!
His the fastest guitarist I've ever seen in my life, and is not just fast but also makes good harmonics and has a lot of technique.
In the song heroes of our time I was just completely blown away by the speed he plays the song. In my opinion he is the second guitarist ever, but that is just because no one can top Jimi Hendrix.
But I am certain that he is the fastest guitarist in the world.
Great guitarist though. Somehow, he may take shortcuts in long soloing. He does manage to learn some Nintendo games sound effect, such as dive bomb, motorbike, Pac-Man deceasing, broken string, race car, and elephant noise.
I think Herman Li should be 1st, because he can play very fast and many of his technic is nice, like elephant voice, motorcycle, explode and pac-man. He also solo for minutes in one song. Through the fires and flames is the most one I really love!
This guy is completely out of the list, and this is not at all fair... The speed and power he's got in him is absolutely insane, the solo he's played in Through The Fire And Flames is completely insane and he deserves to be at least in top 20..
Herman Li is really tremendous. His finger movement is unbelievable while he plays solos. You could check out the song 'through the fire and flames' and you would be bound to believe my words.
At least they moved him up a spot. He should SHOULD AT LEAST be in the top 10. Give the man props. He plays his but off with those solos! But then again. He moved up a spot. He should still be in the top ten
Love his sound and his band, he's one of the best, no one can deny that. Some of the things he writes and plays seem physically impossible. Just the thought that there's someone out there that can do that makes me smile.
I agree. This guy is definitely the best player of all-time. If you don't believe it, listen to Through the Fire and Flames, or any other Dragonforce song. (Prince? Laugh out loud come on) - zman224
The most incredible, face melting guitar solo's you will ever hear come from this man.

DragonForce's amazing PowerMetal.

I saw them in concert, my eyes could not keep up with this man's fingers. It was intest +1. Really really really amazing.

Any classic metal fan would definitely love this music.
I think herman li owns all have you every seen him live god he's amazing he is fast as **** sure page and Hendrix are good but li shreds right by them any day and the sounds he can make with his guitar is ******* amazing
This guy is the second sickest guitarist in history! He should be no. 2 behind Hendrix but will eventually move up in my mind! Seriously just listen to through the fire and flames!
Wow 44! This dude could play alexi, slash, jimi hendrex, tom morello and more. Just take a close listen to heros of our time, fury of the storm, inside the winter storm and ESPECIALLY through the fire and flames. Number 1 can play better solos. I mean him and sam totman r the dynamic duo. Herman li is the best ever kant take him for granted. If you did and got your self locked in a guitar battle you would git smashed just like football.
Herman li is the god of guitar the sultan of shred this man is by far the best most awesome guitarist ever known to man and who ever disagrees with me has obviously never heard him play and if so I urge you to go out and buy the first dragonforce cd you can find believe me you wont be dissapointed.
My number one hero and my idle hero who can defeat any one guitarist of the world when comes to the battlefield to challenge him... Yeah I love him man... Seriously