Joe Bonamassa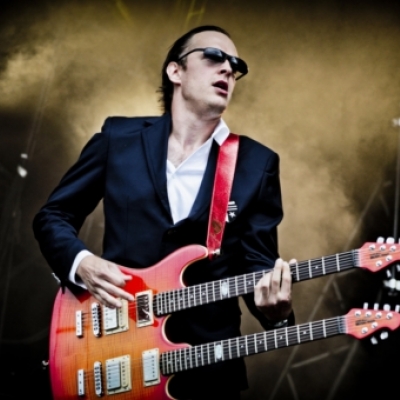 Uploaded by zxm
Info
Joe Bonamassa is an American blues rock guitarist, singer and songwriter. When he was only 12 years old, Bonamassa opened for B.B. King. He was born 8th May 1977. He is known to be one of the greatest blues guitarists ever.
Comments
Top
Popular
Newest
Joe bonamassa has to be the best blues and overall Guitarist and Soloist, his side projects in Black Country communion show his skills are not limited to blues alone but Rock and metal. HIs solos are blistering in speed and technical ability When I am asked who are the best... Its Satriani and Bonamassa, most rock guitarist do not compare. Its not about a few solos on an album here and there Bonamassa performs almost every day all over the world and his corpass of material is staggering. I suggest you listen to some of the albums he has out The other commentator is correct. Hendrix King Clapton Santana, are close, but not as superior as Joe Bonamassa, IN every note he plays,
I have seen Joe play twice. In 2013, I watch the concert schedule at the casino ballroom in hampton and said to myself, "who is Joe Bonamassa and why has his concert sold out so quickly? " I live close to the ballroom and go to many concerts. So, the night of the show I stood outside and scored a ticket. He quickly became my favorite new artist. He feels the music and he makes you feel it. I bought most of his CDs. In 2014 he sold out again and I found myself scrounging for another ticket. Yes I found one. I have never spent money for seats up front. Next year, if he comes back, I will splurge. You are looking at a modern master of the guitar and he has a great lyrics also.
WoW I can't believe Bonamassa is this low in the list. To be honest with you the only person I think that can give him any kind of competition is Hendrix... and even then I think Joe is superior. Speed, complexity... sound that just pulls you in. Amazing. - zerom13
I follow his career since maybe 8 years - and he becomes a better and better songwriter (for ex. "The Ballad Of John Henry" or "Slow Train Coming"). Great is his ability to cover songs and create something new (for ex. "A New Day Yesterday" or "Feelin' Good").
But whatever he does - he is my personal most fascinating and because of this in my opinion the best guitar player alive. Just listen "Woke Up Dreaming", when he plays this song on an acoustic guitar...
Joe is so much better than most on this list. Like guitar magazine once said. Joe is probably the best guitarist alive today, that nobody has ever heard of. May I introduce you! Please check out especially his more recent you tube videos. I have been to 4 of his concerts and he just keeps evolving and emerging gloriously better. The man is astounding amazing. He always takes you to a place its good to be, blues or rock.
I first heard Joe Bonamassa on the Paul Jones radio 2 show - W O W!. I immediately started to investigate this rock/blues singer's music. I was not disappointed. I have always been a Clapton fan but this guy is better. In 2010 we visited New York and were lucky enough to see Joe play at the New York town hall in Manhattan. I have since seen him in Manchester and Liverpool but I'll never forget that first amazing time in New York. His latest album Blues of Desperation is his best yet. More rock blues fans should investigate this guy's music. Thank you so much Joe for the many hours of pleasure I have had from your albums. Not only is this guy one of the best guitar players ever but he also has the most amazing voice. Please please give this guy a listen, he deserves far more recognition.
Should be in the top ten greatest guitar players brilliant blues, rock guitarist a lot better than some of the names in this list! Favourite track sloe gin from the album of same name. come on put him on the site and if you haven't heard of him look him up brilliant the kind of guitarist eric clapton would listen to trust me! - nigmus
A lot better than 105. The way you become the one of the "best" in the worlds eyes is that you are in a famous band. Lets take Synyster Gates for example, he is number 6 on the list, and while he is a very talented player have no doubt that if he wasn't in Avenged Sevenfold and was in a far less famous band then he would be way down farther on the list.
I am lucky enough to have seen Joe twice live and he completely took my breath away with his playing. He gets involved in rock, jazz funk but mostly blues and the modern blues style while still keeping strong links to the originators is amazing to appreciate. He is the hardest working guy in music and its clear from his bona-seum of guitars and amps he lives and breaths guitar like very few. A child prodigy turned maestro. Keep the blues alive Joe!
The only reason he is not near the top is that many have not heard him play. I have been to well into the 100s of concerts and have seen many on the list. Although so many are great Bonamassa is amazing, speed, clarity, sound, he has it all.
Joe is without question the best guitar player on the planet at the moment. To put some of the names I have just read before him is totally ludicrous. In my opinion the top five guitar players of all time (in no particular order) are Page, Hendrix, Bonamassa, Alvin Lee and Clapton.
Saw him last night again and he is one of the best I have seen. There's a lot of guys on this list I have not seen live. And really live is the only way to see and feel what these guys do with a guitar. He is an artist. And really awesome to watch, listen and feel the music.
He is truly the best gift the music world has ever received. He bleeds his soul into the strings. I sat through a three hour set with tears streaming down my face the entire time. He's absolutely mind blowing.
Voted the best guitarist in the world for 3 years from guitarist and blues guitarist. Have you ever seen/heard him play.. Just check out YouTube...
Joe really is amazing. Discovered him about 4 years ago & became an instant fan. If you enjoy blues rock then this guy has to be the hottest act around today. Saw him live at the Echo Arena Liverpool & blew me away.
If people would take the time to listen to all the different types of Music that Joe Bonamassa can play they would have to agree that he is one of the top ten Guitarist of all time. I've been attending concerts since the 60's and have even been a DJ at one time in my life. I was around when Purple Haze was released. Believe me that Joe is one of the Best there is.
Joe should be in the top 5... He is truly a master and a genius... His playing is mesmerizing... He can do it all.
Joe Bonamassa is, quite simply, the finest guitarist in the world today, and it's not really close.
Joe Bonamassa is the best of the best - hands down!

Just listen and you will believe!
Joe Bonamassa should be in your top ten along with Nuno Bettencourt. I've seen them both live and no doubt they should be there.
Wow! You have got to be kidding! 121? Check out his performance at Royal Alpert Hall and also Montreux to name a few. I saw Hendrix Live in Dallas and he was great in his time... Then Clapton... Now Bonamassa... Superb technique... And soulful playing... From classical guitar to blues to jazz... This guy tops them all... For me He's the undisputed master guitarist of this century. The guitar players guitarist.
The fact that Clapton plays with him at his concerts says a lot to me. Definitely should be in the top 25.
I agree with a lot of the list but Joe should certainly be in the top 10.
Ouch... What a shame so few people know about this great guitarist.
I can, and have, listened to him over and over and over on a loop.
Related Lists

Best Joe Bonamassa Songs