Mark Knopfler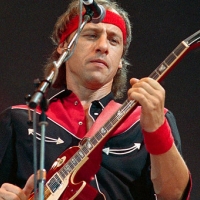 Found on nme.assets.ipccdn.co.uk
Info
Mark Freuder Knopfler is a British singer, songwriter, guitarist, record producer and film score composer. He is best known for being the frontman of the British band Dire Straits.
Comments
Top
Popular
Newest
Most of the greatest guitarist are not usually lead vocalist as well. I can think of Clapton and Hendrix that stick out, but Mark Knopfler's solos and guitar arrangements always complimented the songs he sung, they weren't in there for the sake of it. Listen to the live version of Tunnel Of Love, that finale always brings a lump to my throat and gets my emotions up. Add to that he's a supremely talented songwriter too. Take for example, (other than Dire Straits and his solo work) Private Dancer for Tina Turner and Going Home for Local Hero. He's a real perfectionist.
Man, Knopfler is the best by far. He finger picks the guitar like nobody. That's the true guitar playing. His guitar sings with a melody in every note no other guitarist has ever dreamed to achieve. And the guy is cool:) no need to drag himself across the floor or lick his guitar and stuff like that... With his right hand he can play notes other guys need to showboat to try to play with their left up and down. And he does it all while singing and enjoy of his heavenly music:) I know he's the best because I have followed others before
Mark Knopfler at #32? Impossible. He belongs in the top 5. And in terms of soul touching experience, he's no. 1. His solos in Sultans of Swing, Lady Writer, Telegraph Road and in Speedway at Nazareth (In his solo career) are works of art. This man is God at live concerts. You'll find a different version of the song in each concert. His solos are flawlessly perfect. He literally makes the guitar sing. Sheer brilliance. He's my no. One.
Mark's playing has had a tremendous impact on my style. I appreciate other players but there's something about Mark's tone, versatility, and flat out percussive technique that I identify with. His work with Dire Straits, especially the early stuff, represents some of the best clean strat sounds ever recorded. In the Gallery, Setting Me Up, and especially Skateaway and Telegraph Road are standouts for me. Some of his finger-picking lead lines are right up there with any flat-pickers in terms of speed but Mark has them on the expressiveness of his vibrato, use of volume swells, and perfect application of delay. The other thing that sets him apart is that he is just as good a rhythm player as he is a lead one. He belongs in the top five as far as I'm concerned!
HE said something like "I just want to be able to play and make people feel good with what I do. "

I say that the clear and brilliant but warm and deep touch on his guitar can be able to make you feel good, REALLY THE 31 GUITARISTS WRITTEN IN THAT LIST COULD PRODUCE SOMETHING SO DEEP? Really everyone of them could convey something of so true? Mark deserves a better position in that list.. (in my opinion )
Mark Knopfler is an underrated genius, I could go on for pages and pages about his genius, but I can't be bothered when all I have to say is he's a genius, full stop. The solos on sultans of swing, the riff on money for nothing and the acoustic work on romeo and Juliet all examples of his genius, he rocks full stop.
Knopfler is pure epic every time he touches guitar. I think god sent him down as a disciple to play solo's, so when people hear him play they would be transported to the other side. I heard him live in 85 at wembley and am still buzzing now from the pure awesomeness, even the band that came on after him were dazed at how awesome he was, they sucked too
Where?! Tell me where else in the world am I going to find a guitarist like Mark?! When you hear his solos in Sultan's of swing or Tunnel of love or even Romeo and Juliet, your heart just melts away with the music you feel as if you arrived in music paradise
Mark Knopfler is more than just the greatest guitarist in the world.
He's also the greatest musician too.
God bless you Mark!
Mark Knopfler has an extremely interesting finger style playing. Listen to the song "Single Handed Sailor" from the Dire Straits album "Communique" (1979) and you will understand. In my opinion, that song is the best rock song ever recorded.
Mark Knopfler should be top 5 on this list. It is a travesty that he is behind schmuks like Slash, Eddie Van Halen, and Tony Iommi. Knopfler plays to support his songs; instead of striving simply to show off by playing as quickly and loudly as possible, he chooses every single note so that it perfectly complements the song. His playing is indescribably sublime and completely inimitable, and he does it all finger picking. He is also a prolific songwriter and a good singer. Just listen to the last minute of Sultans of Swing and you will understand how masterful Knopfler is. The only guitarists who deserve to be ahead of him - if any - are legends like Hendrix and Clapton and perhaps flamenco guitarists like Paco de Lucia and Manitas de Plata. I mean open you ears people!
Knopfler is easily the finest guitarist I've ever heard, (though the vastly underrated Vince Gill comes close). Anyone who says Mark isn't that fast should listen to Heavy Fuel and that will put paid to that argument. The man has a unique style, elegance, versatility, and if you check out youtube, you'll find many of the greats want to join him for a song or an album. His solos for Sultans of Swing, Heavy Fuel, Tunnel of Love and on and on are incomparable.
Number 32? Just listen to Romeo and Juliet some time. Eddie Van Halen wishes he had that level of skill.
Mark Knopfler is easily the greatest guitarist ever to record. He pairs superb technical skill with amazing musicality, and a creative, distinctive style. He is the perfect guitarist, and also a phenomenal songwriter.
I think, because of his mastery of story telling in his lyrics and vocals, his finger picking is not given enough due. Listen to his collaboration with Chet Atkins for instance, on Neck and Neck. Just pure. Wonderful. Lifting. Which is why, if you look it up, he has played with and for so many other artists from a wide range of vocal and instrumental styles. Mark is, top tier as a picker and instrumentalist.
Mark Knopfler is a perfectionist, flawless performances each time. He really seems to know what he is doing and how: I get goosebumps every time he plays that brilliantly put together solo of Telegraph road or the touching licks in Brothers in arms where he almost seems to make the guitar cry. Mark is my idol, what a guy.
Mark is 33? He should be at least #3. If his music is to be compared with food, then Mark's guitar riffs are definitely CAVIAR and SUSHI. Guitar playing is not only about playing fast & insanely but the music shall have melody and charm. If someone compares Mark's music with melody as an element, he is definitely GOD of GUITAR.
Mark has more talent than any other guitartist. Plays without a pick. Knows more notes and chords than any one who has ever played. Clapton is great but Mark makes him look like a novice. Any decent guitarist can imitate Clapton, but lets see them play like Mark. That won't happen. Hendrix was good playing a guitar upside down and with his teeth. Lot of fuzz but no substance. Knopfler can do anything and can do what no other muscian can.
This list pretty much sucks because there is no doubt that Knopfler is better guitarist than a man named Slash. I think you can't vote the "best guitarist".. I think the Top 10 of the list should be shuffled and for sure Mark should be in it.
I think that these ratings are senseless. Mainly based on early influences such as guitarists that played in early stages of music. If mark was part of influencial band from the 60s he would be top 5. Then the rater select early infuencial of heavy metal guitarists. Personally when it comes to heavy metal, I get surprised not see Adrian Smith of Iron maiden up there. About dire straits, they got little radio publicity especially in the US. Most people are only familiar with money for nothing and sultans of swing. Alchemy is a very underrated live show. All the songs have jaw dropping guitar solos. Not to mention Terry Williams on drums who is also underrated as a drummer
Knopfler is unbelievable but is so underrated I was actually pleasantly surprised to see him this high. Yes, he is fast but also very stylish and was perfect for Dire Straits. I do think artists like he and Hendrix who also write and are lead singers should get extra props for that. I still think he's a top 20 guitarist myself.
Though he is not quite as popular as many others, Mark Knopfler is the best guitarist ever. A master of the fingerpick style, he has the ability to quite literally play any ridiculous music he wants to. His best work is probably in Sultans of Swing, especially live versions. - Blueyays
Mark's finger picking ability, especially in Sultans of Swing, is the stuff of legends! It's rare to find anyone who can make every note amplified to that extent, without a pick, like Knopfler can. And he plays like that so effortlessly. In my opinion, this man is unrivaled and should be placed way higher on this list
When I look at the body of work both as a leadman and solo artist, MK is the greatest guitar talent ever. His songwriting, genres and style complete one of the most interesting sounds out there. His virtuosity with the instrument dominant... Complete control making the guitar sing. One of the most underrated guitarists of all time.
Knopfler just need a guitar to play his stuff. No guitar effects, no speedy solos, he does magic using his fingers. You just need to hear a single note to recognize him! I love his technique and force to play the strings. He is a humble songwriter and composer, that's why he is the greatest by far...
"Money for nothing" has one of the best, if not the best opening riff of all time. He creates the perfect mix, using country fingerstyle picking, rhythm and muffled strings harmonics. This is the result of many skills he has with the guitar, as composer and a great musician in general. He may not be the fastest, neither a virtuoso guitarist, but he has personality, the 80's living expression, your hear one note and you know it's him. He has to be in Rock and Roll Hall of Fame!
Related Lists

Best Mark Knopfler Songs