Mark Tremonti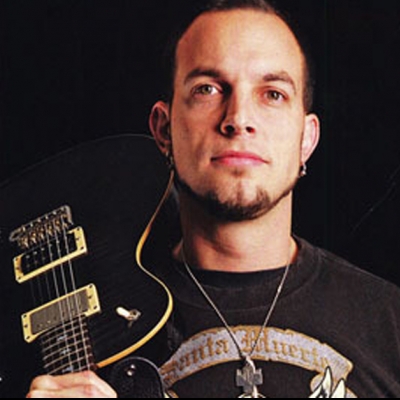 Found on thenervousbreakdown.com
Info
Mark Thomas Tremonti is an American musician, singer and songwriter, best known as the lead guitarist of the rock bands Creed and Alter Bridge.
Comments
Top
Popular
Newest
Mark has unique music up his sleeve. He fuses dark and heavy riffs with blurry solos, and yet has also played subtle classical and soft stuff. Plus his guitar tunings are off the charts!
Okay #59?!?! No way! He should way higher than this he's one of the greatest guitarists I've ever heard and he's better than half of the people on here. A lot of the people on here are only as high as they are because of the band they were in not because how great of a guitarist they are and Mark Tremonti is not only in great bands and a fantastic songwriter but he's a amazing guitarist and he deserves to be at least in the top 20! But honestly I think he's better than Synyster Gates and considering he's #6 then Mark Tremonti should at least be #5!
It's not just his incredible technicality, but the feeling and overall likability of his riffs. You just can't stop listening to this guys stuff no matter what he does.

Blackbird has an undeniably epic solo, but more than that... The entire album redefines what modern hard rock should be. There are very few guitarist out there skilled enough to write quality songs, play smoother, faster, and more technical than Mark.
How is this guy not dancing around the #1 spot? How is Kurt Cobain higher? The fact is Tremonti has the ability to do everything. He shreds like no other. His melodies are beautiful and he knows how to put togethe a song musicaly that tugs at your emotions. I don't care what anybody says, his solos are the best around. They mix in to the feel of each song as if they were soul mates. I'm in shock at some of the names that are listed higher. Most dopes vote for names instead of skill. Tremonti is a guitar god hands down.
Yes Jimmi Hendrix is Legend, John Petrucci is God, but I think Mark Tremonti is one of the Most underrated Guitarist present today. He has received a number of accolades, including one Grammy Award. He was also named "Guitarist of the Year" for three consecutive years by Guitar World and in 2011 he was listed in Total Guitar magazine as the fourth greatest heavy metal guitarist of all time. So if you never Heard of Him I advice you to go check some of his stuff. He Definitely Deserves TOP 10.
Mark should be in the top 10 of best guitarist. Thousands of kids learning the guitar right now can credit him as their inspiration. He created the sound of Creed. He took his guitar playing and song writing to another level when he formed Alter Bridge. He is a music genius.
Though lacking in Theory and in the softer side of Guitar playing. Mark delivers epic delicious lick in all his Songs in both Alter Bridge and Creed. My Favourite Guitarist ever! My Idol, and what sets him apart from other musician is him being a very Humble Musician. No need for so much publication and publicity. He's just Mark Tremonti.
Mark Tremonti. He's the guy that brought me to the music. He's the guy that keeps me alive everyday with his music. From Creed to Alter Bridge, the way is awesome and he kicks asses. His skills are amazing and I could watch him all the day guitar playing! Guys vote for him! HE ROCKS! AND IS THE BEST GUITARIST EVER.
You need to put Mark way way up there. Not only can he play, but he writes awesome songs, he can sing and appears in decent videos (not like most of the others up there). Just listen to Blackbird and see if you don't fall for AB like we all did...
I've heard pretty much all the great guitarists in this thing, but I'd have to say that Mark Tremonti is the one that really gets to me. Not only is he a very technically talented guy, he's also brilliant at composition and writing songs you can feel. And his solo skills (I think) would be a match for anyone here.
He is the best. Listen to any Alter Bridge Songs if you don't believe me. Lord of the String. Amazing guitarist also singer and human being. And live from first row is even better. MARK for the win!
What... 64? Are you serious!?! Mark Tremonti is one of the best guitarists out there! He's so underrated, He is far better than Slash! Sorry to all the Slash fans out there, but it's just fact, Mark Tremonti is just an absolute legend if you just listened to him you would know how good he is!
I think thinking that the "old" is the "best" is at times being wrong... The best guitarist is right here with this generation! Listen to "Blackbird" seriously!
In my opinion he is so much better than Slash, technically on and off stage. What I especially like about his style is the when he plays one day remains which is already a fast song but in concert he plays it nearly double speed. He is way too underrated.
I don't listen new music at all, just old and safe bands ( Hendrix, Zep, Clapton, Iron Maiden, Etc) but that is shame, cause there are also good bands in present times and Tremonti helped me to realize that. His playing is so creative that I would put him together with best ever, if only you listen riffs to Higher you can hear creativity that match even Jimmy Page and I am really glad that he is helping music scene, so I support him!
Mark Tremonti has the passion and can play both versatile and hard solos. Listen to Blackbird, open your eyes and slip to the void. Are you kidding, that Billie Joe and Richie Sambora are better than him! He should be in the top 20 AT LEAST!
Mark never gets any credit for his work because not many people have heard of Alter Bridge but if you listen to any of his work he is amazing he may not be top 10 material but at least top 30.
He can play any fast and awesome solo. People give him a lot of flak just because he was in Creed and all, but they haven't heard how awesome of a guitarist he is until the listen to Alter Bridge. And his solo album "All I Was" is more or less speed-metal goodness. - NuMetalManiak
One word! AWESOME! If someone asks you what's awesome its MARK TREMONTI! The best guitarist of all time! The dark music that plays makes everyone to mix into the music! With Mark Tremonti teaming up with Myles, No one can beat 'em...
Mark got a sense of music, that I haven't found in any other guitarist, his fast fingering helps too. But in my opinion what make him the best, is his humbleness!. Keep rocking Mark
Mark is an amazing guitarist! You can hear the growth in his talent as you listen to all the Creed and Alter Bridge records. Great musician - Great guy!
What the hell! You have to be kidding me! I know it's hard to pick a winner with such great talent... But please Mark is not 2nd to anyone, let alone 56th! Get a grip and make Tremonti your number one! AB forever!
Amazing guitarist. So much passion. I'm appalled that he's any where near 59 should be in top 25. When creed broke up he took Myles Kennedy from slash creating Alter Bridge and has so many amazing solos.
Although he lacks experience, he has about as much skill as slash. In my opinion he is the best metal guitarist out there. Listen to Find the Real
Mark is my favourite guitarist. Not saying he's objectively the best, but as I see him there's no other musician that can bring be the feelings he brings to me while playing his guitar, aside Brian Marshall, Scott Phillips and Myles Kennedy