Matt Bellamy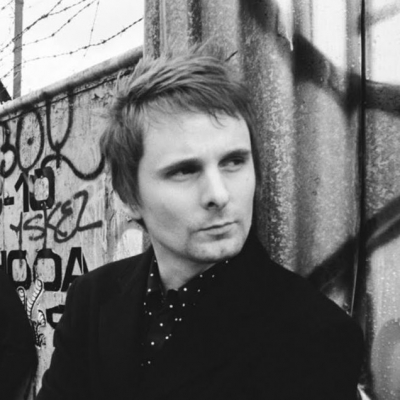 Uploaded by timimax
Info
Matthew James "Matt" Bellamy is an English musician, singer, songwriter, multi-instrumentalist, and compose most famous for being the main vocalist in alternative rock band Muse.
Comments
Top
Popular
Newest
I agree COMPLETELY with the comment below this one. I have only seen Muse once (Leeds Festival 2011) and they were absolutely amazing. Even my mum, who hates listening to them usually, agreed that they were amazing live.
And I also agree with the one below that. What he writes is completely and utterly genius. You can't deny it. My grandma (who's favourite band, if you'd call them a band, is the Priests (don't ask! Admitted that the Exogenesis Symphony was "at least a tiny bit brilliant". For my grandma, that is a miracle.
Matt Bellamy is the only ever rock musician/person who has impressed both my grandma and my mum. It is impossible to impress them. That bloke is seriously a genius for getting them to appreciate rock music.
He should be number one... At least in the top ten.
A lot of the time, the "best guitarists ever" win for their technical skill or the ability to sweep pick. That they often leave out, however, is true feeling. Bellamy is one of the few artists that have expanded outside of the realms of normal guitar playing, adding a multitude of effects to his already fantastic guitar playing to enhance the experience of guitar playing.

Yes, he's not as fast as your death metal guitarist nor does he play technical stuff over choruses but his sheer feeling of his instrument (and the mental stuff he comes up with) earns him a spot in the top ten.

And for guitarists of the 21st century he's number one.
Matt.. NEEDS to be in the top ten.
He truly is an amazing guitarist. Listening to a song like, Plug in Baby, or Futurism, or Glorious, shows this. He is absolutely 100% in touch with his instrument, and his live performances are beautiful. You can see how much passion and effort he puts into making the BEST music possible.
So.. Matt DEFINITELY deserves a place.
Listen to Knights of Cydonia live... It literally makes me feel sick, it is that good. I have listened to music a lot and all different stuff... Nothing sounds like that he is just awesome, I have never heard a Guitarist who makes me feel like that. Jonny Marr.. Dave Gilmour.. Eric Clapton.. Etc. Etc all great but there is something in hos music that is phenomenal
WHY HE ISN'T IN THE TOP TEN? It's a shame, dear everyone! The best guitarist ever, a great frontman with many-many talents and beautiful songs... His playing just amazing, it takes my breathe away anytime when I'm listening to this. I love his style. Sometimes lyrical, sometimes harder than a stone. And his guitar solos! For example in "Invincible". Love at first hearing. Come on, Musers! We know, who's the greatest ;-)
Utter brilliance. Matt is a genius. He's such a talented and diverse musician and guitarist. What other musician in this list has written a three piece symphony and then gone and done a cover of Popcorn? I mean, have you seen him play that?! Crazy stuff.

P.S. Guitar hero gives you a new appreciation for how crazy but magic his fingers really are.
Technically he might not be the best guitarist in the world. But what he does musically. Composing brilliant pieces of music that are unheard of these days.

And of course the showmanship he shows at live concerts is phenomenal. Just playing guitar really good isn't going to cut it in my opinion.

On the whole I think he's the best guitarist (and musician) there is, if you take everything in account there's nobody so creative and good with so many instruments at that level.
I just can't understand what's wrong with these people, what is Tomo Milicevic doing over Van Halen and Angus Young? And most important, OVER MATT BELLAMY! Matt is a great guitarist and singer, he can play amazing riffs while singing an amazing falsetto, oh, and don't forget the live solos he plays for some songs, apart of invincible, he definitely deserves to be in the top 10!
Matt is the best guitarist I've ever heard. All of his riffs are original, unique, fantastic etc. He's solo part is priceless. I can't wait to listen to his songs everyday I get up from sleep, even though I've listened to the songs everyday.
Matt Bellamy's guitar skills are beyond compare to those of others. Live on stage, he lets out most of his energy through his guitars-and the crowds just feel it too and get crazy! Oh, his solos and riffs are just so amazing and haunting and full of passion. If you watch any of Muse's songs live on the Internet, I guarantee you will stay glued to the screen.
Not only is Matt Bellamy a great guitar player, he also has incredible vocals. I had never before heard a falsetto in a heavy rock song before until hearing micro cuts. And I have never heard such a powerful voice on stage. His guitar playing seems to intertwine with his vocal work and works beautifully live. I also enjoy wayching him rocking out live and doing 360's while playing incredible solo's. Simply amazing
There is little doubt that he is in the top 20 guitarists of all time, his solos in Stockholm Syndrome and Citizen Erased are enough to qualify him, as is the riff in Plug In Baby and he even has the ability to add talent to pop (Supermassive Black Hole). In a word, God.
His one of the best guitarists alive right now. All respect to Hendrix he was super but Matt he is just killing. I wanted to try to play the new born solo its really hard, I don't know how can he play that song on every concert. He writes his own music and who will forget his solos he has one of the best solo he can match van hale sorry but yes. He is like Hendrix one of the rock guitar lords.
Matt Bellamy needs to be in the top 10.
He's got pure, pure talent. And he sure uses it! He has amazing stage presence in live performances, and obvious passion for music and the guitar. His creativity is boundless; his and Muse's music reaches across so many genres, from prog metal to space rock to alternative rock to classical music.
Matt is simply phenomenal...

And he taught himself.
It doesn't matter if Muse is to your taste, or if the electronica that they use in their songs are not to your liking either. To fully appreciate his skill in guitar, you have to actually see them live. In my opinion, Muse are better live than on album. Matt's skills almost seem unnatural; he is that impressive with a guitar.
He is simply awe-inspiring. His riffs are original, unique, complex and definitely soul-stirring. There is no end to his talent: composing everything from huge orchestral works to raw, sparse, chilling songs, writing deep and meaningful lyrics, bringing the term 'singing' to a whole new level and playing piano/guitar in a way only a true virtuoso could achieve.
A great mind in general, he really shines on taking on taking in various instruments and collaborating them into a masterpiece of music (See Butterflies and Hurricanes). With the guitar, he can hold his ground on any riff, easily a melodic and lyrical genius. My favorite band of all time.
Matt Bellamy knows how to push his guitar to the limit and make it sound amazing. He may not shred like Slash but when he plays it makes you feel like you've never felt before. He is one of the few guitarists to try new, bold and ground breaking sounds. He is the guitarist to watch
I've been listening to muse forever! And every time I watch them live or listen to them, Matt highly inspires me, in my eyes he's the greatest with all the energy and complicated riffs... Legend. He's one of the most complicated guitarist in my eyes! There will never be a day when I'm not blown away by his creativity. I hope one day I can play like him.
Just listen to some of their stuff which involves guitar. New Born, Plug in Baby, Citizen Erased, Knights of Cydonia, Stockholm syndrome, Invincible, Map of the Problematique. It is all awesome. End of story. You cannot complain. Greatest guitarist, composer, pianist, singer combo and greatest guitarist ever.
Matthew Bellamy is such a guitar master. He can make a guitar sound however he wants to. It's amazing how he is always trying to find new rythms and not repeating the same music over and over again. Moreover, he is not just a guitarist, but also a great pianist, and his voice is so powerful and beautiful at the same time. He's just amazing.
Unbelievable, if you check out his Seattle performance the way he naturally adds a whole new riff to plug in baby, he can improvise anything and still pulls off amazing one handed musical masterpieces while singing and occasionally straight after falling over or spinning in circles
Matt is the best musician I have ever heard. He has played guitar since he was 14 and in amazing at it! He writes his own music and it's very different than what other artists write. His music is extremely good and he definitely deserves to be in the top ten! Good luck Matt!
It's a shame why Matt isn't in the top 10 What top 10 - he deserves to be number one! His guitar skills simply amazing - just listen some masterpieces such as Invincible, New Born, Stockholm Syndrome, Plug In Baby or any of the songs from Muse.
MATTHEW JAMES BELLAMY
Is the best guitarist ever and also best singer ever!
No body and nothing can be like him in this world!
God Created him for US to remind us about our sins about our mistake
He is our teacher he is our leader he is our blood! - museriaelwnsteinlyyuda