Miyavi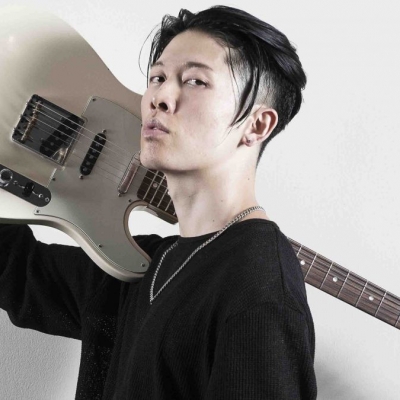 Uploaded by LightningBlade
Comments
Top
Popular
Newest
I think Miyavi isn't the best guitarist of all times and maybe his techniques aren't the best, who but knows?
Either way his style is really unique and he tends to experiment with many different styles, for which he gets a lot of criticism even from his fans, but he still continues in his never-boring style and besides that he is writing awesome songs - the "early" ones seem to be rather chaotic, but somehow in a really good sense, his LFX performances are among my favorites. Miyavi has been my favorite guitarist since about 2007, because he seems very human - he doesn't seem like someone, who would get less confident after making a very notable mistake and he doesn't seem to want to cover them up (or the sometimes "unclean" playing). I know my comment sounds negative, but I really love Miyavi as a guitarist, I thing he is the perfect guitarist to inspire new guitarist, since his progress can be seen very clearly.

But anyway what is this vote anyway? A vote how many ...more
Miyavi is an amazingly talented guitarist. He has a unique "slap" style, something of a cross between the traditional Japanese shamisen and "slap" bass. Miyavi plays his guitar with a level of skill and passion that is rarely seen. He is a consummate showman, with a natural talent on how to work an audience into a frenzy and hold them in that state for hours.

Miyavi is a technically skilled, uniquely talented artist who fully deserves his nickname, "The Samurai Guitarist".
Miyavi will soon become a legend even if he isn't on the top 10 list or anything he will always be awesome and one of the greatest the way he kills that guitar that's why he is the samurai guitarist Miyavi will always be remembered the way he slashes that guitar as if his hands were a knife he is truly amazing
Miyavi has serious skills and anyone who doubts it is ignorant. However, I do think that these guitarists are really out of order. I mean, there are some of the best guitarist listed further down and it just doesn't make sense. I wonder if I can vote more than once? Just so I could support the other awesome guitarists as well
MIYAVI has dabbled in just about any guitar style you can think of; from the blues sounds to pure rock and more. He was inspired by a traditional shamisen and twisted it to fit his unique style; including finger-picking and slapping the guitar. He has a sound that'll be difficult to copy and he pours his soul into it.
Really is impossible to find in this times someone who can compare MIYAVI's guitar skills, his sound is a perfect combination between bass and guitar and he can make his guitar sounds like three at the same time, if he is not in number one is because he is Japanese and around the world people only know the American bands, someone really amazing and original really is this Japanese SAMURAI GUITARRIST
I saw my favourites guitarists here, and I thought at first " I CAN'T DECIDE"... But then I saw Miyavi's name. And then, all my doubts disappeared.

Why? Because I've seen him in a live. Because I he played guitar in front of me and GOSH, he is the msot talented person I've ever met!

Because he is the only musician who plays the guitar, drums, bells and sings AT THE SAME TIME.
Miyavi is one of the best guitarist ever. What a shame he is not really known in America like others guitarists. But despite that anyone who wants to see can check him out. He has awesome songs with cool lyrics and his live performances are breath taking. Miyavi is the Samurai Guitarist
Miyavi is amazing! He plays the guitar that no one else can do it. Miyavi is the best guitarist ever, I haven't seen anyone who can play guitar like him, Miyavi is totally crazy when he is playing guitar he can also playing his magic box I don't know how to call it laugh out loud, Miyavi rocks!
He's one of best guitarist ever! All his songs are self written and perform artistically. He plays smoothly, and with a lot of soul. I think he should at least be standing at the top 20. Lots of love!
Before Miyavi, I had no idea that those types of sounds could even come out of a guitar! Since then, he has been my favorite guitarist for almost ten years, hands down!
Miyavi has a unique style and definitely brings something new. No matter how you like his music, you got to admit, the man has skills like no other. He mixes up styles and is highly diverse. The Samurai Guitarist, indeed.
Easily one of the most talented guitarists ever. His style is so funky, his accuracy is flawless for such a crazy technique of playing. Slap guitar and harmonics... I just don't understand it. Guitar god right there.
His guitar is just unique. Not only in skills but his composing and style. It's just a shame that he isn't already recognized worldwide.
He is my reason for starting playing guitar because of him, so for me he is the best& every one got different opinions. But mine best haha. ROCK ON MIYAVI!
He really loves playing the guitar, you can hear that in every song. His style is absolutely unique and creative, I don't know anyone else who plays like him. I totally adore his guitar playing. He made me want to start playing again too.
His music gives you strength to keep fighting for your dreams! Simply amazing, inspiring and the best!
Rock on Miyavi!
I just love watching this guy shred on guitar! He has developed his own unique style, to reflect why a Japanese dude plays guitar, and I am certain one day, everyone in the world will know his name!
Very little people, at least that I have seen can express such creativity through the guitar, and possess the ability to make use of the whole guitar, not just the strings
Miyavi is a great guitarist, is multi versed in different styles, he can play slow, fast, mid paced. He's an amazing guitarist, and he incorporates many different styles.
Hell Miyavi can play the guitar better than any body I have ever seen sometimes not even using a pick to play but just his fingers. In my eyes he is one of the best
Miyavi should be number one! I love when he does his guitar slapping! It's awesome! I'm sure that if he was as famous as the other stars in America he would be number 1!
I listen to Miyavi about 4 years. He is one, big surprise. He can do all with guitar. You only need to listen to one or two song and you'll know, he's such a big guitarist.
Miyavi can rice your soul to feel the heaven, only he needs touch with His holy fingers the guitar... MIYAVI, it can be possible to find other human like him
Certainly he is the one who can rock all the world with the styles and variety that only he can play
There are some amazing guitarists on this list. And I don't knock any of them. But if I am to pick one that stands out most in my mind, it's Miyavi for sure.