Richie Sambora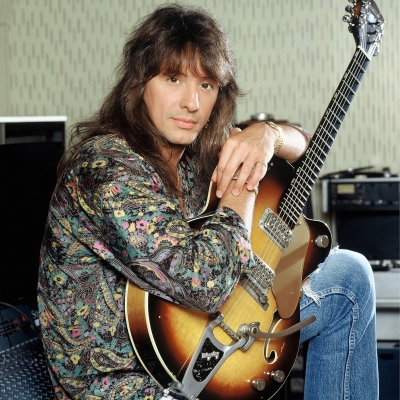 Found on mtv.com
Info
Richard Stephen "Richie" Sambora is an American rock guitarist, producer, singer and songwriter who was the lead guitarist of the rock band Bon Jovi for 30 years.
Comments
Top
Popular
Newest
Ar regards Richie Sambora, I must say that whether you accept or not, Richie sambora plays the pentagonal scale on the guitar far better than any other guitarists. He's very underrated guitarist and as far as Slash, slash is very overrated. Nowadays, everyone considers him as a metal psycho on their view towards him. You know once Alice Cooper said to a music magazine that if he had to include any of two guitarists for his dream band, one of them would be Richie Sambora. He can play anything, anything you say to him to play, he will play. Whether it's Jimi Hendrix, George Harrison or Jimmy Page. He had been through lots of music variations whether it's metal or country. He's the best. His guitar riffs sound as similar to The Beatles. Whether you accept it or not, I infer that Richie samrbora is one of best the guitarists after Jimmy Page!
He is self-taught, can play the hell out of metal, rock, blues, country, classical-you name it. An in-demand session musician, respected by guitarists in all fields. The man plays from the depths of his heart and soul-the passion is evident. He is a selfless performer who has no egotism, happy to allow Jon Bon Jovi to front the band, while he adds the beautiful harmonies to augment his kick ass performances. His solo CDS show the Bluesman in Sambora, as well as the scorching riffs. He is so underrated, as he one of four ultra-talented NJ musicians in the best band since the Beatles! He so needs to rate much higher
Nobody plays guitar like him, from blues to hard rock notes. Do not forget that he won a guitar duel with Eddie Van Halen. It also has well-recognized studies on his acclaimed "pentagonal scale" that many metal guitarists even been used, the difference is that he does not pay for your image out in magazines such as slash and other guitarists who are more Public that guitar.
Sambo is one of the best guitarists ever. Yeah, for example, Jimi Hendrix is better but Rik is the same good as him now. I never seen some guitarist, who is full of emotions when is playing guitar and also it shows to round the world. And how many guitarists are so talented, that they can play all music styles? From country via blues to rock? His solo albums are samples for his desire to playing. And show his perfectly developed sense for music. Just he's the best.
Without a doubt the most underrated player of the last 30 years. The fact he's in one of the most commercially successful bands in history means he's often forgotten. Eric Clapton played on Sambora's debut solo album. Why? Because he told Richie he wanted to guest on the album of a player he considered to be right at home amongst the most heralded of history's greats. When Richie stopped a session on the album and asked Clapton why the hell he was there with him, that was the response Slowman gave.

Dry County is ridiculous. So many other songs evoke emotion out of the instrument - both on a rock and blues level - one rarely hears: Who I Am, One Light Burning, Dead or Alive, Bad Medicine, Living In Sin, These Days, My Guitar Lies Bleeding In My Arms, Next 100 Years.
Have you heard Dry County? Livin on a Prayer? Wanted Dead or Alive? Not only is he an amazing guitarist, genus also an amazing songwriter and singer! Richie is awesome, end of story!
Richie is in my opinion not only one of THE best guitarists ever he is also the single most underrated guitarists ever. I am not just talking about his MANY years and many albums with Bon Jovi but his truly incredible solo albums. Because of his many years with Bon Jovi.. If people do not like Bon Jovi as a band they automatically dismiss Richie as a guitarist. BIG mistake. Richie plays flawlessly and with more passion and emotional connection than I see in a lot of his peers who sometimes can be technical but so can Richie... But they seem to go through the motions with not nearly the sme connection. Richie is for me without doubt one of the best guitarists I have ever heard.
Richie is without doubt the most versatile, soulful guitarist I have ever seen. There are technical players, and there are emotional players, Richie manages to constantly strike the perfect balance between the two. Not every solo has to be a blisteringly fast one, and he is always finding that perfect sound and balance to suit the song and lyric. He is not content to just stagnate and ride on the band and his own success, but rather is always growing as an artist and musician by exploring new techniques and styles. He o
There's not much more to add to the other comments except to say that he plays that instrument like no-one I've ever seen. He puts his heart, mind and soul into every performance and it shows. He is definitely one of the best out there and being invited to play alongside Les Paul, BB King, Eric Clapton and the like certainly cements his position, in my opinion, as a top notch musician deserving of more recognition.
Richie is #1. He not only plays amazing, but he WRITES his own stuff, which is a lot more than most of the ones in this list. When they tried to get Phil X to fill in for Richie this summer, it sucked, because no one can even come close to playing the way Richie does. Also if you watch him you can see he puts his entire soul into the music. He's not just there for acclaim, he's there because he let's the music take over and uses his gift to bless us ALL.
The 1st time I heard the solo for "Living on a Prayer" I was hooked on Richie and Bon Jovi. Richie makes the guitar sing. Most of todays guitarists are remembered for 1 lick, riff or solo. Richie has been doing this for a long time, and he only gets better. He is a true great if not the greatest.
Richie Sambora is the greatest guitarist ever because of his skills and emotions he shows while he plays his guitar. He's known as king of swing and he has proved it so many times in Bon Jovi and on solo albums which I highly recommend for you to hear (Stranger in this town Undiscovered soul)
RICHIE DESERVES A HIGHER SPOT THAN THIS... WHAT'S HAPPENING WITH THE VOTERS NOWADAYS... IT SEEMS THEY'RE IN OUTER SPACE VOTING FOR THOSE UNDESERVING...
NO ONE PLAYS THE GUITAR LIKE RICHIE DOES.. FOR GOODNESS SAKE! SURELY EVERYONE OF US CAN OBSERVE THAT.. NOBODY DOES IT BETTER THAN HIM!
RICHIE IS TRULY THE GUITAR MAN!
Richie is one of the greatest and most underrated guitarists ever! And only the fact that he is approximately 49 years old and that he still plays like he is twenty must make some people think how great he is!
Richie Sambora Taught himself how to play the guitar Along with over ten other instruments when he was a teenager (some of the instruments he learned after his teens) Plus his ability to play the type of stuff he plays earns him a spot at #2 on My list
Richie rocks, he's for me on of the best guitarist ever, one of the last guitar hero and probably the most underreated! His riffs and solos are just awesome and they really serve the songs! Pratically all his guitar's solos can be sing and he knows exactelly what to do with his guitar to create the harmony with the other members of the band (listen to the album "keep the faith", the perfect wedding between keyboards (the really great David bryan) and guitars parts! This guy can also play everything and has collabored with many legend of the music (clapton, les paul, bb king... )!
If you don't like his way to play with bon jovi, listen to his bluesy influenced solos records! Really for me, he must be in the top 10
Not only does have tremendous passion in this playing--he's got such a great blues sound both in this guitar playing and his voice--I think so many artists lack the soul that Richie has. He's #1 in my book!
The King of Swing is a guitar God, he's much better than Slash in skill, soul and passion
Sambora is a vastly underrated guitarist. Leagues beyond Slash in terms of technical ability and soul, but since this is a popularity contest and not one based on actual merit in terms of playing capability, it all comes down to image and Slash has the best reputation. Thus, even though Slash is so incredibly over-rated, it's understandable to see why he's winning.

Anyone more familiar with Sambora's body of work knows that he doesn't get near enough of the credit he deserves. And Slash is just a so-so guitarist who is more popular because he has a much cooler 'image'.
Dude this guy is great. He grew to be my inspiration for guitar when I was about to quit that great instrument. He knows how to really solo on that thing and I would consider him second with Hendrix as 1st. And that guy from acdc. I'd give anything to teach me guitar personally, after all I'm from New Jersey to an good guitar player at only 12!
How can Richie be number 17? Has any of you even heard any of his solos?! I'm not saying he is better than Hendrix, 'cause for me, nobody is but he should definitely be number 2! The energy he puts into his playing live is unbelievable, I've never seen anyone playing like him! He puts his everything into each performance and the result is amazing each time!
Richie sambora is one of the best guitar payer I've ever seen his solos and soul style makes the bon jovi songs very special. And the must important fact is that richie always plays with passion
Totally underrated as a guitarist. His melodic playing and catchy riffs has helped shape the Bon Jovi sound for over 30 years, also you always remember a 'great riff'... His solo work on his own albums is versatile and shows his ability to engulf a number of genres including blues, rock, folk...
The problem for Sambora is people see him and only think of Bon Jovi and therefore is pigeon holed as a throw-away. If any one is having any doubt checkout 'Dry County's solo' or Ballad of the Youth, Seven Years Gone and who hasn't tried to play the Wanted riff on a 12 string?
Sambora is quality pure and simply, but there is a massive 'guitar snobbery' where people have to be seen to only like Jimmy Page / Hendrix and Slash?!?! Don't get me wrong all great players but Popular artists like Sambora will never get any recognition because he is not seen in that way by the snobs. I am suprised that Brian May has made the vote, I wonder if Queen where till touring if he would face the same ...more
RICHIE IS THE BEST! WHEN HE PLAYS GUITAR IT FEELS LIKE IN HEAVEN! AND HE PLAYS GUITAR WITH EMOTION! That's WHY HE BECAME THE LEAD GUITARIST OF BON JOVI BECAUSE OF THAT AMAZING TALENT!
Having seen Bon Jovi live and having all their albums and all of Richie's albums, it's a combination of things that make him stand out. He looks really cool, he plays anything brilliantly, AND has a terrific voice for good measure. Oh and he is a cool songwriter too. He plays with lots of emotion and passion and seems capable of anything. Pure brilliance and sadly underrated. God or genius, anything goes.
Related Lists

Greatest Richie Sambora Songs
Best Richie Sambora Quotes