Ritchie Blackmore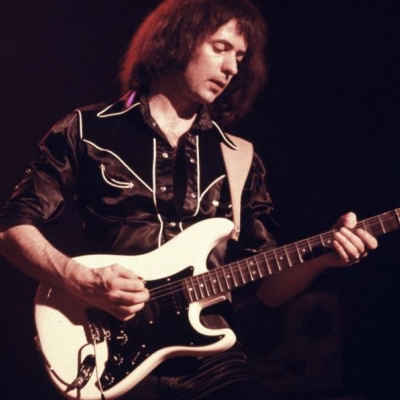 Uploaded by zxm
Info
Richard Hugh "Ritchie" Blackmore is an English guitarist and songwriter, best known for his work in the hard rock/metal bands Deep Purple and Rainbow. He was ranked number 16 on Guitar World's "100 Greatest Metal Guitarists of All Time" in 2004, and number 50 in Rolling Stone magazine's list of the ...
read more
.
Comments
Top
Popular
Newest
Genius. Listen to Catch the Rainbow live in Munich. Feeling feeding technique. Number one guitarist. Surpass Hendrix and Page easily. Just listen to all of his work. There'll never be anyone like him, as there are no more Bach, Mozart or Beethoven. Before him guitar was just blues and country rock. After him guitar is music for itself.
Ritchie is phenomenal. Technique and composition light years ahead of most of the list. I really have no beef with Beck being higher, but Jeff and Hank Marvin were my "idols" growing up so I am a little biased. In any event, the idea of 30 others higher than Ritchie is ridiculous. Ritchie should be Top 5 at the very lowest. Even Page said that he couldn't touch Blackmore when it came to soloing.
Agreed. Ritchie is the most versatile. My top five: Blackmore, Rory Gallagher, Jimi Hendrix, Peter Green, David Gilmore. Page? Forget it, timing awful, great material but not in the picture.
Why it's not strange to see that Jimmy Page is 2 and Blackmore 25? Well it's because Led Zeppelin is just more popular. The funny thing is that if Ritchie and Gillian could stayed together and Deep Purple could live from 1974 to '84 they would be probably more recognizable than even Zepps. And if so, Ritchie would be higher than Jimmy. But he went off, started Rainbow and you know what? He went on even higher level (as a guitarist). It's another ranking based on popularity and not on playing guitar. It makes me angry because I first listened to Zepps hard and then my dad showed me Deep Purple. The difference in guitar playing was so strong, it kicked me to floor. Ritchie technically and generally was always by far better than Jimmy. Jimmy sticks to blues and rock, Blackmore developed something harder to play - hard rock/heavy metal with neoclassical melodies played with speed and technically clean. He is just no match to Page and he was certainly pioneer and influence to shredders and ...more
I'm not surprised people placed him so low. The only explanation would be that they haven't heard him, being old in comparison and all. For those who would disagree that he should be in the top ten they should listen to the guitar in 'Gates of Babylon' and 'Temple of the King' by Rainbow. They can also listen to 'Highway Star', 'Perfect Strangers' and 'Child in Time' by Deep Purple.

This guy doesn't just strum fancy or hit great riffs... He can capture the mood of the whole song in a solo (again I say listen to Gates of Babylon to figure out what I'm talking about)
GET VOTING AFTER HEARING HIM OUT!
I would rate Blackmore above Page and definitely above Hendrix. He is able to play melody and powerful rock riffs. The latter are great guitarists with Page's music easily surpassing Jimi's quota for range and variation. But that is my opinion and not everyone likes what I like.

Jimi may have been a pioneer in his gendre but there is something two dimensional about his music. Blackmore and Page added more dimension even though I prefer Pages songs, Blackmore's just on pure guitar brought out incredible emotional detail even though the overall theme of the DP songs could be really shallow.
The thing that makes Ritchie Blackmore the number one guitarist for me is because his solos have the ability to sound crafted and improvised at the same time. To put it short they seem like an integral melodic part of the song. While Tony Iommi wrote equally good riffs he could never outmatch Blackmore when it came to playing solo he just falls short. As for Jimmy Page - "too many notes"
I love many guitarists. But if I had to only choose one it would be Ritchie Blackmore. His diversity & the sound, style and tone is uniquely his. No one has ever sounded like Ritchie. Many guitarists try to play like him but no one can sound like him. He is as comfortable with the Blues, Rock, classical or Renaissance, it just doesn't matter. He is the best. & I won't be able to die w/o singing Mistreated with him somewhere on some stage anywhere. Ha!
I really do not know where the others are wearing their ears. Blackmore is the No. 1., the BEST, The Master. The others are still doing practice.
The 'man in black' is definitely at the top of this list for me. Many reasons. First of all an amazing composer inside the studio. Be it alone or with a band the guy could write and has written so many riffs from hits like "Smoke on the water" to underrated gems like "Stargazer" that defined his musical style as a songwriter (can't say the same about other guitarists say Slash, who in the absense of Izzi and Axl couldn't quite produce a memorable song! Don't get me wrong love the guy, he could solo so good, but not write a new song)

Second, live performances. I don't think he has ever played the same solo twice(! ) which if you play the guitar you know that's almost impossible (well maybe Hendrix did so too).

Third, from rock n' roll, to proggressive metal to folklore to blues, his ability to make the most out of every band situation was unique. Like who is the frontman: Coverdale, we'll give it a bluesy tone. Dio? Let's make it heavy! Gillan? Hard rock tuned in! The ...more
What are synyster gates, tomo milicevic and tom kaulitz doing in the top 10s? No disrispect to them, they're great guitar players but you have to be kidding me... Blackmore has played some of the catchiest riffs in rock history (smoke on the water, black night, burn, stormbringer, woman from Tokyo, man on the silver mountain, kill the king) some very memorable solos that will stand the test of time (burn, child in time, highway star, stargazer, knockin on your back door, why didn't rosemary) while pioneering metal itself with deep purple and power metal with rainbow. His mixture of classical music and hard rock is amazing and he should be in the top 10s. - fidelcanojr
HE SHOULD BE IN TOP 5... WITH JIMMY PAGE AND Hendrix... Jimmy page himself told that " how much ever hard I play... Ritchie blackmore is always one step ahead of me" and he deserves this statement.. Just listen to his solos in child of time, kill the king and man on silver mountain.. Et
I was dreaming of " Hush". I got up with the song in my head. I was not quite sure which band it was Cream or Deep Purple. Had no idea. Never listened to Deep Purple. Before my time, but still, very pathetic, I know. Spent the last three days, listening and reading comments, documentaries, etc... When comparing him to Jimmy Page, who is always put up at the top of the greats, I thought there would be a lot of flack from Zepplin fans, like myself, but there wasn't. Check out this and that. I changed my mind. Read a lot. Know all the members. Became a huge fan. Love them. Where was I. Love them live. Thank God for Made in Japan. AND IT ALL BEGAN WITH A DREAM ABOUT "HUSH". STILL LOVE THAT SONG. Thanks Purple fans!
Should be top five. Speed runs, neo-classical originator, killer riffs, great composer, never rested on his laurels. Continues to progress and impress. Uses four fingers and thumb over the top, great chops, really introduced complex unorthodox scales. People just pick guitarists they know... Investigate this enormously talented player, who has played professionally since around 1962, even playing for Jerry Lee Lewis!
These lists get boring after a while. Best band: Led Zeppelin. Best Guitarist: Jimmy Page. Same old story. Blackmore is never in the top 10 of any list I ever see, it's always the same old names and the simple fact is that Blackmore could wipe the floor with most of them. Why Clapton is consistently in the top ten lists is beyond me. Good guitarist sure, but he's no Blackmore.
Smoke on the water... one rock song the whole world love. The song is more famous then deep purple and the guitarist him self... Deep purple one of the most celebrated band in the history of rock... Because other bands were famous in America but not outside America. No guitarist in the the history of rock can come out of a band like deep purple and create another great band like Rainbow... Maybe jimi can.
Why is Blackmore so low in the list? Have you people forgotten all those awesome riffs? He may not have played the most difficult or fastest solos but as a conductor I would arguably rate him number 1. Period.
The man who played the most famous riff of all time in rock history (Yes of course is Smoke on the water) must be at least in the top ten. He is one of those guitarist that is good making riffs and solos too. And he made definitely the most iconic ones. He's not above in the list just because of his personality and the fact that he didn't die young and he didn't play for his entire life with the same band. He is a guitar genius, and geniuses are never easy to work with.
Technically he is as good as a guitarist can be, but it is the channeling of the emotions that explode through his fingers and instrument. His solos are genius... Completely unrehearsed, simply being drawn up from whatever place true artists live.. Always different. He really should be in the top 5.
Blackmore wrote great, memorable riffs, played fantastic guitar solos that were totally unique with a dramatic tension in them. He also had great tone and a killer vibrato.
What 47th Blackmore is THE GREATEST GUITARIST... EVER! His solo's with Purple & Rainbow blow all others away! The MAN is a pure genius He has wrote & played some of the greatest songs of our generation...
He is the man! Ritchie Blackmore paved the way for the neo-classical/ blues fusion approach many have emulated but never surpassed since. Just listen to Child in Time, Burn, Highway Star, No no no, and many others! His feeling and bluesy groove know no bounds! He should be the well up there in the top 10 for sure just for influence alone.
No doubt about it! He's the number one! If you manage to play like that throughout all these years, and still have many followers, you must be one of the best. Brilliant idea's, short songs and extended ones, it's all in there!

Easy to listen but not easy to play... he does it all. Keep up!
Gosh, this is one hell of guitarist that gets you on the edge of your seat when he is on his job. Great player who invented shredding and more.
Ritchie Blackmore is a guitar GOD he is amazing and deserves to be in a higher rank of being awesome on this list! When he plays with rainbow, Man On the Silver Mountain and Stargazer?!?! You have to be kidding me!
Ritchie is one of the most inventive guitar player, combining the classic tune when looking back and in the same moment heading for the future while he is improvising the solos that never sound the samt.
The man who made masterpieces as part of Deep Purple and Rainbow! Why in the world is he not in the top 10? He created smoke on the water! That is THE riff every aspiring guitarist wants to play and is the first riff they ever play! Not only was he one of the best of his age, but he is still one of the best and one of the most influential.
Related Lists
Top 10 Songs on Ritchie Blackmore's Rainbow
Top 10 Ritchie Blackmore Songs

Songs With the Best Ritchie Blackmore Solos
Top 10 Ritchie Blackmore Albums
Top 10 Genres Ritchie Blackmore Has Played